Offering a phenomenology of the dissenting spirit, Gucci's Spring/Summer 2018 collection vibrates with an intellection tension that resists homologation. Embodying an act of resistance, every piece in the 107-look collection works cohesively to present a revolt against fixedness and for an indisputable right to difference.
With Sir Elton John, a friend of Alessandro Michele, as the muse of this maximalist mille-feuille collection, the garments were as bold and eccentric as expected. Alongside embroidered capes, exaggerated shoulders and sequins galore, Alessandro Michele displayed his own "Gucci" revival of some of the iconic singer's on-stage costumes, notably a burgundy metallic suit adorned with musical notes, which emulated his performance back in 1973.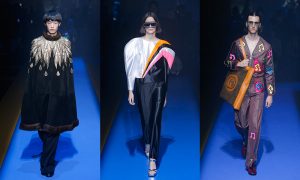 While the main theme was 80s' glam rock, the collection was an artistic fusion of different cultural and retro references, which bounced from English tweed blazers and an intarsia sweater emblazoned with 'Never Marry a Mitford', to Chinese knotted claps and Asian conical straw hat, to heart-shaped sunglasses and 70s disco jumpsuits with 'double-G' belts.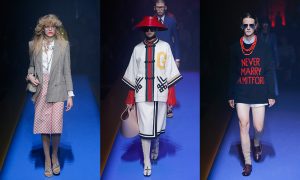 As a celebration of the freedom to decide about one's own body and life, the collection's gender-bending looks comprised of a myriad of silhouettes and cuts in an assortment of colours and prints worn by both men and women alike. Amidst the sea of ever-extravagant designs, a particular standout was a deep purple silk blazer with neon green snake embroidery paired with matching purple velvet trousers and diamanté-encrusted visors that exuded a futuristic vibe. In collaboration with Warner Bros, cartoons references were sprinkled throughout the collection, whether in the form of a bedazzled Snow White sweater or a Bugs Bunny waistcoat.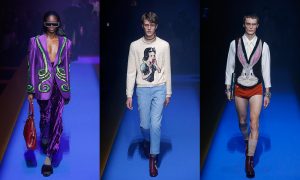 Carrying on with his retooled vintage aesthetic, which the brand under his creative direction has become acclaimed for, Alessandro Michele took luxe sportswear to another dimension by embellishing nylon tracksuits with intricate embroideries and crystal details inspired by a vintage 80s' style.
Accessories-wise, while several looks were topped with talismanic necklaces of assorted beads and horns, others featured more lavish costume pieces – think layered pearl necklaces with an oversized 'double-G' charm, statement jewel earrings and upside down embellished headpieces worn to ornament the jawline. Aside from a selection of the brand's most covetable accessory – the fanny pack – bags comprised of clutches and purses imprinted with "Guccy" in place of "Gucci", a rubber bag embossed with the vintage logo as well as oversized suede tote bags featuring a reworked version of the brand's vintage logo.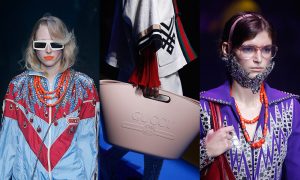 View the full Spring/Summer 2018 collection on the Gucci website.