Longchamp's Artistic Director on Authenticity and Self-confidence.
"I really wanted to show the spirit of the real Parisienne," quipped Sophie Delafontaine when asked about Longchamp's Fall/Winter 2021 collection. A continuation of Spring/Summer 2021's "Très Paris", Sophie Delafontaine dives deep into the brand's heritage and presents a collection teeming with Parisian flair, imbued with the spirit of Longchamp.
The show was held at the Battesti equestrian riding hall—an homage to the brand's iconic racehorse emblem. Significantly, the riding hall's location in the heart of Paris and façade (created by none other than Gustave Eiffel) also influenced the presentation's chosen venue. Adding another layer to its Parisian roots, Delafontaine looked to the works of French interior designer Pierre Paulin, applying "his innovative approach to line, function, colour and material" to the collection's utterly desirable silhouette.
This season, quilting and layering took center stage, as did touches of influence from the '70s—supported by bold palettes of red, black and white that gave way to softer shades of nudes and delightful pink. It was a fine-tuned balance of masculine shapes matched to perfection with feminine silhouettes that flowed with ease as the models walked in boots designed to conquer the stylish streets of Paris during winter.
Elsewhere, the brand's iconic bags—the Brioche, Le Pliage® and Roseau—are reimagined with new textures, quilting and acetate chain embellishments. Other notable accessories include the LGP jacquard canvas bucket hat and a minimalist square bag that features Longchamp's heritage Le Foulonné grained leather.
Evoking the charismatic charm of Paris, Longchamp's Fall/Winter 2021 collection is the epitome of effortless elegance, designed for the confident Longchamp woman. As Delafontaine explains…
Please tell us your inspiration for Fall/Winter 2021.
The inspiration first of all, was to think about the Longchamp Parisian woman. It was important for me to portray this ethos through the lens of a Parisian. We are a brand born in Paris and I, myself, am Parisian, so I really wanted to show the spirit of the real Parisienne. The next inspiration came from our iconic emblem which to me, represents the beginning and the spirit of Longchamp. While horse riding and creating leather goods might seem like two opposing features, there is this element of know-how that gels them together. It takes years of practice to produce a good product. Then, there is this energy from the emblem which we try to emulate. The horse and the rider look like they are flying! To me, it is refreshing and gives off a sense of freedom, which was also another side that I really wanted to explore in this collection.
We love the silhouette and colours from the collection…
When it boiled down to identifying the silhouette of this collection, I was very much inspired by a French designer named Pierre Poulin, who I think portrays the quintessential Parisian spirit. Pierre Poulin's work was all about silhouette—sharp contours, roundness, cocooning effects … proportions are, after all, important for comfort. Of course, details are just as important, and we expressed this by mixing innovative materials, embellishments and pops of colours.  He was definitely another great source of inspiration for this collection.
It's been a year since the pandemic has affected us, did you find it challenging creating this collection?
Creating the collection was not really an issue because for me as it's my life's passion. It is what I love doing and it's always a work in progress. I am constantly thinking of the next collection, therefore creating the collection was not at all difficult. What was challenging for me, was presenting the collection through a digital platform. To do this, many aspects had to be considered, for example: how do we transmit emotion, how do we show the details, the materials, the different styles, the attitude … the list goes on. And yes, we can't deny the excitement of a live presentation and while we might not be able to convey that emotion directly through a digital space, we had to try and bring that same emotion to this presentation. In that respect, it was interesting to work with a new team. To emulate the emotion and excitement of a live show, we chose music as a medium. Tied to the rhythm with models floating in and out of the scene, we could manipulate the energy as we pleased and bring life to the digital presentation. All these elements to me, are what makes this presentation interesting and exciting.
What is your favourite look or item from the collection and why?
This is a difficult one because to me, the collection reflects the identity of every Longchamp woman. Every look represents singular characters, each with their own individuality. To say I prefer one look or item over the other denies the importance or existence of every other look and product I have designed for they are all "true". I think the idea of the collection is to show different sides of a Longchamp woman: that you can be very feminine or more boyish; casual or more elegant. At the same time, you are still self-confident, still elegant, optimistic and still dynamic. This philosophy is also applied to the products. Some products are more casual, some are more feminine or sophisticated but at the same time they can all be for the same woman, because it's just a question of moment, time or mood of the day … you know how we are!
The show is held at an Equestrian club. Please tell us why you chose this venue and its significance to Longchamp.
It has many Parisian elements that I wanted to covey in the video. The obvious reason being its equestrian connection to our brand logo and heritage. Next, its glass and iron roof façade were designed by none other than Gustave Eiffel! Another factor that was key in the decision-making process was its location in the heart of Paris at Le Marais. The development of the presentation was emotional, and when you watch the video and see the horses together with the models and the products, you feel the emotion, the strength and energy. I love seeing all these mixed elements come together.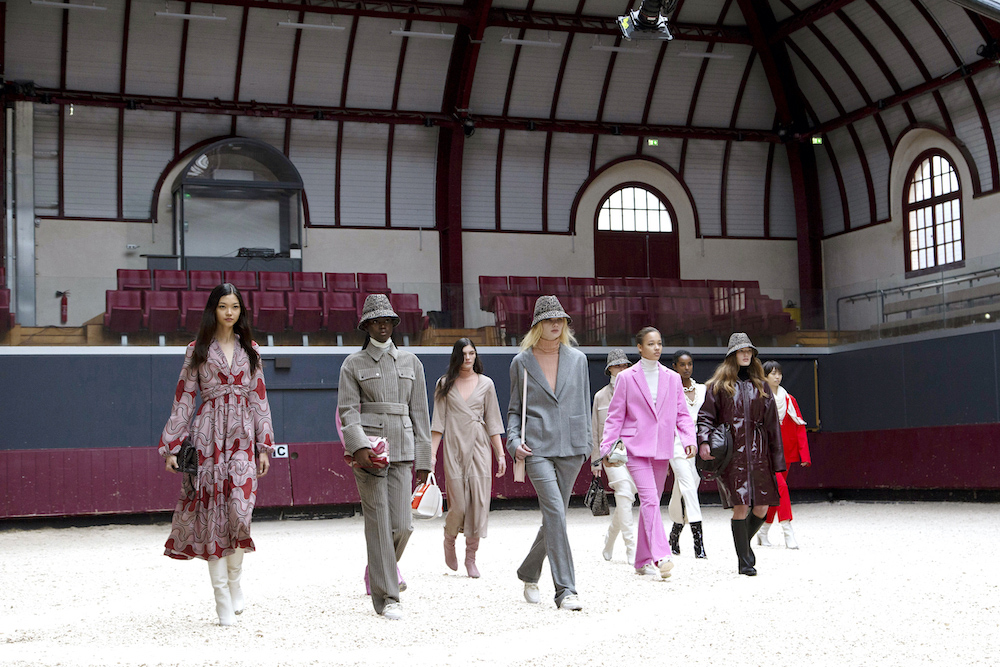 Your brand is synonymous with the spirit of travel, in light of the current pandemic, do you think your design process has changed over the past year?
I think, what is now becoming important for everyone was already there for Longchamp even before the pandemic happened. Today, everyone is looking for authenticity, quality and respect. I believe these qualities are what defines Longchamp. As a family business, we are always working with a long-term point of view. It's never about the next season. We believe in producing products that transcends time. It's a product that you are not going to throw away after six months and will want to wear for many years. I think this is very important and is what Longchamp has stood for since the beginning. This ethos comes naturally to us therefore, I am not really anxious and am in fact, feeling confident. I believe our loyal customers understand this and the younger generation today are drawn to this design philosophy. Of course, there is also no harm in being innovative and creative. You can still have quality and authenticity and be cool or fancy—these are not opposing factors. Take our Le Pliage® collaboration with Jeremy Scott for example. The collaboration shows us that striking the right balance between quality, detail and attitude allows you to be authentic and express yourself to your heart's desires.
And finally, who is the Longchamp woman today?
I think the Longchamp woman is a singular character defined by her own sense of style. She is self-confident and this is part of her charm. I like that I am not designing for a specific personality. Of course, I experiment with silhouettes, but the idea is to portray a confident attitude of Longchamp's Parisienne. The clothes and products are designed to be mixed and matched however the wearer pleases. They can be translated into anything you wish: elegant, chic, soft, casual … It gives me immense joy and pleasure when everyone is reinterpreting and creating their own look with pieces from the collection.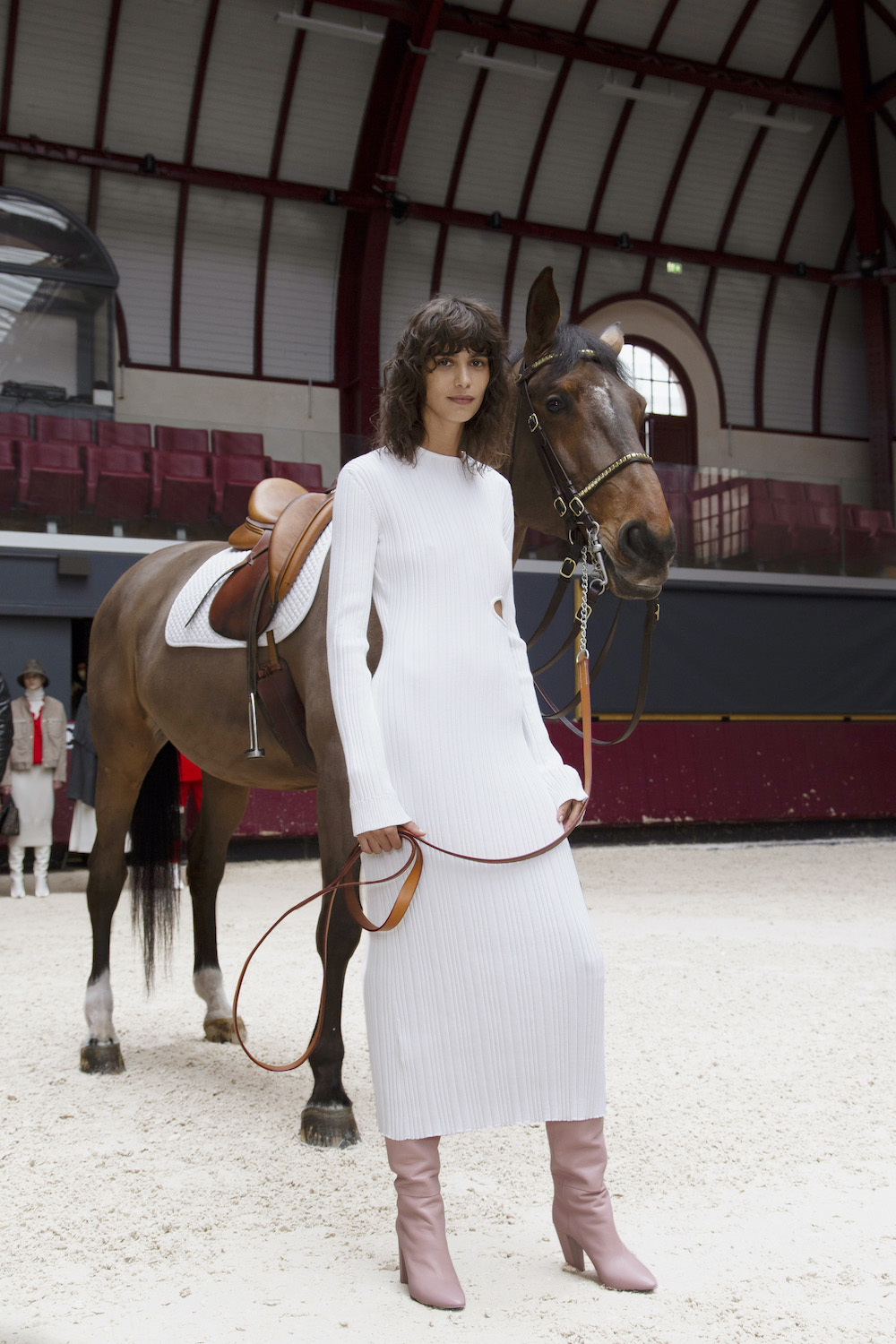 – – – – –
All images courtesy of Longchamp.