There is no doubt that World Cup fever hit the UK even harder this weekend as England reached the semi-finals for the first time in 28 years, causing fans across the country to celebrate in style. This year's tournament has not only spread unrivalled levels of excitement, but it has also influenced fashion trends (and no, we're not talking about Gareth Southgate's waistcoat).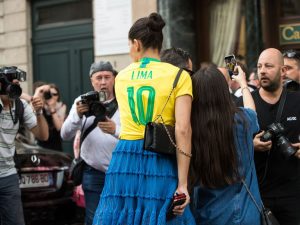 According to global fashion search engine Lyst, there has been a sudden surge in appetite for female football-inspired fashion this year, with searches seeing a significant growth.
All fashion searches using the words "football" and "soccer" are up a massive 340 per cent year on year. And, from May to June, searches with these two key words were up 210 per cent month on month, which is nearly double the increase seen across all searches.
When you break it down to women's fashion specifically, the numbers are even more staggering with women's searches for "soccer" and "football" up 540 per cent year on year.
So, what exactly does women's football-inspired fashion look like? Well, according to Lyst, women are unsurprisingly not just searching for practical kits they can play in.
Some of the most searched-for pieces have been vintage-inspired, including USSR and German mesh dresses by Adidas, while embellished football shirts by Koche have also proved very popular. Searches for "football scarves" have been up 12 per cent since March after Instagram influencers championed the trend during fashion week in February.
When it comes to the catwalk, football style has been embraced by fashion powerhouse Versace and is proving very popular on search in the form of the brand's striped logo football shirt (which you can still buy here).
Louis Vuitton has also joined in the fun with an official Fifa World Cup Collection, in which they have given a football makeover to some of their most iconic handbags.
Lyst argues that the changing attitudes towards female football fans and female football players is part of the reason for the interest invading fashion.
"In recent years there's been a shift in football culture as more and more women become not only fans but active participants on the fields, too," Lyst's report said. "Interest in women's football continues to grow with each iteration of the UEFA Women's World Championship and greater media coverage on the leading players."