The Louis Vuitton Capucines handbag encapsulates the Maison's rich heritage entrenched in exceptional craftsmanship.
When it comes to handbags of exceptional quality, Louis Vuitton's Capucines remains a highly covetable must-have in one's fashionable wardrobe. Seen on the arms of many celebrities, the bag first made its debut in 2013 and since its introduction, its steady rise to prominence within the industry grew at an extraordinary pace. Its revered status as an It bag is hardly surprising: its structured yet feminine silhouette and versatile temperament provides a polished finish to any outfit, making it a reliable everyday companion that will see you through seasonal trends no matter the time and occasion.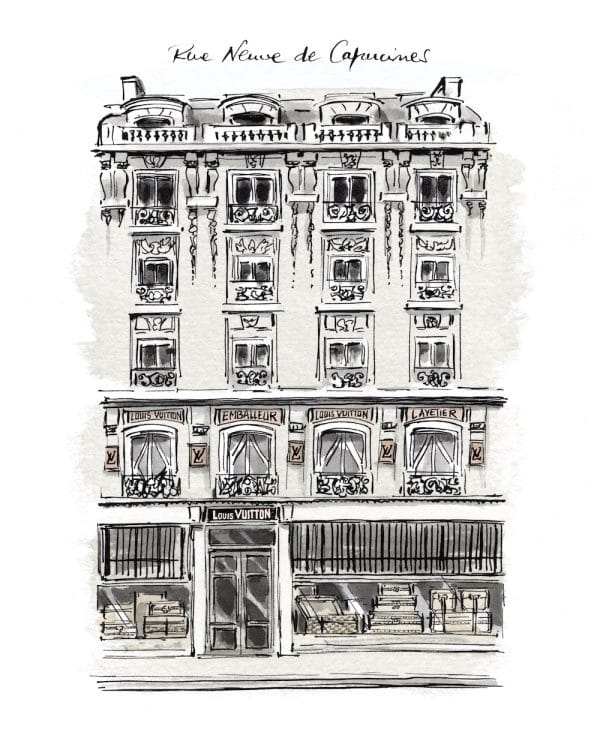 With its perfectly balanced design that marries practicality with a striking silhouette, the bag embodies the Maison's rich heritage and timeless ethos. In fact, the bag borrows its christened name from Louis Vuitton's very first store at 4 Rue Neuve-des-Capucines. Situated at the heart of a historical location dedicated to artisanal craftsmanship and luxury goods, the Maison's exclusive address—Rue Neuve-des-Capucines is adjacent to Place Vendôme, Rue Saint Honoré and the Imperial residence, Palais des Tuileries—was without a doubt, the place to be. The area was often frequented by French aristocracy and the wealthy who indulged themselves in Louis Vuitton's highly sought-after trunks and immaculate services.
In addition to its name, the Capucines incorporates the "founding spirit of Louis Vuitton" through minute and meaningful touches peppered throughout its understated yet sophisticated façade. Firstly, the bag utilizes one of the most emblematic leathers at Louis Vuitton: the Taurillon leather. The leather's unique texture, softness and suppleness are achieved through an ingenious process that results in a rich and even colour throughout. Over time, the leather gains an "inimitable patina" that enhances its richness and depth even further.
The Maison's "historical design heritage" is also represented through the metal hardware that punctuates the bag's flawless façade.  The brass rivets on the handle rings recall designs made by Georges Vuitton (Louis Vuitton's eldest son) in 1896, while the protective studs at the bottom of the bag exemplify the Maison's trunk making profession. Finally, the emblematic LV monogram is referenced through a petal-shaped flap that is elevated with a petite monogram flower and of course, the distinctive LV initials that sit proudly at the centre of the bag.