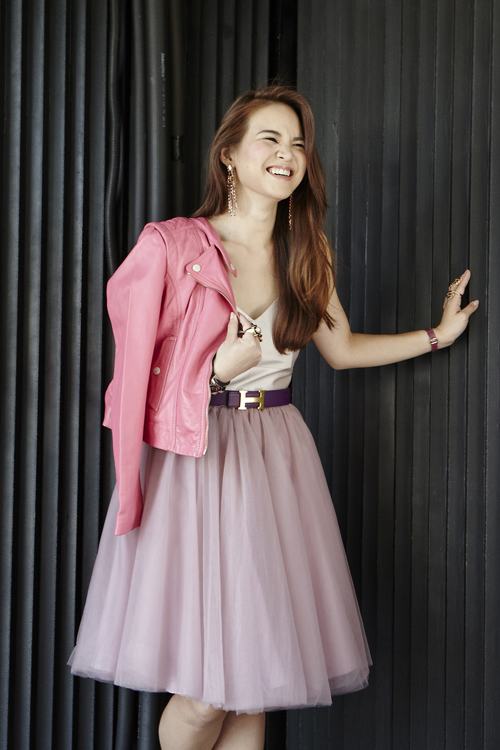 Melissa Sin
From her days of playing with her mother's jewellery as a child to starting up her own minaudière label, founder of The Bag Atelier, Melissa Sin knows a thing or two about accessorising. There are some things a girl just really can't help herself with: Net-a-Porter sales, Netflix, and bling-ed out accessories. "It's like adding a little bit of sparkle to your everyday outfit," says Melissa Sin, founder of The Bag Atelier, an accessories company that specialises in — you guessed it, to-die-for embellished minaudières. "I love anything from sequins, beadings, embellishments, and beaded lace on clothing, to big crystals, semi-precious stones, and diamonds on my accessories and minaudière pieces. You can't go wrong with these!" she adds. "It's like that one quote by Marc Jacobs back at his Fall 2011 show, 'What was our favourite colour? Shiny.'"
In that regard, Melissa sparkles like a disco ball. Fresh-faced at our shoot on an early yet scorching Tuesday morning, she describes her style philosophy as an adventurous one. "In a year, I could go from an all-white phase to pastel, and then all of a sudden, I'll be obsessed with anything black and textural," she quips. "But over the last 10 years, perhaps the one thing that hasn't changed is that I love anything with an extra splash of bling."
True to her word, the self-professed magpie emerges in a pastel pink tutu skirt and a bright fuchsia leather jacket, decked out to the nines. "I am an accessories kind of girl," she confesses. "A friend once told me, she noticed that I tend to have more accessories on whenever I am in a happy mood. I'm not so sure if that really is the case, but I do realise I get really hyped-up every time it comes to choosing 'arm swag' for my outfits!" Melissa explains, laughing. Luckily enough for us, the fact that she had more than an arm swag going on that day meant that she must've been in high spirits.
As they say, no habits (or appreciation, in this case) come without influence. "My earliest memory of 'fashion consciousness' was of me as a little girl playing with my mom's earrings and jewellery while she was at work," she recalls. "I would pick different clip-on earrings from her jewellery organisers and mix-and-match them for hours. My mom loves her jewellery in loud colours but with an understated finish. I think that influenced my style tremendously." Case in point: the amount of rings, brooches, bracelets, and earrings brought over by Melissa for the shoot itself.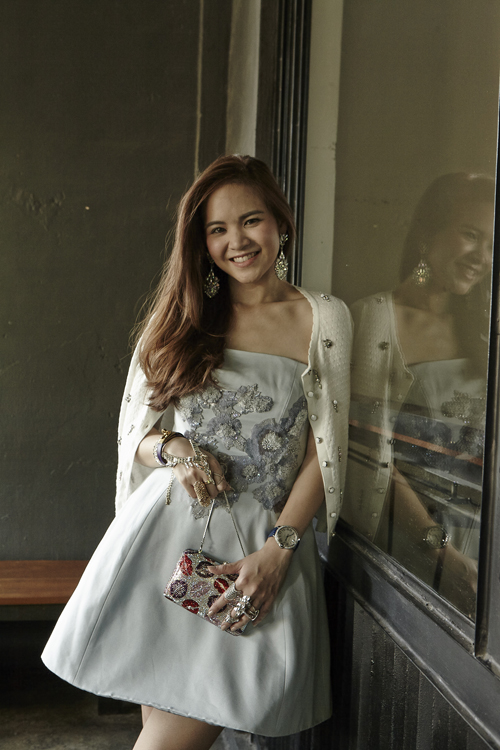 Although she counts her mother as the main source of inspiration, Melissa looks to fashion blogs and Instagram stars for a pointer or two as well. Take Lala Rudge, for example, a Brazilian blogger who launched her own lingerie line, La Rouge Belle in 2013, or another fellow Brazilian Thássia Naves, who made headlines internationally with her Über-glamorous, print-galore Instagram shots. "Both mix-and-match effortlessly across labels, and that's how I would dress too," Melissa explains. "I don't like dressing up in sets unless I was set on going on bold."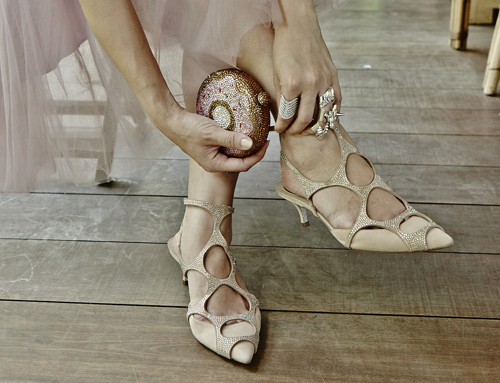 But bless the Fashion Gods, for bold was indeed the keyword going on that day. In another look, Melissa had paired a flirty powder blue Marchesa Notte dress with a fully embellished hand jacket by Xevana, an Hermès Kelly Double Tour bracelet, stackable rings adorning almost every finger, and a custom-made crystallised minaudière from her own label. "Accessories are the easiest to add an edge to your #ootd," she shares. "I love Xevana, a Singapore home-grown label that went international with its unique stack-lace design that would add a statement to any outfit." As a style tip, Melissa suggests to downplay the bling by going with muted outfits and only a pair of earrings, should a stack-lace seem a little bit overpowering for you. "But when I feel the need to add an extra bit of pizzazz to my outfit, I put on my fingerless gloves and stack up my Hermès bracelets with it."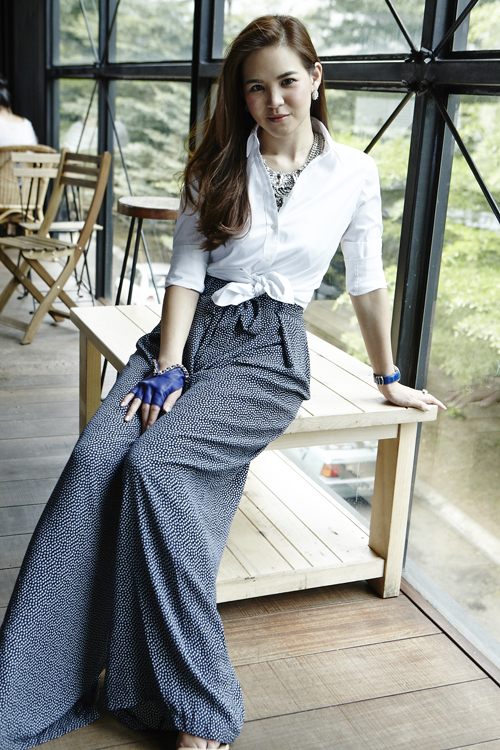 There's a certain type of confidence that one requires to be able to pull off such bold and embellished looks. But therein lies the appeal of fashion – it's all about having fun and being comfortable in your own skin. "Style is a reflection of self-confidence," says Melissa. "The more confident you are, the better you can carry out a look." You said it, girl.