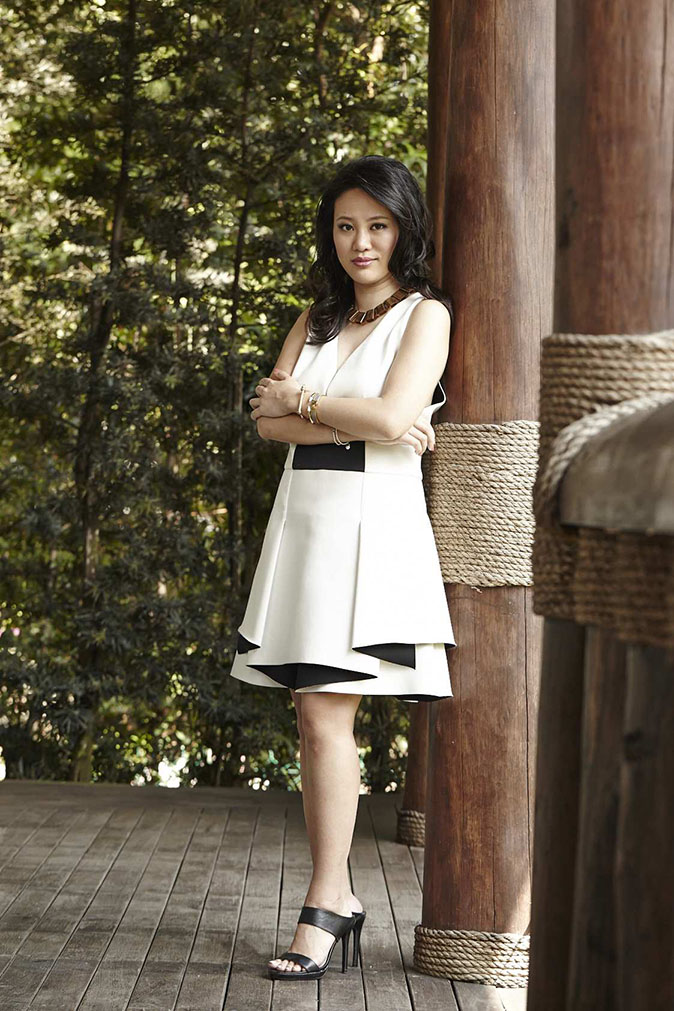 Monochromatic in Robert Rodriguez 
Shuen Chiu means business, and quite evidently so.
"As a business person, I admire Diane von Fürstenberg for her sheer tenacity and will to do whatever she puts her mind to, all the while supporting female entrepreneurs," she remarks. "For someone to have left the scene for years and come back and rebrand herself, and still be just as successful – that is no mean feat."
In some ways, the owner and founder of Rent-A-Dress, Malaysia's first occasion-wear rental company, can relate. Shuen's own tenacity and self will has earned her an expansion of business to Singapore, despite the company only being less than a year old. "This journey with Rent-A-Dress is really like having a baby, from the birth of the concept to nurturing it and seeing it grow. It's still an infant, and there have already been both growth pains and rewards, but I'm excited to see it grow into a teenager – hopefully soon!"
A graduate in medical science, the 27-year-old entrepreneur is a classic example of beauty and brains. However, she does admit her interest in fashion was borne of the lack of creative outlets her former industry imposed. "My parents had always wanted me to go down the science route even though I always gravitated towards the creative side of studies," she reveals. "My true 'education' in fashion and shopping was when I studied abroad in Australia. They didn't have the mainstream high-street labels, but had a lot of amazing creative local labels that allowed me to explore different shapes and materials. Lots of online stores actually deliver to Australia, too, so in a way, that opened me up to a global outlet."
Citing Victoria Beckham, Grace Kelly, and Olivia Palermo as her fashion heroes, it isn't hard to imagine her style to be as timeless as it gets. "If I had to define my own personal style, I'd say it's classically contemporary," she says. "I'm all about clean lines, structure, and form. Most basics in my closet will last me through the time and I update them with a couple of trendy pieces that would complement my body type." It came as no surprise then that Shuen had picked out a flattering peplum number to pair with her favourite white trousers for our shoot – a simple yet elegant ensemble even Kelly herself would've been proud of. While not many could pull off a skin-tight pair of white trousers, Shuen owned it with great panache, before adding it was her go-to outfit. "It feels like I'm describing a style of furniture or interior design, but really I love wearing things that I can look back on 20 years down the road and still think it's chic," she shares.
This transcends through to her taste in accessories, where eternal pieces such as Chanel 2.55s, Lady Diors, Hermès' Kellys, and any bag from Céline reign supreme. Completing her wardrobe is her jewellery, which she confesses to never leaving home without. "Every single piece from my 'arm party' tells a story, including my Hermès bangle, Dipped Row cuff, and other precious finds from previous holidays."
As part of a new style tribe that defies trends only to follow what suits their shape most, the elegantly effortless Shuen says her office-wear staples include lots of midi pencil skirts that are best suited to her figure. "It is usually all about having that good fit and material," she notes. "When I was in consulting, my workwear had that contemporary touch through lots of midi pencil skirts. Picture that sort of Mad Men era silhouette, paired with a clean blouse and blazer when required." she describes. "I also had lots of that tailored pencil dress silhouette, which is always a classic cut for me. It flatters my curvier body shape."
A true lady to the core, one can only wonder if there ever was something she had regretted wearing. "Nothing I can think of," she smiles. "There were some styles that made me wonder what I was thinking, but I can't say I regret wearing them. Fashion and style is an evolving journey of creativity."
Hair and Make-up: Cindy Goh. Photography: Aaron Lee/Lensworks Studio. Photography Assistant: Felina Hung