Images courtesy of Fendi
To celebrate the opening of a their new Queen's Club flagship boutique in Sydney, Australia this early April, Fendi has produced a new video titled Wild Untamed Naomi starring no other than award-winning Australian actress Naomi Watts.
The unexpected video provides glimpses into a day in the life of Naomi Watts, just by herself in her New York apartment, seemingly restless and trying to destress, unsure how to go about her day. Before long we see the actress succumb to her wilder instincts as she unleashes a primal roar and just lets loose, all while being impeccably dressed in the label's Spring looks with a selection of Fendi Peekaboo ISeeU bags right by her side. 
Yoohoo, Peekaboo ISeeU
First introduced in the Fendi Autumn/Winter '20-21 collection, the iconic Peekaboo ISeeU adopts an accordion-frame shape that opens in a deep 'smile' featuring inside pockets that can be interchangeable in either smooth leather or precious skins, then personalised with one's chosen initials.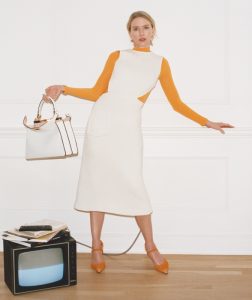 "I love the colours!" Naomi says of the Fendi Peekaboo bags. "And it's a classic shape that's very functional, whether you're travelling with it or just using it as a day to-day bag. It just works."
The video features the electro-pop track "Beggin" by Canadian duo HUMANS, played when Naomi dances a storm, its catchy beats prompting the viewer to dance along and give in to your wild side. Intimate yet irreverent, the message of the video plays out a journey to self-love that expresses the Fendi values of creativity, craftsmanship and playful spirit, while celebrating the eternal narrative of the FENDI Peekaboo bag–that of discovering the hidden beauty within.
The #FendiPeekaboo video featuring Naomi Watts is set to launch globally from the end of March 2021, and BAZAAR is honoured to have been given the exclusive to be among the first to present the #FendiPeekaboo video. Check out the video on our Instagram post below (scroll to the end of the gallery).
View this post on Instagram
Video credits: 
Directed by Sophia Li
Executive Producer & Talent Director: Rikki Keene
Fashion Editor: Melissa Levy
Director of Photography: Isabella Tan
Lighting Design and Photographer: Andy Harrington
Hair: Ryan Trygstad
Make-Up: Mary Wiles
Set Design: Kyle Hagemeier
Movement Director: Elena Vazintaris
Producer: Antonia Tedroff
Project Manager: Mollie Dixon
Editor: Nicholas Blatt
Track: "Beggin (Gang Signs Remix)" by HUMANS