Ever wonder what truly goes into your favourite dessert? As the largest mille crepe chain in Malaysia (as recognised by the Malaysia Book of Records), Vanilla Crepe is very particular with the ingredients they use in each of the authentic flavours featured in their menu, each classic yet exquisite taste the result of an original French recipe but developed in Malaysia by highly trained chefs.

For one, Vanilla Crepe makes no compromise on quality. Only ingredients of the highest quality are used to flavour and construct each of their 30-layer crepe cakes. For the two main components that make up their crepes—full cream milk and eggs—Vanilla Crepes turn to the most trusted local suppliers. The milk comes courtesy of Nestle while the Omega 3 eggs are provided by Nutriplus.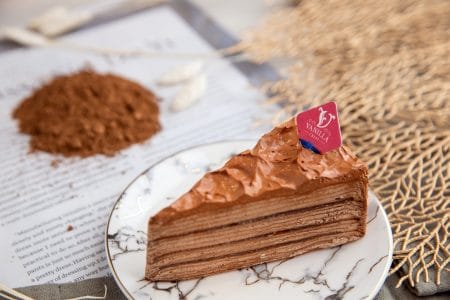 Then there's the rich pastry cream—Vanilla Crepe uses only the world's best cream, from Elle & Vire, and has even received an endorsement from the French company for the use of their signature product.
More interestingly, Vanilla Crepe insists that no sugar is added into their crepes. Whatever sweetness you taste comes directly from exclusive ingredients sourced from France, across Europe and Malaysia.
Their signature flavours include classics the likes of Original Vanilla, Italian Tiramisu, Salted Caramel, Blueberry, Bamboo Charcoal, Oreo Cheese, Uji Matcha Green Tea (using ceremonial grade Uji Matcha), Opera, Oreo Crunch, Chico Peanut, Lemon Cheese, and Mango Peach; not forgetting more contemporary flavours such as the Rainbow, Matcha Tiramisu, and La Milo. For their best-selling Original Vanila mille crepe cake, the hero ingredient is Madagascar vanilla while the Midnight Choc cake owes its chocolatey goodness to some truly decadent Belgium chocolate.
Much like with fashion, the food industry is no stranger to creative collaborations. Over the years, Vanilla Crepe has explored partnerships with other food brands to create some unique crossover of flavours, among them crepe cakes with Kit Kat, Horlicks, and Boba Milk Tea. For 2021, exciting new flavours include the Chendul White Coffee by Vanilla Crepe x Penang Chendul, and the special edition Lemon Collagen crepe. That said, their most sinfully indulgent flavour thus far has got to be the Black Truffle Crepe, a sweet and savoury masterpiece drenched in truffle oil and topped with black truffles supplied by Samonyu. Each portion of this crepe cake is flavoured with no less than five grams of truffles per portion.
"A generous amount," says Vanilla Crepe founder and CEO, Nelson Liew. "What's the point of having a truffle dish and not having enough of it? I really believe if you are going to indulge in truffles, you want to taste it."
A true extravagance, the Black Truffles Crepe cake is part of the brand's premium editions. Retailed at RM49.90 per slice, this special cake requires a pre-order and is made available for a limited quantity of 100 sets for the whole of Malaysia to maintain its exclusivity.
Vanilla Crepe is represented by 27 outlets in Klang Valley, Kuala Lumpur, Ipoh, Melaka, Johor and Penang. Vanilla Crepe also provides online purchases and its own delivery option. Go here to place your orders.