Who can forget Dior's Saddle bag that became an immediate cult must-have, adorning the arms of fashion's It girls from The OC's Mischa Barton to Sex and the City's Sarah Jessica Parker at the height of the Noughties?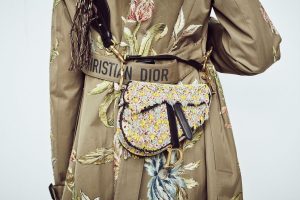 Designed by former creative director John Galliano in 1999, the saddle bag was an ode to equestrianism but for Fall/Winter '18, Maria Grazia Chiuri's take on the saddle bag is revisited in two formats – one, in monochrome leather, and another heavily embroidered from beaded fringes to Seventies patchwork.
"I thought this collection would be an opportunity to revive its timeless beauty. I consider this icon of the house's recent history the perfect accessory to deal with this battle that is daily life," says Chiuri. "Indeed, the Saddle bag is a bag that is worn in exactly the same way as a shirt or jacket, and it's so comfortable to wear with its long strap that you almost forget it's there."
The new iterations also come in a larger size, taking it out of the realm of club nights and parties and into an everyday essential. "The Saddle bag is also practical because it allows you to carry everything you need with you. It's for this reason that I wanted it larger and more robust, but also very colourful, embroidered or with beaded fringe because, like a chameleon, it adapts to all situations."
Here, the hottest celebrities spotted with the It bag of the season.