Back once again to pave the fashion landscape in Malaysia, Kuala Lumpur Fashion Week (KLFW) 2018 is set to showcase ready-to-wear collections, both local and international, in its most exciting presentation yet. With more than 150,000 fashion week habitués and the city's most talked about stylistas convening in Pavilion KL's Centre Court, KLFW is the foremost fashion platform in Malaysia, offering first glimpses of never-before-seen designs and smart, revolutionary textiles.
FASHION FORWARD
This year, KLFW moves forward into the future by expressing its steadfast support for sustainable fashion, specifically with labels Projek Jahat and Sean & Sheila, both of which have professed the importance of ethical fashion through their creations. This endeavour comes after Andrew Tan, founder of KLFW, pledged before the Commonwealth Fashion Exchange, as well as the HRH Duchess of Cambridge and HRH the Countess of Wessex, to encourage artisan fashion skills while highlighting sustainability among both established and emerging talents.
BRAND NEW WAVE
To further raise awareness, KLFW is also introducing #IGotStyle, to push the idea of using "something new, something old, and something borrowed" in everyday sartorial stylings. As Andrew puts it, "In our six years in the industry, we have never faltered in moving towards the goal of continually developing the retail landscape for our local designers." This move towards the future is also strengthened by Fashion Forward Batik Kelantan—KLFW's tribute to Malaysia's cultural heritage.
READY, STYLE, SET, GO!
Get a fashion refresh with shows that will impress and excite, by industry icons, mainstays, and newcomers alike. From Farah Khan to Syomirizwa Gupta, AJane and SuperSunday, discover how these designers have gone from strength to strength over the years. From August 8 to 12 at Pavilion KL. www.klfashionweek.com
WHAT'S HAUTE THIS KLFW 2018
1) Andy Bandy showcases an all-male collection, Andy Bandy Provocateur, for the first time.
2) Mimpikita celebrates its 10th year by opening the show for the first night with #IGotStyle.
3) KLFW launches its online magazine, Edition KLFW, featuring need-to-know fashion updates, in-depth stories, and beyond.
4) Which of the emerging talents from AirAsia Runway Ready Designer Search 2018 will make their way to showcase at KLFW 2018? That's for you to find out.
5) Sean & Sheila takes on sustainable fashion by emulating the desecrated quality of overused garments.
6) Tran Thi Tu, winner of AirAsia Runway Ready Designer Search last year, debuts her full collection.
In conjunction with KLFW 2018, a winner with the most creative answer to why they should win the designer piece and KLFW tickets will walk away with local designer brand Innai Red Arrojadoa dress worth RM2,800 and 2 tickets to KLFW 2018.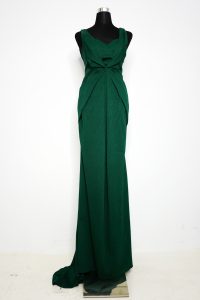 HOW TO WIN?
Step 1
Follow us on Instagram @harpersbazaarmy
Step 2
Repost on Instagram and tell us why you should win the outfit by Innai Red and 2 tickets to KLFW 2018 with hashtags #BAZAARKLFW2018 #IGotStyle
Step 3
Don't forget to set your account to Public
Open to residents of Malaysia. Contest ends on July 31. Terms and conditions apply.