A Watch That Doesn't Care About The Accuracy Of Time. Seriously.
Among many things, the coronavirus pandemic has forced unto us one big reality check: we need to slow down. Working from home, with little to no daily commute, detached physically from the otherwise chaotic yet colourful everyday 21st-century life, we suddenly find ourselves with more than ample free time than what we were used to pre-pandemic. Thanks to this New Normal, we are prone to self-reflection, teaching ourselves to savour every moment and to get used to, for once, not always being in a rush.
World-renowned trend researcher, Li Edelkoort, recognises that growing need for stillness and clarity, for a call for greater authenticity and meaning in modern society. Edelkoort is the go-to source for expert predictions of future trends and attitudes, whose insights help inform the development of concepts and products for some of the industry's major players—Coca-Cola, Nissan, Estée Lauder, Gucci and L'Oréal, among them.
Earlier today, she lent her expertise to Swiss watchmaker Rado, in a special digital conference to unveil their latest collaboration together: the new Rado True Thinline Stillness. A watch purposefully designed to not display the time clearly.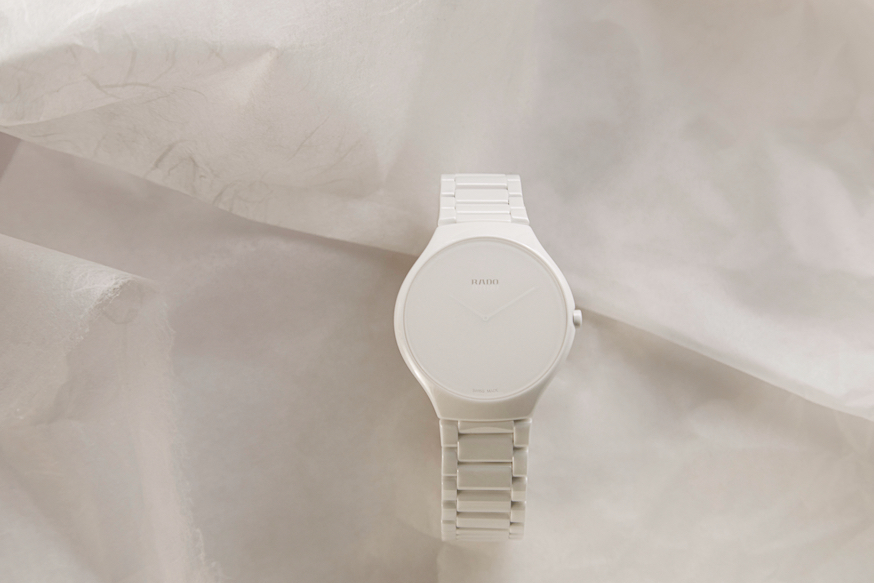 "People are taking time to question the meaning of life and work, to think about withdrawal and simplicity, about commonality and complexity," says Li Edelkoort. "(They) are finally ready to change their behaviour and break free from their shopping addiction."
"The industry will respond to this, slimming down designs and producing responsible products that last. But that doesn't mean we will stop making beautiful things—on the contrary. The focus will be on less and better, reduced and exceptional, sustainable and intuitive."
And true to form, the Rado True Thinline Stillness is an oh-so-beautiful thing. Poetic even. An elegant accessory as precious as a strand of pearls.
A Vague Sense of Time
Taking its cue from the brand's already iconic ultra-flat True Thinline timepiece, the new True Thinline Stillness marries Rado's scratch-resistant high-tech ceramic with its pioneering monobloc construction. Additionally, for the first time, the watch is presented in new sustainable Rado packaging, with reusability in mind. Its centrepiece is a small high-quality box made from recycled plastic that can double as a travel case, accompanied by a card holder made from black cardboard. Even instructions for use are omitted in favour of a QR code.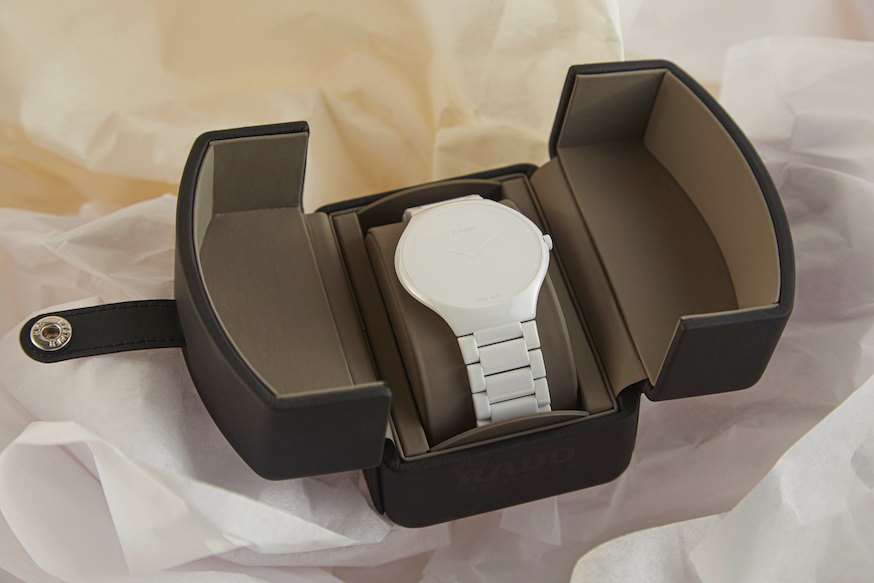 Design-wise, the True Thinline Stillness advocates "less is more" in a truly divine fashion. Measuring just 5 mm thin, the watch is made up of a warm-white high-tech ceramic case measuring 39 mm in diameter adorned with a titanium back with sapphire crystal, that bears the words "STILLNESS Lidewij Edelkoort SINCE 2020".
"It's a strange watch," admits Edelkoort. "This watch is made so you don't see the time (that) well." To achieve that vague concept of time, the white dial is presented under curved white frosted-effect sapphire crystal with white hour and minute hands. This monochromatic white-on-white-on-white colour scheme results in an almost blurry view of the face. Thus, telling the time becomes a deliberately contemplative moment.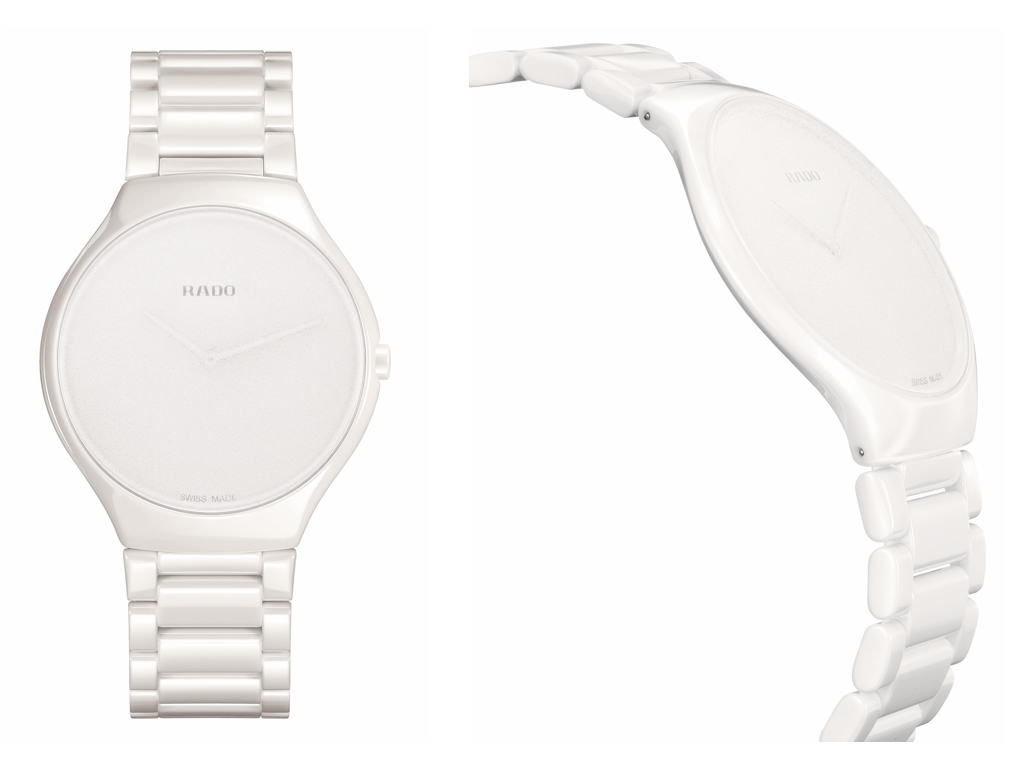 "Knowing that time is in our hands while also forgetting it at the same time," is how Li Edelkoort describes it. "Freeing ourselves from the hustle and bustle of our daily lives by extending awareness for a second, realising the majesty of a minute and grasping the empathy of an hour," she waxes lyrically. So instead of fretting with every minute, time is simply expressed as an approximate: "About 5 o'clock"… "Almost noon"… "It's 7.30… ish."
That said, it is still a functional watch that measures the time accurately, if you look hard enough. But that is not its point. The Rado True Thinline Stillness wants us to take things easy, to enjoy the moment. "It's functional and emotional and philosophical," the futurist concludes. "It is inviting us to live our life in stillness."
One way of putting it, it's a watch that encourages its user to be the master of their own time, and not the slave of it.