How Does The Samsung Galaxy S21+ 5G Measure Up To The Baseline Galaxy S21 And Bombastic Galaxy S21 Ultra?
Much like last year's Samsung Galaxy S20 campaign, Samsung's latest flagship line, the new Galaxy S21 introduces three new models of smartphones, namely the Galaxy S21, the Galaxy S21+ and the Galaxy 21 Ultra.
If you have to pick between the three, it's a no-brainer: the Galaxy S21 Ultra is in a league of its own, superior in every way. It's just a matter of whether you're willing to pay its hefty price tag (RM5,299 for 256GB) or not. (That said, the instalment scheme makes it rather affordable, especially when you factor in the value of the freebies on offer. More info below).
But if you just want a phone that still delivers on performance and innovative camera features without the need to be extra, then it boils down to choosing between the Galaxy S21 or Galaxy S21+.
The Plus Points 
As mentioned in our preview, with its curved glass body and metal frame, the Galaxy S21+ is a thing of beauty. In particular the Phantom Violet model with rear camera housing in rose gold-hued aluminium seamlessly integrated into the device's frame. It's elegant, it's refined, it's fashion. More importantly, this phone is also tough. The Gorilla Glass Victus body is the toughest glass yet used on a Samsung smartphone and is both scratch- and damage- resistant. 
One obvious strength of the Galaxy S21+ is the size, with a screen measuring 6.7 inches compared to the Galaxy S21 at 6.2 inches. The edge-to-edge Dynamic AMOLED 2X Infinity-O screen with Full HD+ resolution makes for a bright, clear display and very satisfying viewing, reading, gaming or scrolling experience. Bigger size also means bigger battery (4,800 mAh) thus longer life upon charging.
It's pretty much a given now that Samsung smartphones deliver excellent camera capabilities. Still, the Galaxy S21+ really packs some impressive punches. What you get here includes a wide-angle and ultra-wide lens, both at 12MP, rear telephoto lens at 64MP and front-wide lens at 10MP. Designed to "make your every moment epic", the Galaxy S21+ also delivers 8K video resolution—it's so sharp that you can grab 33MP images from your recorded video by perusing the improved 8K Video Snap feature. Even for footage of moving subjects.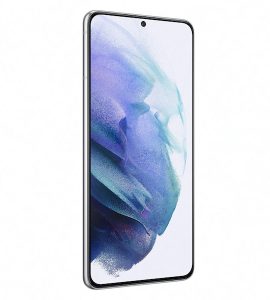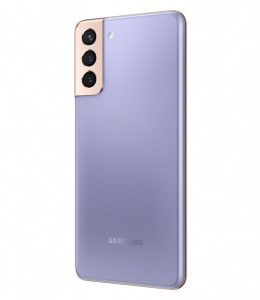 The Galaxy S21+ comes with 30x space zoom capability, which is great though nothing compared to the Galaxy S21 Ultra's 100x space zoom prowess. Still, some key camera features this reviewer personally likes: the Night mode is exceptional, shooting in extremely low light is easy-peasy with an AI Image Signal Processor that reduces noise and improves details to literally shed light on otherwise shadowy pictures. Then there's the outstanding Director's View mode for video recording, that offers views from the three rear lens and the front lens all on the one screen, allowing you to easily switch from one view to the next with a simple tap on the display for professional-level video directing—suddenly you feel like Martin Scorsese! This here is the ideal feature for YouTubers and aspiring videographers alike.
Of course, for the selfie-obssessed, the Galaxy 21+ makes sure your self-portraits are at their very best as it helps to adjust uneven skin and blemishes—you can even preset your own personal filter preferences. And all that is just scratching the surface. To be honest, the extensive camera and video innovations on the Galaxy 21+ would require some sort of tutorial to learn how we can optimise on its many, many features better.  
Other phone features are pretty standard for smartphones now: speedy fingerprint and facial recognition, speedy charging, smart performance, water and dust resistance, all-day battery life with just one-time charge … all of which make the Samsung Galaxy S21+ a strong contender for a smartphone worth considering. Still, it's not without its drawbacks.
The Down Side
The Galaxy S21+ 5G is retailed at RM4,299—meaning RM600 more than the S21. And therein lies the conundrum. The Galaxy S21+ and S21 share the same camera features, RAM, storage size and processor.  What the RM600 difference translates to is a difference in their sizes (6.7 ins vs 6.2 ins), and materials: unlike the Gorilla Glass Victus body of the S21+, the S21 is wrapped in plastic. So deciding between the two models pretty much depends on your preference for screen size and aesthetics because their features and performance are similar.
One big disadvantage: unfortunately the entire Galaxy 21 series comes with no microSD card support so that limits expandable storage options. Also, the phones are without earphone jacks—not necessarily a dealbreaker seeing as we are used to wireless earphones now. Only problem is, the Galaxy S21 series doesn't come packed with its own earphones, wireless or otherwise. Neither charging cable nor adapter. So first-time Samsung users will have to spend a little extra to buy those essential accessories.
Unless, you make full use of the pre-order promo. Pre-orders of the Galaxy S21 series come with free Galaxy Fit2 (retailed at RM179), Galaxy SmartTag (RM119) and more importantly, the Wireless Charger Trio (RM339). Better still, Samsung also provides a monthly instalment scheme (with 0% interest) for each phone model, making affordability within greater reach. The promo lasts until 31 March 2021 so better make up your mind soon.
Oh, one worrying issue: the phone would heat up on occasion (even through a phone case). What's up with that?