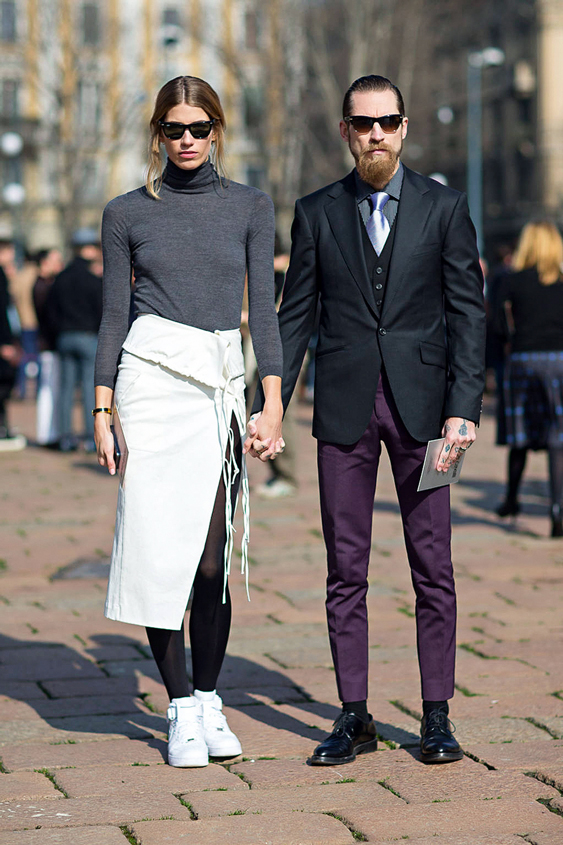 … Take a leap of faith for love?

He: I remember being captivated by a very long-legged, beautiful, blonde German girl standing in the middle of the Acne showroom [in Copenhagen]. Without any hesitation, I knew I had to speak to her.
She: We ended up in a typical Danish bodega drinking beer and playing all afternoon until midnight. Not my classic Saturday, but definitely a fun start.
… Indulge in your surroundings?

He: I love the contrast of Berlin's crazy "reputation" against the peacefulness of  its reality. The city, for me, is a sanctuary from the rest of the world.
She: Berlin feels like wellness. It's very spread out, but relaxed, with almost no traffic … so different to New York or London. We enjoy spending time at home doing nothing, really.
… Eat to your heart's content?

He: We always go to the same restaurant [for our date nights] – Grill Royal. It's the best place in Berlin. The owners are friends of ours. It's a real Berlin institution.
She: It's classic, cool, and chic at the same time – simply the best restaurant in the city.
… Take a trip to your shared fantasy land?

He: Game of Thrones, Suits, Homeland, True Detective, or House of Cards are normally playing in our home on a Sunday.
She: We are addicted to TV series. We'd watch them all day long … with champagne in hand.
… Find your common ground and honour it?

He: Sometimes, we'd both get ready, and when we walk out of the hotel, we look at each other, and by chance, there is a detail on each of our outfit that goes well together. It is never planned. Maybe that's why it works.
She: I think we get lucky [with it], because we love each other.
… Live by a good point of reference?

He: Designers – I love what they create. Seeing their magic on the runway is what gives me inspiration. It's not how people wear it.
She: Alessandro Michele is such a cool guy. He is very sweet and shy, but what he does is very powerful, cool, and new. And it feels authentic at the same time.
… Have refined taste?

He: When Veronika is wearing something very sophisticated and glamorous from Valentino or Erdem, I am always amazed. I like to see the pure enjoyment in her eyes.
She: I do love Justin best in his motorcycle outfit: black jeans, T-shirt, and leather jacket.
… Hold hands in style?

He: I'd always wear the same rings and tattoos.
She: My new Chloé rings with my initials are fun.
… Recognise your pet peeves?

He: Shoes with no socks.
She: Too much make-up.
… Revel in your favourite lullaby?

He: "Just the Way You Are" by Billy Joel is a beautiful song that always makes me think of her.
She: "Everywhere" by Fleetwood Mac reminds me of the beginning of our relationship. It never fails to bring me back to those memories.
… Memorialise your lover?

He: Her laugh – it haunts me.
She: I wish I could always have his decisiveness with me.