Elevete Patisserie is your go-to dessert place from now on.
While we are all too familiar with five love languages — "Quality time, gifts, physical touch, words of affirmation, and devotion." – Edwin Chan encapsulates love into one word: PASTRY.
Chef pâtissier and founder of Elevete Patisserie has had a fruitful career since 2014, which is almost 8 years in the profession. On the job Edwin continues to discover new techniques within his speciality, making macarons.
Catering to Malaysians' flavour-driven taste palates, he knows how to whip his baking magic to ensure that every one of his desserts delivers satisfaction to anyone who eats it. Elevete Patisserie strives to distinguish itself through its unwavering focus on elevating the way we enjoy desserts.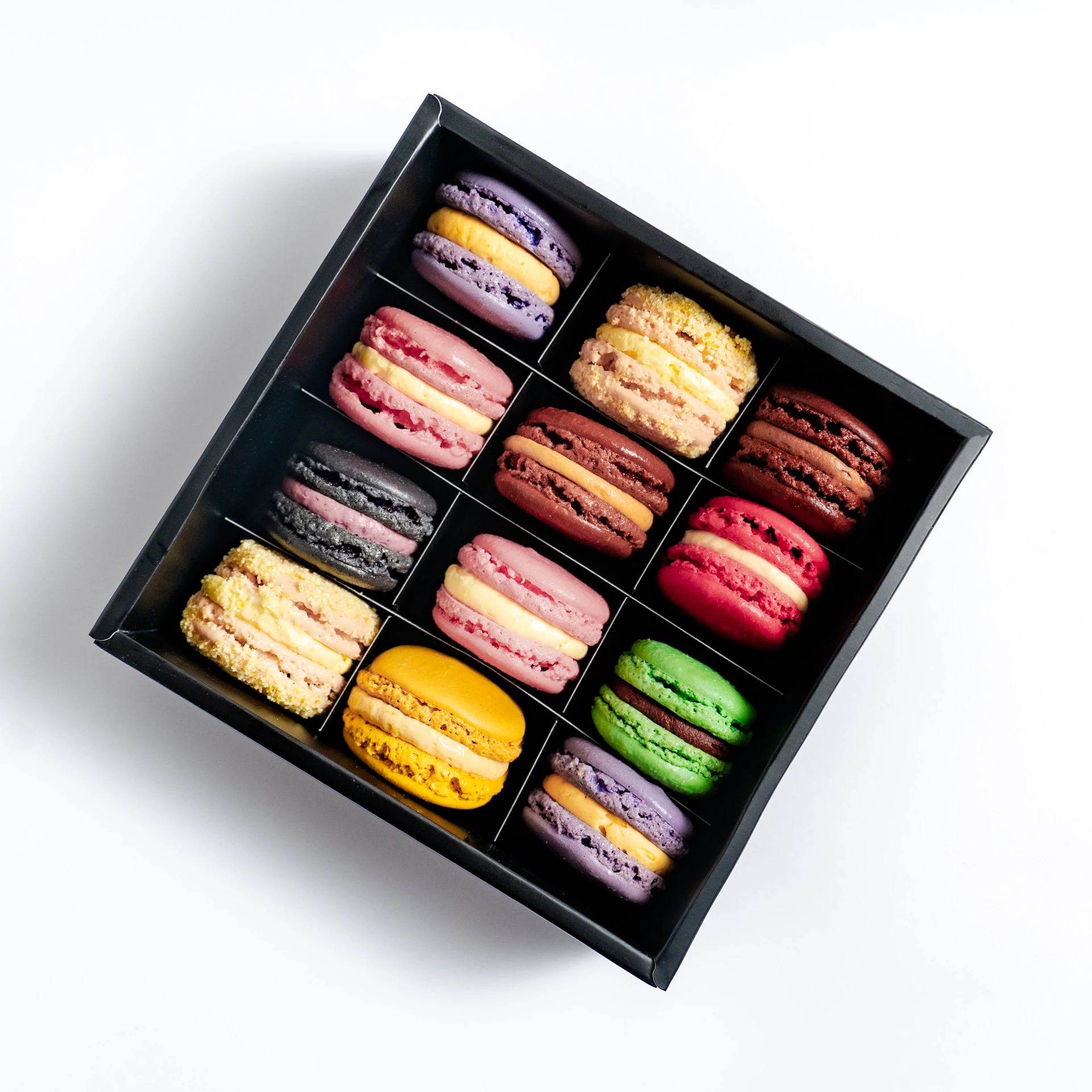 Though Edwin claims his favourite macaron flavour is Salted Popcorn, some of the most popular desserts that are no less delicious and enjoyed by Malaysians are the Salted Caramel, Rose Lychee and Cookie Monster. Trust us, the list actually goes on…
His baking career began with only RM5000 in his bank account but that didn't stop him from achieving his dream. With the little amount he had, he baked continuously until he made it. "It's always a combination of passion and practice. It will not work if you only do one of those. Continue to try to make a better different dessert, and then continue to practice."
Aside from their well-known Maids of Honour macarons, their artisan cakes are just as delicious. Ranging from the Pandan Gula Melaka cake, Lemon Poppyseed, and Salted Caramel Chocolate cake.
"Everyone's birthday is our birthday"
The joyful craft of creating good quality desserts isn't the only thing that keeps the Elevete team working tirelessly to fulfil stacks of orders. For Edwin, the satisfaction comes from the pure joy of witnessing his desserts bringing pleasure to his customers. "When you bake for a friend, he'll bring it to a celebration or birthday party and everyone gets to enjoy it. So it was pleasing to hear. And because we work very hard daily to meet each order, it's just worth it," Edwin explains.
View this post on Instagram
Edwin creates intricate cakes with technical expertise and meticulous attention to detail, using only the finest ingredients. Customers are consistently wowed by the selection of desserts which are not only a visual feast but also a melodic blend of textures and flavours.
From the occasional sweet tooth to the incurable dessert addict, Elevete's eye-catching creations from the chef's signature petit gâteaux to the Ispahan Macaron continue to be a popular dessert for any occasion. As their cakes are beautifully decorated, they are specially made for special celebrations. With lovely fruity flavours, well-balanced sweetness, and possibly the most flawless, crumbly texture; one macaron is certainly not enough.
If you're on a gluten-free diet, you must try out the rich Dirty Tiramisu Cake – wheatless gluten-free coconut sponge cake topped with mascarpone cheese and aromatic coffee buttercream frosted topped with cocoa almond praline. These desserts will satisfy your sweet tooth whether you are gluten-free or not. Honestly, you won't even notice that the cake doesn't have flour—they're that good.
You can place your orders at Elevete Patisserie's official website. Follow them on Instagram @elevete for more information and updates. Elevete Patisserie is also available on Cake Rush, Cake Together, Eat Cake Today, and Grab.
– – – –
Photos courtesy of Elevete Patisserie.