The space is a well-thought-out balance of soft darkness and swells of warm glow, allowing the glaze and zest of the open kitchen to extend throughout the whole restaurant. Where the energy flows, good food (and wine) goes.
Words by Nikola Hassan
Studio is a new restaurant in Bangsar, by the charming duo behind Sitka Studio and Sitka (the two dining concepts that had put Jalan Batai on the map in days gone by) – Chef Christian Recomio and Jenifer Kuah. 
Chef Christian oversees the menu and produce, and Jenifer takes care of the service and wines with her eagle-eye precision. Over the years together, they have created their own refreshing stratosphere of understated cool and authentic hospitality.
The interiors of Studio is almost a replica of Sitka Studio, with the addition of a six-seater Chef's table that's on the other side of the kitchen and a tastefully designed bar. Their feature wall that comprises floating shelves decorated with food and travel books, wine glasses and stacked ceramic plates, which was a signature of Sitka Studio, is back as well, yet this time it anchors the dining room with an even more dramatic effect.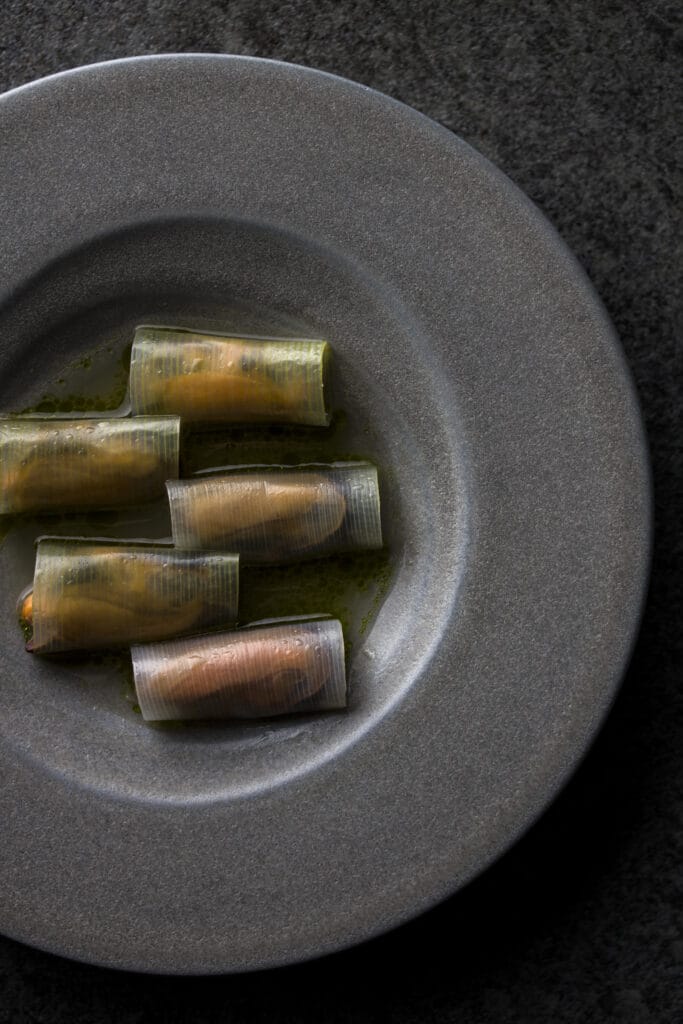 Chef Christian's tasting menus are designed as a 10- or 8-courser (fret not vegetarians, there's also a nine-course meat-free option), and the journey that your tastebuds embark on is a symphonic one. Subtle flavours (their signature yuba tart, leek & mussels) ascend to crescendos of robust dishes (potato, jus gras & rosemary mascarpone), then soften (grilled zucchini, gooseberry & egg yolk sauce, sole, lemongrass & vin jaune) before the cadenza at the end of a tasteful concerto, crayfish (local), congee (made with Sarawakian barrio rice) & brown butter. The dishes are confident and uncomplicated, not crowded with fancy, extravagant ingredients which are, at times, more for flex than flavour.
View this post on Instagram
Chef Christian and Jenifer's establishments have a track record of championing natural wines (Alta, for example) and their approach enlightens us with a new way to think of wines. If the adage 'drinking is thinking' is true, then the wine program at Studio is cerebral. We suggest the wine pairing option if vino is your whimsy.
The formula is simple at Studio – good, fresh produce (local where available), a European perspective, and genuine service that creates connection.
If you're looking for your next date night spot or your next dinner destination with friends who share your curious palate, add Studio to the very top of your list. 
Studio is open Friday and Saturday nights only, and bookings ahead of time are essential. 
For menu & bookings: www.studiorestaurant.co 
Contact: +6016 425 0773
Address: 38-1 Jalan Kemuja, Bangsar
– – – – –
Images courtesy of Studio