Harper's BAZAAR Malaysia officially premiered the first-ever BAZAAR Art last Thursday. The gallery of stories and imagery within these visually enticing pages explored new masterpieces online and offline—from the emerging genre of "Insta Art" currently dominated by the likes of Donald Robertson, to the prolific women who have redefined art in visionary forms.
The cover of this issue, designed exclusively for BAZAAR by Spanish artist Ernesto Artillo, is a digital Impressionist representation of a Gucci Autumn/Winter '16 look, created to express gender fluidity in a contemporary medium.
Held in White Box at Publika Shopping Gallery, Harper's BAZAAR Malaysia, in partnership with BMW Malaysia, shared this momentous occasion with Kuala Lumpur's most inspiring creators and curators who define the art scene, locally and beyong.
The evening saw the unveiling of the Ernesto's masterpiece of a cover and an exclusive mural, created by the talented artist himself. Exhibited in a container with a slick BMW 1 Series, both beautiful works of art anchored the pre-event reception outdoors at The Square.
Natasha Kraal, editor-in-chief of Harper's BAZAAR Malaysia, editor of BAZAAR Art, Sharmita Summugam, along with visual artisan Ernesto hosted the evening amid art installations inspired by notable women of art, as well as booths that encouraged creativity and ultimate personalisations.
The welcome address by Natasha left an overarching message on the emergence of new expressions, how they are embraced in life, art, and fashion together, while Sharmita introduced the issue as a platform where visual intellect is given a new dialogue within the context of fashion. The 56-page creative portfolio, curated under her visionary tutelage, is a testament to the thoughts of famous artists,  inspiring out-of-the-box thinking, and for all to live a life of art.
That evening, guests engaged in the simple joy of creating and realising ideas. The installations were highly influenced by artists such as Yayoi Kusama, Bridget Riley, and Bambi, and the video presentation of Marina Abramovic's finest work, The Artist is Present, treated viewers to an insight of Marina's ingenuity.
Most popular was the art stamping activity where guests got a hands-on art encounter of custom tote bags, much like the instant artworks of Donald "Drawberston" Robertson. Titillating conversations and thought-provoking ideas were thrown about amid an atmosphere buzzing with creative energy.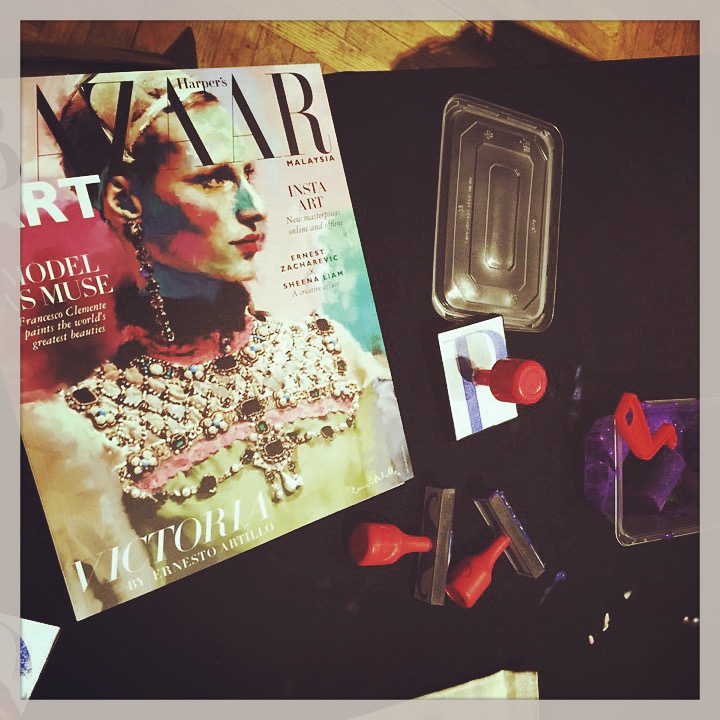 For more insightful art conversations, get your copy of BAZAAR Art on newsstands today.