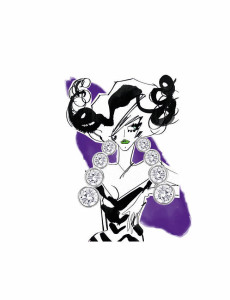 Harley earrings, Swarovski
ARIES (MARCH 21 – APRIL 20)
The Aries woman will find that a certain amount of focus will be demanded of her this year. As you handle the complexities of an upcoming project, remember that you won't always have to roll up your sleeves; you'll also have time to enjoy new trends and achievements. If you take the time to do both correctly, you'll reap the benefits. In matters of style, however, you'll discover that there's  beauty in hassle-free accessories, such as the Swarovski Harley earrings. A highlight to any ensemble, these earlobe cuffs feature an elegant arc of clear crystals, set against rhodium plating for everlasting brilliance.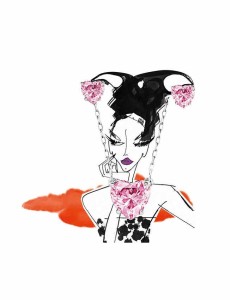 Attract heart earrings and necklace, Swarovski
TAURUS (APRIL 21 – MAY 21)
Loving and generous, friends and family are at the heart of what makes a Taurus special. However, a sense of drama is never too far. Theatrical yet practical, you might discover 2016 to be a time of passion, creativity, and love. Romance and intimacy are close at hand as you prepare for a move to a more long-term direction. As the gorgeous new addition to Swarovski's popular Attract collection, the rhodium-plated Heart earrings and necklace set incorporates equal parts feminine sophistication and Taurus rationality, resulting in a look that ensures stylish brilliance for the entire year (or as a perfect gift suggestion for that special mate you'll meet in time).
Explore pendant, Swarovski
GEMINI (MAY 22 – JUNE 21)
Geminians are notorius for getting bored easily. As such, over the next year, you will probably find yourself fine-tuning your ability to adapt, perhaps even changing your mind often. However, as far as personal style goes, you're looking for something more along the lines of versatility – a particular tone that fits into your graceful and evolving aesthetics. Swarovski's Explore pendant certainly appeals to that. With a playful heart that can be worn in two ways – sparkling with a solid clear crystal pavé or shining with pavé and rose gold-plated metal stripes – changeability has never been more chic.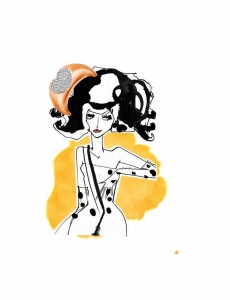 Even wide ring, Swarovski
CANCER (JUNE 22 – JULY 23)
Striking awe in the hearts of her friends and loved ones, the loyal and sympathetic Cancerian woman is a traditionalist. Born in the heat of the summer months, you're quite sentimental when upholding key values and cultures that are dear to you, just as much as you appreciate the exciting opportunity to start something new. Perhaps, this year, that something can be a thing called love. As you prosper in the beauty of a kindling romance, celebrate with a token of adoration. Perfect a Valentine's Day "surprise" by telling him exactly what you would like. No hints! Repeat after us: the rose fold Swarovski Even wide ring. Just think about how the ring's sparkling inlaid heart of clear crystal pavé could shine as a beacon of your love – for today, and for years to come.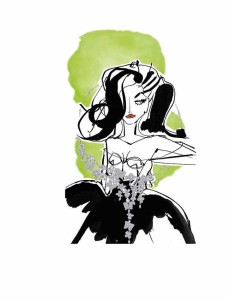 Eden all-around necklace, Swarovski
LEO (JULY 24 – AUGUST 23)
As a rule of thumb, the Leo woman can regularly find herself mimicking the characteristics of her star animal, a lioness. Dramatic, generous, and innately romantic, you're also a natural-born leader who likes to be the center of attention, especially when it comes to sharing your passions, your fashion statements, and love. Honoring her position as the pride among her friends, the Eden all-around necklace by Swarovski is the modern woman's lion mane. Inspired by flowers and butterflies with a stunning waterfall silhouette and an eye-catching mix of crystal cuts, the latest addition to the rhodium-plated Swarovski Eden collection evokes a sense of romance, radiant with such ease, ideal for any date-worthy occasion. After all, this year is predicted to be a particularly good year for love for the lioness.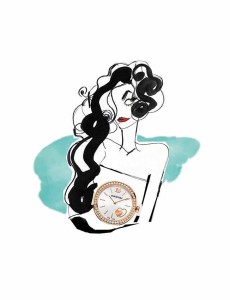 Daytime white heart watch, Swarovski
VIRGO (AUGUST 24 – SEPTEMBER 23)
Grand debuts and new beginnings will be a constant in the life of the detail-oriented Virgo. You'll need to prepare yourself for some missed connections, but no tears will you shed! Your life in 2016 will be filled with exciting occasions as you navigate the new year as you would another – punctually, and with natural intuition and charm. Although, you can sometimes be short-tempered and impatient, time will be on your side this season, with the Daytime white heart watch by Swarovski, a timepiece as romantic and as stylish as you are. Accentuated in rose gold with a stunning setting of 48 crystals, your watch may be a holder of style, but any Virgo with this particular piece will surely find herself the epitome of balance and grace.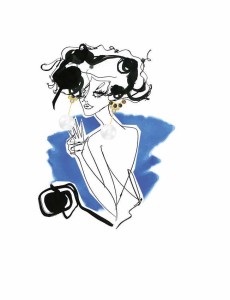 East wire earrings, Swarovski
LIBRA (SEPTEMBER 24 – OCTOBER 25)
Sometimes referred to simply as the Scales, the Libra woman exudes balance and stability, attempting to surround herself with harmony and beauty, always. However, although your sign represents the element of justice and conscience in the modern zodiac, you may catch yourself with the inability to make a decision over the following months. Fear not, your skills at finding an outfit to transition from day to night will come in handy, especially if you choose to pair it with Swarovski's on trend wire earrings. The elegant East wire earrings feature crystals in a gradation of natural shades, from cream to dark grey. Along with its effortless matching prowess, these earrings make for a well-received and judicial break from the supercharged efforts this year will demand from you.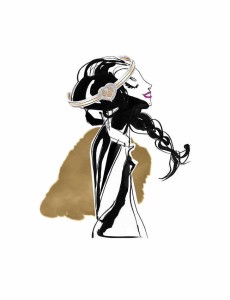 Cupid bangle, Swarovski
SCORPIO (OCTOBER 24 – NOVEMBER 22)
Filled with a desire to unearth new things, Scorpios are often bold yet secretive. Associated with the scorpion, you greatly resemble your desert friend whenever you withdraw from a situation. However, you come back with full force and, sometimes, with an accompanying sting that can be surprising. Contrasting the Scorpio's tendency to subtly observe, the upcoming year will explore the ways in which you adapt to unfamiliar surroundings or new friendships. As you grow accustomed to the charges, don't forget to discover the power behind revealing the unknown, such as Swarovski's versatile three-in-one Cupid bangle, worn separately or interlocked.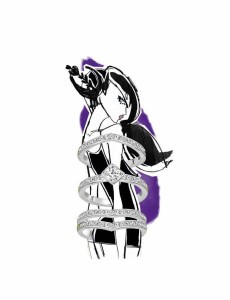 Alpha rings, Swarovski
SAGITTARIUS (NOVEMBER 23 – DECEMBER 21)
The Sagittarius woman loves versatility. As a trailblazer in your own right, you rarely seek the tried and tested, but in 2016, you might find yourself revisiting past personal tries. When you find a pre-loved garment that passes the test, try updating it with Swarovski's stackable Alpha rings, for a sleek, modern touch. Sparkling with clear crystal pavé, the three-ring set features an easy-to-wear V silhouette and rhodium-plated metal that'll keep these chic rings shiny for years. Whether worn together or separately, or mixed and matched with other Swarovski rings for an exaggerated effect, this trend will be one to pursue. Ideal for the style-conscious Sagittarius who values quick and easy styling option when it comes to looking glamorous.
Cupid earrings and necklace, Swarovski
CAPRICORN (DECEMBER 22 – JANUARY 20)
This year will be all about taking risks for the stylishly ambitious Capricorn. When stepping out of your comfort zone, your thriving sense of spontaneity and adventure will be your new best friend. Fresh, unfamiliar experiences are bound to surface in 2016, broadening your horizons and your sense of style. You might even find yourself following your heart's true desires, whether that means a soul-searching spa trip to Bali or acquiring a new love in time for Valentine's Day. If the latter is the case, Swarovski's latest addition to its popular Cupid line, a set of rose gold and red crystal pavé earrings and necklace, is absolutely fitting for a night out with your beau, especially if paired with a plunging neckline.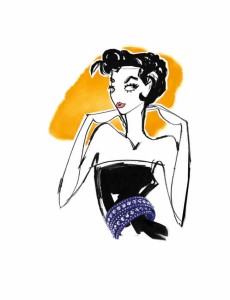 Slake mauve dot bracelet, Swarovski
AQUARIUS (JANUARY 21 – FEBRUARY 19)
Usually a friend to all, as an Aquarian woman, you will find yourself seeking a closer network of comrades over the next 12 months. As you begin the journey of navigating your new social circle, weeding out past hindrances and drama-makers will result in a year filled with dynamic relationships (romantic and otherwise). As you are the type to always be on the move, the accessory to perfectly match your on-the-go-lifestyle might just be Swarovski's Slake mauve dot bracelet. Encrusted with lavender crystals, the wrap-around mauve Alcantara® has the potential to be worn separately or stacked with additional bracelets and bangles – the right amount of styling possibilities to make any Aquarius happy.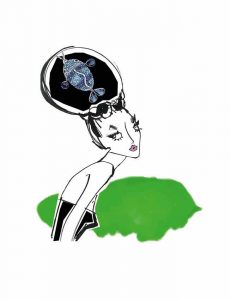 Exotic long pendant, Swarovski
PISCES (FEBRUARY 20 – MARCH 20)
A fish with a wish, the quintessential Pisces could describe herself as somewhere between playful and dreamy, but her creative nature and the patient diligence that comes along with being a water sign will pay off this year. Although relatively unassuming and low profile, in 2016, you can look forward to a year as a Pisces in a are role of leadership – and partnership. Whether in the field of love or career, take inspiration from the sea with Swarovski's nautical-inspired pendant for a fresh take on the season's layered look. Decorated in crystal Pontiage® and blue crystals, the Exotic long pendant is a definite #GirlBoss addition to your elegant and unpretentious OOTD moments.
Illustrations by Keng Saw
Text by Brent Taalur Ramsey