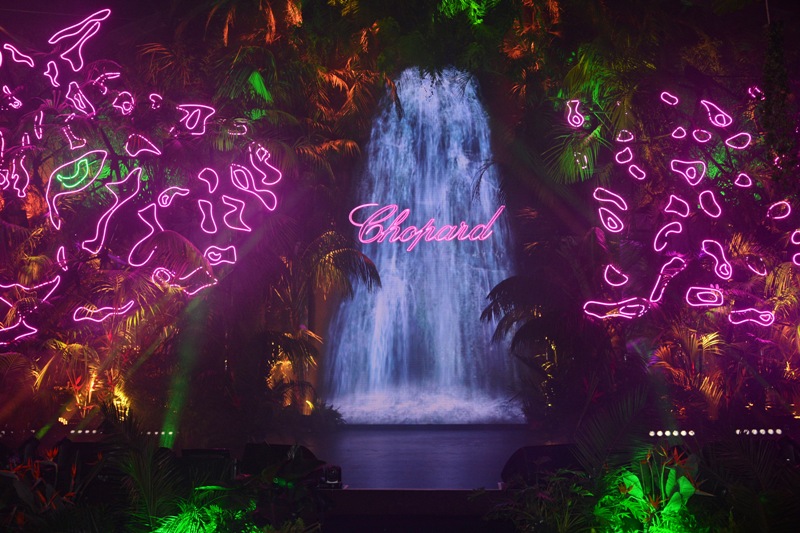 One of the most sought-after events of the Cannes Film Festival is none other than Chopard's annual grand soirée  A marquee was set up for this special occasion at Port Canto on the Croisette which saw a list of  international hot names such as Diana Ross, Kate Moss, Kendall Jenner, Poppy Delevingne, and Joséphine de la Baume. The glittering menagerie of women dressed in dripping elegance stirred the scene at Cannes for a night, amid an arresting backdrop of a neon-outlined jungle atmosphere. In a splendid luxurious setting filled with colourful and tropical flora and fauna, models wearing Chopard's latest Red Carpet creations and vividly coloured gowns by Elie Saab welcomed guests while posing in tableaux vivants.
During the evening, the legendary Diana Ross gave a private concert singing her greatest hits. Among the guests were Kate Moss, Kendall Jenner, Poppy Delevingne, Sonam Kapoor, Pixie Lott, Oliver Cheshire, Araya Hargate, Adriana Lima, Petra Nemvova, Chris Pitanguy, Lottie Moss, Olivier Martinez, Joséphine de la Baume, Kristina Bazan and Aymeline Valade to name a few. Chopard enlisted the talents of DJ Nathalie Duchêne, resident DJ at the Nuba and Silencio in Paris, and famous DJ Mark Ronson to amp up the heat of the night. BAZAAR is doing the big fashion count down to the glamorously dressed mavens of Cannes who came, saw and conquered the French Riviera with foxy finesse.
BAZAAR's #69Cannes Best Dressed, Kendall Jenner in Elie Saab
Embroidered, textured and layered with embellishments and thin feathers the intricacy in craftsmanship is a stunning contrast to Kendall's signature natural beauty finish.