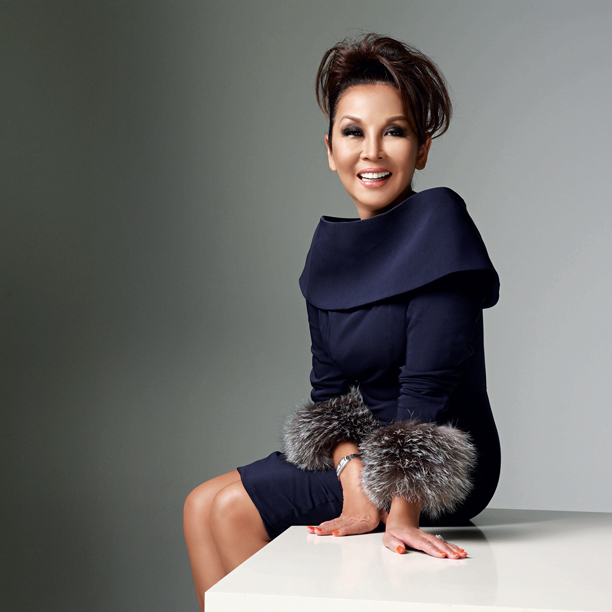 People always ask me how I get dressed for the day, and the secret is to not plan the day before and live in the moment. – Dato' Sri Dr. Farah Khan
9AM My mornings tend to vary. It depends on where I wake up because I can be in New York, London, Paris, Kuala Lumpur, Singapore or Bali. Right now, I am in tropical Kuala Lumpur and I usually rise at 9 in the morning; I believe everyone should have 8 to 10 hours of sleep. My day begins with a strong cup of coffee and an hour of pilates with the most amazing personal trainer.
9.15AM In between waking up and working out, I log on to my phone to respond to my e-mails and messages. I try to answer as many as I can, as that helps people get on with their work. In the midst of all this, I create a daily checklist and sort them out according to priorities for the day.
10AM People always ask me how I get dressed for the day, and the secret is to not plan the day before and live in the moment. Well, it also depends if I have an important meeting or if the day calls for something a little more casual. Comfort is absolutely essential to me. It's always flats or no heels at all when I go to work, even at fashion week. Running around the streets of Milan in high heels, I can tell you, is just not possible! Back home, for days spent in the studio, I will pull up in my gym clothes, but if it's a corporate day when I see the board, or meet with any principals, then of course, I will be specifically dressed for that. At the moment, my current favourites include an eclectic mix of Azzedine Alaïa, Mary Katrantzou, Roger Vivier, and Tod's.
11AM I get in to work and head straight into meetings and discussions. Every day is a different working day for me. Mondays are for fashion, Tuesdays for F&B, and Wednesdays are spent doing creative projects. Sundays are completely chill for me, and I usually spend lots of time with friends for lunches, teas, and dinners. I love fresh food and fresh produce, and it's even more fun cooking them with my son who adores cooking. When I'm at my beach villa in Bali, I'd hop on a bike to explore the island. It's absolutely glorious!
1.20PM Around lunch time, I do things like interviews or lunch meetings, and because I come in to work quite late, I don't actually eat behind my desk. I prefer to enjoy my meals quite thoroughly. I do, however, have a weak spot for coffee, and on a daily basis, I would have about three to four cups a day … a little too many if you ask me!
3.30PM On days when I'm away for fashion week, and the schedule is not packed to the brim, I find myself exploring antique markets. I love discovering new treasures at the marché aux puces in Paris and Notting Hill's Portobello Road Market. Many of the vintage pieces I have found are artfully placed around my holiday villa in Bali, such as my favourite vintage Louis Vuitton trunks!
7.20PM When I am in KL, this is the hour I get home to wind down. I have learned the art of putting things into boxes and I don't try to bring my daily trials and tribulations from work, home. This is something that I've developed over the course of many years and definitely not something I could do when I was younger.
9PM Dinners are usually spent in a very languid fashion, as I always have a wonderful meal doing all the things I enjoy at night. My family and I like Thai food, although I particularly enjoy cooking Italian food. It's easy, with far less ingredients than others and it truly defines the idea of good, fresh, and wholesome food. For Asian cuisine, we always go to Mama San when in Bali, and this is of course one of the reasons why we brought it here to Malaysia. I love the concept of food sharing.
10.15PM On some nights, I would head out with friends to Marini's On 57. Other nights, I would indulge in a movie or two or throw a little dinner party to catch up with good friends who also have busy lives.
12AM Before I go to bed, I put on my favourite La Mer face cream. I can't live without it. Their products are the most decadent and completely fuss-free. I just slap it on as I'm way too impatient for rituals, except for massages which I find totally relaxing. Last but not least, I end my day by reading the news and checking my schedule for the next day ahead.
Her Essentials: