BAZAAR Web is introducing an exclusive collective called the BAZAAR #DigitalDiary where we go into the lives of new-age girls, local by heritage and international by culture. Stay dated with our #BAZAARDigitalDiary hashtag for a delectable churn of our local millennial ladies. Watch this space as BAZAAR has the best of the new breed.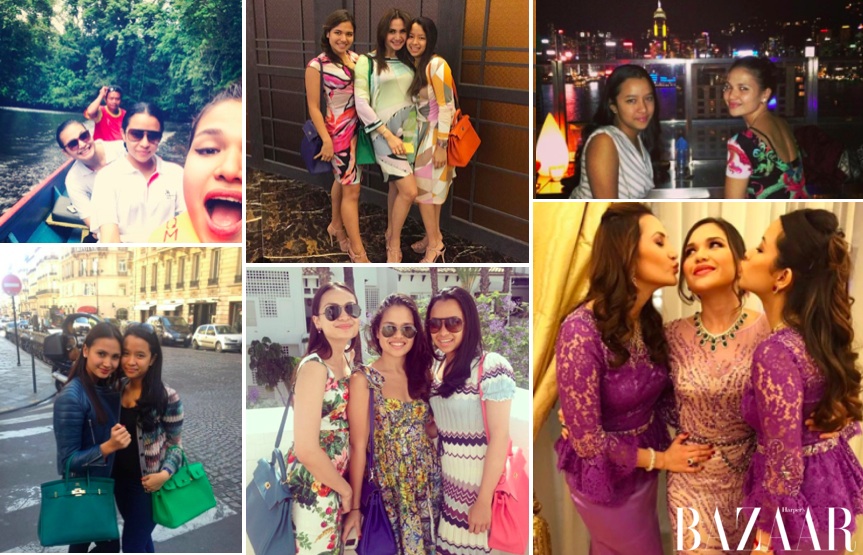 Three peas in a pod. Amira, 23, Shaheera and Alia, 22, live a seemingly seamless world of whirlwind friendship and colourful coordinated ensembles. But each of these ladies live with ambition across three continents. Newly-wed Amira based in Singapore is the Founder of Zahara, a revolutionary beauty and cosmetics line catered for Muslim women while best friend Tengku Shaheera is an aspiring interior designer who has made her return to Malaysia after five years in the UK. On the contrary, Alia resides in Kazakhstan as a property developer, wife and dotting mother to 1 year old daughter Alisha. The three ladies are a true embodiment of the new womanhood and testament to friendship without borders.
Alia Geneid, ON TRAVEL
Beach Essentials
Maison Michel boater straw hat is a must for shade and to top off your overall look. Chic sunnies and a large tote, something big and comfy to carry your beach essentials (don't forget to use sunscreen!)
…and the City?
Espadrilles or stylish sneakers are my "must pack" during a city escape so I can roam around and discover the city in comfort. A small sling handbag such as a Constance to keep your hands free so you don't loose it in the hype of the cities hustle and bustle. Last but not least, a granola bar to get you through your busy day and to give you a burst of energy. My favourites at the moment are 'Kind Healthy Grains' granola bars.
Holiday soundtrack?
"Summer" by Calvin Harris.
Most sentimental vacation?
My most sentimental vacation so far would be my honeymoon – roaming the streets of Florence, Rome, Paris. We explored every nook and cranny of their intimate streets while on a food adventure.
Next Wish List Destination?
Bahamas, for their fine sand and turquoise waters.
Favourite Beachwear Brand?
MC2 Saint Barth or Agent Provocateur – I love their vibrant colours and their cut.
Your Apres-Swimwear Style?
I slip on one of Emilio Pucci's short kaftans; gorgeous yet oh so comfortable.
Tengku Shaheera, ON STYLE 
Fashion Philosophy?
Timeless but always trendy – I'm always looking out for the classic pieces that I can wear forever but if I really like a trend I'd pick out a few pieces to wear together. My classic pieces would have to suit the young though – nothing that would make me look older. Always dress for your age.
Style Staple?
Hermes Kelly bag or clutch – so chic and it will never go out of style. The Kelly is such an elegant piece and definitely more for the youth compared to the Birkin.
Key pieces?
Everything Chanel – from their jackets, to accessories and shoes, I can wear it endlessly and it will always be in fashion. Dolce & Gabbana patterned skirts – I can always dress them up or down, day and night, the perfect summer attire. Alaia dresses – the simplicity of their dresses allows my accessories to stand out more.
Iconic Designers?
Christian Dior definitely had the greatest come back. I owe everything from their blazer dresses, accessories and especially their bags. The perfect mix of classic and trendy. The trendiest brand right now for me would be Fendi; the cutest finds and so fun, I love a collection filled with bright colours and florals. Maje for my everyday essentials.
Never-go-Without Accessories?
Tom Ford aviators have the perfect fit – total black-out shades are a must!
Jewellery?
I love to mix and match my Van Cleef and Arpels Alhambra collections; they're so elegant yet really youthful. I'll probably be collecting them for the rest of my life. If not, my treasured panther skeleton ring – my perfect statement ring.
Amira Geneid, on BEAUTY
Three skincare necessities?
Water, sleep and placenta cream. I know it sounds gross, but it seriously works.
Beauty Travel Tips?
Bring comfy shoes because the best way to explore any new place is by walking and getting lost. My best experiences while travelling are always the non-touristy ones, like finding a local dive or discovering tiny corner shops.
Three Make-Up Essentials?
I don't go anywhere without my eyeliner, I'll have it in my back pocket or in my handbag with spares all over the place just in case. I use Zahara Longwear Eyeliner because it goes on like a dream and lasts me all day. Aside from that I always bring some of Lucas' Pawpaw ointment for dry spots and my handy Matte Lip Cream in case I ever need a pop of colour.
Millennial Beauty Icon?
I love how Kylie Jenner pushes boundaries with her fashion. I probably wouldn't wear half the stuff that she does, but I still love to see what she comes up with!
Business Women Routine?
A good gym session to let off some steam (I'm currently in love with Gymnastic Strength Training). As well as a Netflix subscription, because after a long day at work there's nothing better than lying in front of the TV with a tub of salted caramel ice cream to give your brain a break.