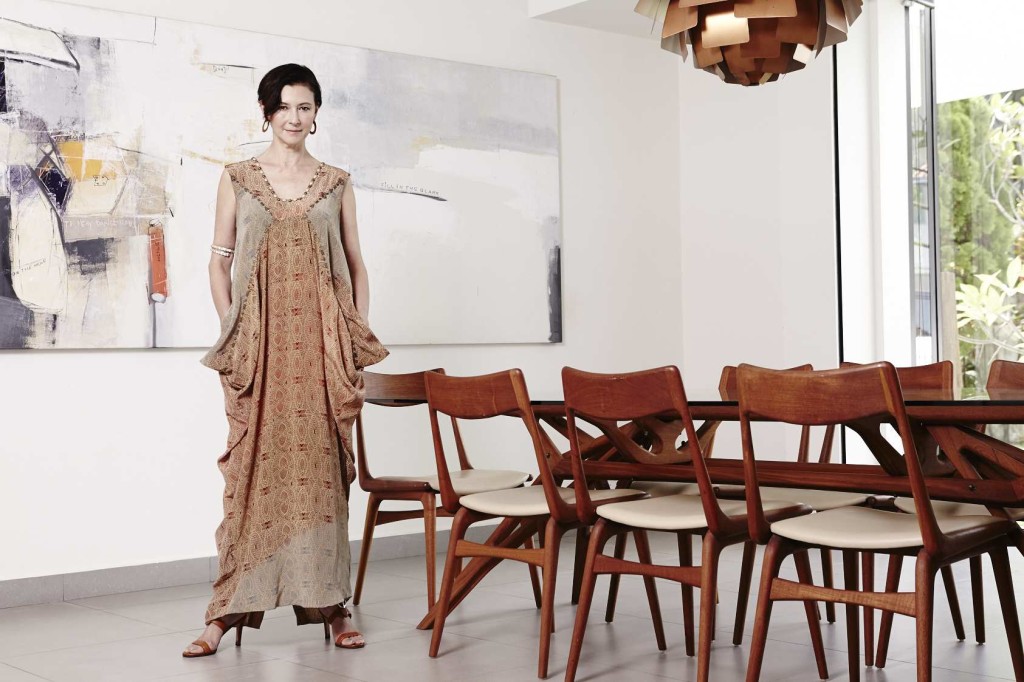 Sofiah Rahman working her Milo's look next to her custom-built dining table by Fiske, against a modern artwork by Indonesian artist, Hanafi
The words to "Bohemian Rhapsody" in Freddie Mercury's emblematic voice echo through the house as I sit down with Sofiah Rahman on a delightful Saturday morning. Lounging by the window of her sun-drenched living room, dressed in a chic oversized white shirt paired with skinny jeans that accentuate her lean figure, Sofiah is reminiscent of a younger Carolina Herrera. Her sunny disposition brings warmth to her old-school, silver-screen elegance. Even when pouring a cup of tea or talking about art, fashion, and family, one is taken in by her radiant positivity.
"Your best work is your expression of yourself," said famed architect Frank Gehry, the very sentiment that reflects upon Sofiah's life and the modern walls of her home. Arguably one of the most interesting homes in terms of its finely curated décor, Sofiah opens up her "lived-in home", as she calls it, and talks about the simple pleasures of life.
THE LADY
Her story is as fascinating as the woman herself. Sofiah's father was a Malaysian army officer who travelled around the country with his young family: her mother, a British national, her younger brother, and herself. Later, when her father was transferred as assistant military attaché at the Malaysian High Commission in London, the entire family moved abroad.
"That was a fun time for us all, especially my mother. She was returning home as a diplomat's wife representing Malaysia," recalls Sofiah of her adventure-filled childhood. "She would expertly plan all our weekends, taking us to the museums and galleries, expanding our imaginations. During the holidays we would drive to the country, visiting places such as Lake District or cities within Europe. It was a mesmerising childhood."
NEW CHAPTER
"Moving back to Malaysia was not a difficult task. I dove right into the fashion scene, bright-eyed and brimming with enthusiasm, working my way from ground up, to setting up the first Ferragamo store in Malaysia followed by the start-up of Valentino as well," she reveals. "I would go to Paris, meet interesting people and designers, and atelier-hop from one end of Paris to another." After years in fashion, Sofiah decided it was time for a change. Then Harrods came calling.
There was no one more suitable for the job than Sofiah. Making her transition from the fashion industry into F&B without any hiccups, she did not stray too far from the fashionable crowd; it is Harrods, after all. As general manager of Harrods Malaysia, she manages the brand with a sense of British sophistication, ensuring everything runs like clockwork. "I enjoy being around customers, and more often than not, I find myself working around the store when the 'paper-work session' is done." As hands-on as she is at work, Sofiah is no different when it comes to her home.
ART CONSCIOUS
The postmodern house that she shares with her husband and two children (one is an artist and the other a fresh graduate with an economics degree from Durham University) is minimalistic with artful accents of quirky décor and one-of-a-kind masterpieces by Asian artists as well as her daughter, Kara Inez. "The main architect of our home is my husband. As the planning progressed, the entire family was involved and Adeline Ng from Malreka Associates combined our ideas perfectly to create a working home," explains Sofiah.
In keeping with the simplicity of '70s architecture, Sofiah built the current house around an original dark wooden staircase and opened up the space allowing light to shine right in. "An abundance of natural light streams through the windows, filling the entire house with sunlight every morning, giving it a happy ambience. As the sun sets, low lights indoors come on to create a cosy feel," she adds.
Here, light paired with the muted shades of her interior calls to mind the iconic painting "Impression, Soleil Levant" by Claude Monet, alongside statement pieces such as an original Eames chair that takes centre stage. "A beautifully crafted rosewood version of a chair from the 1960s that my husband brought home. It is one of the most comfortable chairs I have ever sat in and a favourite of our guests," she shares.
DÉCOR MADNESS
The slow process of collecting odd pieces was a true labour of love. From paintings and random objects (such as a coat hanger by a Danish designer and a submarine head from Taksu) to custom-built furniture (for example, the stunning dining table and a wooden stump, all originals by Fiske) are visually a breath of fresh air to the minimalistic ideals the house was originally built on. Clearly, painstaking attention to detail is everything to Sofiah.
As we walk around the circular open-plan of her kitchen, she shows me how it opens up to the living room, which in turn leads to the study and the pool. The cool shades of blue emanating from the sparkling water beautifully contrasts the lush greenness of willow trees. These provide a welcoming shade by the water, which reflects brilliantly against the white living room. It's an ingenious way of incorporating nature into the interior aesthetic.
"It's a blissful oasis to relax in after a long day at the office, not worrying about the children and winding down in the sitting room, looking out to the pool with Armada lounge music playing in the background," she says of her favourite spot to reflect. "I've done quite a lot in my life. And I have no regrets. There is always something new to experience."
Photography by Aaron Lee. Hair and make-up: Poey. Photography assistants: Khairul; Kee.