Words by Jessica Davisavi
From food to fashion, this green round-up will help you live in a more responsible way
When it comes to the environment, we're all presented with a near-constant stream of depressing news, alarming statistics and bleak outlooks. Following frightening-sounding 'final' warnings from scientists and rising global temperatures – outlined in The United Nations' latest climate report – the climate crisis can sometimes feel anxiety-inducing and way too big to comprehend in our own individual lives.
"We are already experiencing human-induced global warming of 1.1C, instigating unprecedented changes to our planet's climate," Eco-Age's communications and sustainability professional Georgia-Rae Taylor, says. "The last decade alone was warmer than any period of the last 125,000 years. To reduce fashion's contribution to climate change, we need to re-evaluate every step."
But where to start? If each of us makes small but significant changes to our everyday lives, we'll help to undo some of the harm caused to our planet. If you're unsure where to begin but are feeling empowered to make a meaningful change, then pick up one of the books from this curated reading list for guidance. From our wardrobes to our cooking habits, our beauty routines and our holidays, the decisions we make have consequences. With some smart tweaks and changes, we can adapt our lifestyles to make the planet a better place.
Here are our 10 must-read books about sustainability to read this Earth Day and beyond.
Dana Thomas Fashionopolis: The Price of Fast Fashion and the Future of Clothes
Dana Thomas' Fashionopolis exposes the truth behind fast fashion's impact on our planet. The author explains the reality of buying quickly designed, mass-produced clothes but also gives useful solutions and alternatives to shoppers who want to make a change. Thomas – who travelled the world to write her book and find valuable answers – chats with activists, designers and tech experts who are also fighting for a system overhaul.
How Veganism Can Save Us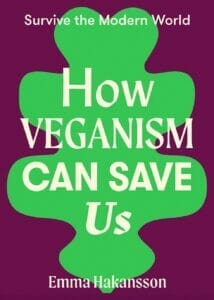 The biggest weapon against climate change is the individual choices we all make. Emma Hakansson's How Veganism Can Save Us reveals hard truths about the impact of animal agriculture, not only on our environment, but also on our own personal well-being and mental health. By adopting a plant-based diet, we can help improve our overall health, save animals and reverse environmental destruction.
No One is Too Small to Make a Difference
Greta Thunberg is the voice of the activist generation; she made history in 2018 after deciding, one day, that she wouldn't go to school – and instead, made it her mission to change the world. No One is Too Small to Make a Difference reminds us of exactly that, in Thunberg's own inspiring words and rallying speeches around the globe.
The Third Plate: Field Notes on the Future of Food
For anyone who wants to know more about how the way we eat affects the world we live in, Dan Barber's The Third Plate is a must-read. After surveying farming communities worldwide for 10 years, Barber – a New York chef passionate about locally sourced food – offers a new perspective on eating that will help our planet, without sacrificing taste. By examining the history of cooking, he looks forward to a better, more sustainable way of eating.
Not Too Late: Changing the Climate Story from Despair to Possibility
If the endless worrying statistics have you feeling anxious or concerned, Not Too Late will help you to put you a little more at ease. Exactly as it promises on the cover, this book changes the narrative from despair to possibility, giving hope to anyone feeling overwhelmed by climate crisis and what our future may look like.
Sustainable Beauty: Practical Advice and Projects for an Eco-Conscious Beauty Routine
Justine Jenkins uses her expertise – she's a trained holistic and sustainable make-up artist and consultant – in this practical guide to living a more responsible lifestyle and having a low-waste beauty routine. There are endless beauty products, ingredients and brands out there, all of whom promise to be better for the environment, but it can be hard to know who to trust or where to spend your money. Jenkins takes takes you through, step-by-step, on how to make a big difference, from simplifying your routine to creating recipes yourself at home.
The Zero Waste Cookbook: 100 Recipes for Cooking Without Waste
We've all been there: feeling guilty at the shocking amount of packaging that comes with our food, which often feels so unnecessary and wasteful. This book changes that narrative with 100 recipes, all of which show you how to make your food go further, thereby reducing your waste and making the most out of your weekly shop.
Sustainable Escapes
If you want to be more eco-conscious, but can't bear giving up your holidays, this is the ideal read. Lonely Planet's trusty guide to the world's most sustainable experiences and destinations (all of which protect wildlife and support local communities) will ensure that you're travelling in a way that keeps environmental impact to a minimum.
Mikaela Loach It's Not That Radical
While the conversation around climate change is more prevalent than ever, representations in the mainstream media have only been white-washed, greenwashed and diluted, in order to suit our capitalist society. Author Mikaela Loach demonstrates that, in order for us to tackle the climate crisis, we must educate ourselves on the roots of poverty, exploitation, police brutality and legal injustice. Loach's writing offers a vital take that could change the world and benefit us all.
Wardrobe Crisis: How We Went from Sunday Best to Fast Fashion
Who actually makes our clothes? Back in the day, we'd probably know the local seamstress, or craft our own. Nowadays, the making of our clothes and the fast fashion market tells a very different tale. Fashion journalist Clare Press explores the whole fashion system, from sweatshops to haute couture.
This article originally appeared in harpersbazaar.com