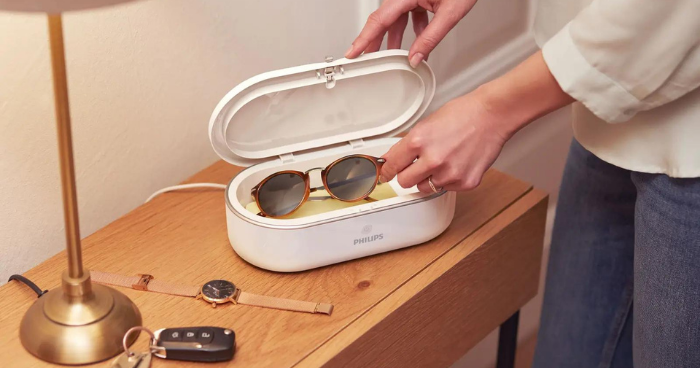 In this current climate, keeping our surroundings and our homes as safe as possible is the number one priority. Maintaining good hygiene and ensuring surfaces are sanitised have become common practice to ensure the health of everyone around us. Always on the hunt for solutions to make our spaces cleaner and safer, we were then introduced to the Philips UV-C Disinfection Mini Box.
I've been guilty of being complacent when it comes to sanitising the little things—like your keys, glasses, make-up brushes, cards and even my phone. However, that's when the Philip's UV-C Disinfection Mini Box stepped in and has been such a saviour in keeping germs at bay and away. Suited for sanitisation of small personal objects, this sleek and portable box promises to neutralise virus and germs through UV-C radiation. With a 99.99% effective disinfection rate, it rids of all bacteria in just about eight minutes. All you need to do is place whatever you wish to disinfect within the box and let the UV-C radiation do the heavy-lifting.
View this post on Instagram
Almost like the new BAZAAR team mascot, the disinfection box follows us everywhere. Since it's super easy to transport around, we bring it to our office, to shoot locations, to meetings and more. Especially at shoots where you have make-up artists, cameraman and staff all coming together at one place, it's nice that everyday items like our phones can be quicky and conveniently be diminished of germs just by placing it in the UV-C box for a few minutes.  As rules start to relax and more things open up, our risk of exposure does increase, so having a compact and reliable gadget that quickly disenfects gives us our peace of mind as we continue to work, travel and go about our lives.
For more information on the Philips UV-C Disinfection Mini Box, head over to their website by clicking here!