Explore these unique stores during your next trip to Georgetown, Penang.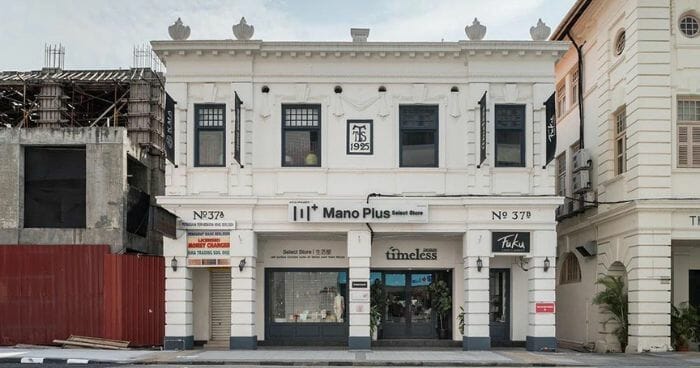 Penang has long been renowned as a food paradise, boasting many mouth-watering dishes and visually appealing cafes. However, did you know that the island also harbours a number of unique stores within the streets of Georgetown, Penang?
What sets the stores in Georgetown apart is the charming colonial buildings they nestle in, adding a touch of beauty to the overall ambience. We've curated a list of five stores you would want to visit.
Here are five unique stores in Penang to add to your must-visit list.
1. P.66 Lifestyle Store
View this post on Instagram
Looking for an aesthetically pleasing experience? Don't miss out on this breathtaking stationery store, P.66. The interior is a combination of white tones and wooden furniture, enhanced by the sunlight streaming through the sunroof. The presence of natural lighting elevates the atmosphere.
View this post on Instagram
Although the store mainly focuses on notebooks and stationeries, you will be surprised by the wide range of delightful gifts and products available. This includes magnets, apparel, artisanal goods, clothes, bags and more. Moreover, the store features a cosy café, perfect for satisfying your coffee cravings or brunch. It's an ideal spot to unwrap and start using the notebooks you've purchased.
Beyond retail and café, P.66 also organises workshops for those interested. Additionally, they offer unique Airbnb accommodations, featuring five distinct rooms.
Address: 66, Lebuh Campbell, George Town, 10100 George Town, Pulau Pinang, Malaysia.
2. Mano Plus Lifestyle Store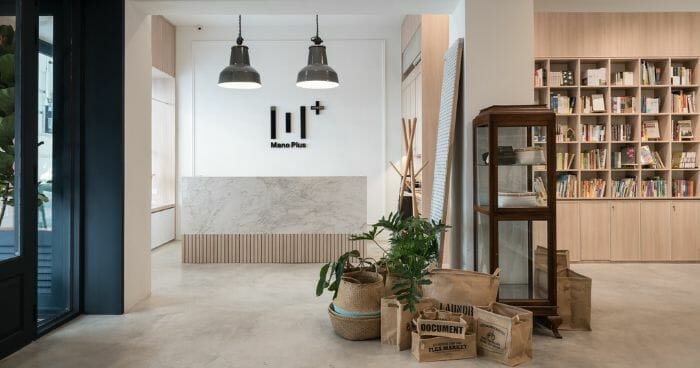 Here is another must-visit unique store destination for a lovely shopping experience. Mano Plus stands out by offering a diverse selection of products that cater to various interests. From books and clothing to crafts and even furniture, you can find it all here. What's more exciting is that the store celebrates both local and international designers, giving shoppers a chance to appreciate the best of both worlds. It's truly something to love!
View this post on Instagram
You'll find shelves filled with magazines and books, perfect for bookworms. If you're looking for personalised souvenirs, they have an impressive collection of artisanal crafts to choose from. But that's not all—this store is a one-stop destination where you can find fashion items, personal care products, aromatherapy items, and even furniture.
View this post on Instagram
They proudly showcase brands like PARODY PARLOUR, Loka Made, Oh Sebenar, Freitag, and many more. In case you get hungry, they even have Fuku Eatery to satisfy your cravings. Occasionally, you can even catch events and exhibitions happening there.
Address: Mano Plus George Town, No. 37A&B, Beach Street, 10300 George Town.
3. Rozana's Refreshing Batik Fine Heart Gallery & Store
View this post on Instagram
If you've ever visited Penang, chances are you're familiar with the famous Armenian Street. Tucked away on a cosy street, you'll discover Rozana's Batik, a charming store located on Acheh Street. This curated store is owned and operated by Rozana Mohamed, a Malaysian Batik artist.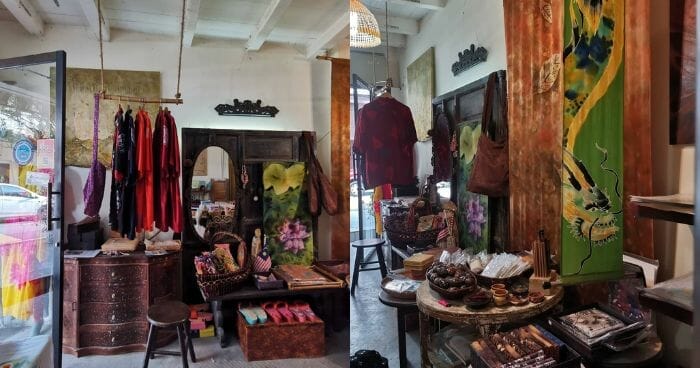 Rozana's Batik is hard to miss, thanks to its inviting entrance decorated with lush greenery. As you step inside, you'll see a diverse range of Batik products, mostly handmade by the artist herself. In addition to batik shirts and scarves, the store offers batik paintings, table runners, batik and tie-dye bags, and so much more.
What sets this store apart is the personal touch infused into each handmade item. Every product is personalised, ensuring that each piece is one-of-a-kind.
Right next to the store, you'll find another gem, Rozana's Refreshing Batik Fine Heart Gallery, also owned and operated by the same artist. The gallery showcases an array of stunning batik paintings. Additionally, the gallery offers Batik classes at a very reasonable price.
View this post on Instagram
Whether you decide to walk in or book in advance, all you have to do is show up. The gallery provides all the necessary equipment and guidance for the class. The best part is that you'll have the opportunity to learn firsthand from a Batik artist herself. By the end of the class, you'll be able to proudly take home your very own Batik artwork.
Address: 81 B, Lebuh Acheh, George Town, 10200 George Town, Pulau Pinang.
4. The Warung
View this post on Instagram
Bringing back nostalgic memories of the kampung warung, The Warung's concept offers a comforting experience. This charming small store takes pride in showcasing and supporting local goods and products. They have always been passionate about their mission to promote and uplift local designers and artists.
View this post on Instagram
While we all enjoy collecting fridge magnets, why not take your souvenir game to the next level with the local products available here? And of course, treat yourself to something special as well! The store offers a wide range of items, including clothing, bags, coffee blends, journals, botanical products, candles, skincare essentials, stationery, and so much more.
Address: 145, Victoria Street, 10300 Georgetown, Penang.
5. Fujiyama Tokyo 18 Vintage Store
Heaven for vintage lovers and collectors, Fujiyama Tokyo 18 stores a range of imported vintage items from Japan. With a strong commitment to sustainability, this store displays rows of pre-loved designer goods as well, all available at fair prices.
The two-storey store caters to both men and women, offering a wide selection of apparel. From caps and sneakers to bags and clothing, their collection is truly impressive.
What makes this store unique is its remarkable collection of vinyl records. Whether you're into pop, rock, soul, or disco, Fujiyama Records has it all. Thus, making it an absolute haven for record lovers. Additionally, they also stock vinyl players, Walkmans, and cassette players.
In an exciting collaboration with local brand FUTUREMADE STUDIO, Fujiyama recently launched "Full Dimension Stereo" in March. This special collection features a vinyl mat, a wall clock, and graphic tees in both short and long sleeves, all designed with a washed graphic aesthetic.
Address: 124-C, Jalan Burma, George Town, Malaysia, 10050.