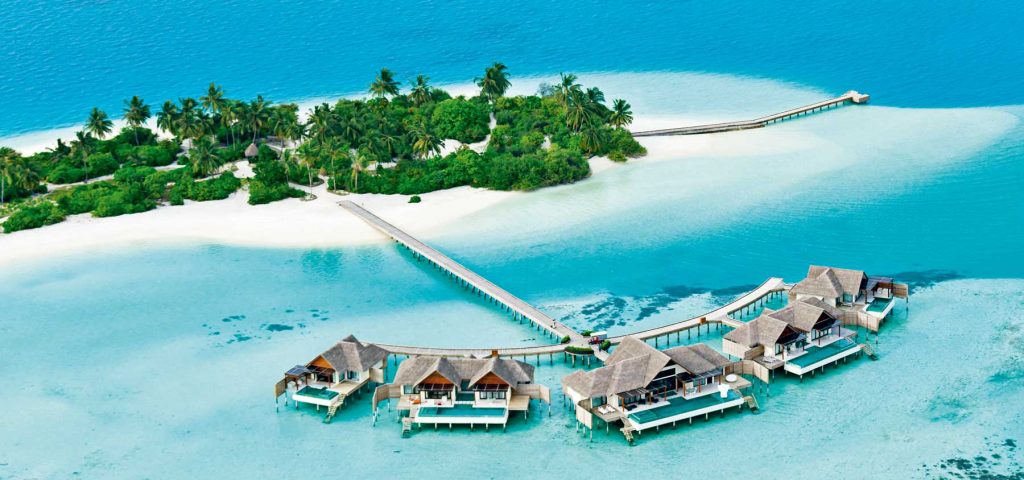 Where "island holiday" once meant a moment in paradise filled with blue skies, white sand, and double rainbows, today the notion is niche. In the Maldives, there are already 105 resorts (with more on the way) to fine-tune your idea of fun under the sun. All of them offer a broad spectrum of ultra-luxe vacationing be it barefoot luxury, rustic architecture, or honeymoon havens. Niyama is an urban paradise; think Yves Klein blue waters, a blazing Versace-esque sun, and the coolest underwater club. You don't come here just to relax, rather, really to chill; if you get the vibe …
Getting to the Dhaalu Atoll, around 90 km from Malé, the capital of the Maldive Islands is an adventure in itself. You can take a motorboat for a bumpy four hours or, as we did, a 45-minute sea plane ride and see other atolls and resorts stretch out beneath, along with many teams of dolphins whose ample frames speak of the abundant marine life in the Maldives. The moment after our barefoot-piloted seaplane taxied on to the jetty at Niyama, it was all first-names, fresh roselle juice, and cold towels. That was pretty much our check-in.
With degrees of luxeness, Niyama offers two kinds of accommodation: Beach or Water. The Water studios and pavilions follow the Maldives template of being on stilts attached by narrow pontoons around a central hub and are as pleasing as they can be but the Beach Pavilion we were in was exquisite enough to put all other contenders in the shade. Found by a tree-lined secluded path, we opened our Pavilion's doors to be amazed by the sleek coolness of the interior with every possible mod-con and a fridge stocked with a delicious array of goodies from gourmet popcorn to a mini deli selection for those who are too busy chillaxing to head out for lunch. And were it not for our holiday schedule (spa-games-sunset cocktails) we could have easily stayed in all day, reading that Paul Theroux novel (coincidentally, we met him at the airport on the way back!) on the swinging daybed outside, moving on to a dip in our private plunge pool that was a few steps away from miles of sun-bleached sand lining the bluest waters of the Indian Ocean. Suntan and snorkel, we did. And in between, we just lay back and let this supercool paradise take over our senses.
On the other side of the room was a different kind of water wonderland. As outdoor bathrooms go, Niyama's is outstanding. Huge ovular bathtub, large multi-spray enclosed showers, his-and-hers sinks, and a walk across a landscaped pond to an open-air shower that comes with the inimitable sense of truly being at one with nature.
Roomy as the rooms are, there's a lot more space out there on the ocean. All the water-sports one could wish for are available – you can also become a "fish whisperer", a marine biologist; plant a coral; or go night snorkelling. We didn't do any of the above, by the way, as the Lime Spa was well worth the hours away from the sea. Book a Lime Signature treatment in an ocean treatment room: a body scrub featuring Maldivian coral sand and coconut oil followed by a relaxing massage overlooking the blue is anyone's idea of paradise.
Also on the PerAquum-owned property is a lounge-library, aptly called Lair, a rooftop bar with sunset views, and a rather fantastic games room 'Active' that in addition to darts, pool, and foosball, also boasts a simulator room for you to "play" basketball, ice hockey, and football. And while the kids and big kid are busy being active, you can learn how to mix cocktails, get some sports yoga, or even enjoy a sumptuous evening of wine tasting.
Just a short resort-boat ride away across the other side of the Niyama lagoon is the Maldives' first underwater nightclub and bar, Subsix – launched by Tinie Tempah, no less. Whether you watch the fish or the fish watch you through the glass walls, sipping a chilli martini with the ocean deep in front of you is both a sublime and thrilling experience.
By the way, this month, until the end of May, Viennese visual artist Andreas Franke shows his underwater exhibition 'Phantasy Fairytale' where iconic storybook heroines are seen walking through the submarine topography using innovative CGI and underwater photography. This makes part of Niyama's Dream Calendar of original experiences for its guests; two years ago, they had Malaysian hip hop star Joe Flizzow conduct a workshop 'Love Struck Beats' where guests could write and produce their own rap song as a Valentine's gift.
Two flights of stairs up from Subsix and the depths of the sea is 'Edge', where we had one of the best meals ever in the whole of the Indian Ocean, let alone the Maldives. Here, the flavours of the sea meet contemporary preparations as Mauritian-born Chef de Cuisine Pravin Gobardhun took us on a sensorial journey befitting the location. Start with the aromatic Chilled Indian Ocean Seafood bisque, the divine Indonesian Blue Crab Tortellini, or the refreshing Maldivian Wahoo Sashimi. Advance to the Ballotine of Job Fish, zested up with Asian flavours; or the melt-in-the-mouth Carnaroli Risotto. If you want to turf it for a change, take a bite of the air-flown-from-Australia Organic Spatchcock served with duck liver, spinach, and cauliflower puree and you'd forget that you're in the middle of the sea for a moment. The desserts are justly light, as holiday sweets should be; a Deconstructed Cappucino, White Chocolate Sabayon, or a selection of sorbets from Calamansi to Coconut would whet that tooth and call it a night.
Breakfast and lunch are an easy fare at Epicure, which serves food from all around the world although you can easily get addicted to the Maldivian curries and sambars available. There's also The Deli for a quick snack or coffee hit, a highly recommended option if planning a dramatic dinner. And they do get wild. The Maldives are halfway between Africa and India and the ancient trade routes are paid homage to at Niyama by the excellent and authentic Tribal, an outdoor camp dining experience.
Meat of the four-legged and two-legged kind is roasted in brais, seasoned with fruits and spices, along with many of the fish that know no borders. Try the head-dippingly comforting Ostrich Bobotie from South Africa to start, but with portions so hearty and even after a full-day of activity, skip starters altogether, as the main courses come as hot and heavy as a safari expedition. On a volcanic lava stone grill, feast on a 500g Big Afrikaaner rib, Peri-Peri Coconut Chicken, or chargrilled Karoo Lamb. Even the sides and salads are meals in themselves and come suffused with exotic flavours, textures, and ingredients. Word to the wise: save space for the Venezuelan Chocolate Cake flavoured with ginger, honey, and caramelised banana. Eating well is half the experience at Niyama. The other half, is simply, surrendering yourself to this supercool blue.
Niyama Maldives, Dhaalu Atoll, Republic of the Maldives. Tel: +960 6762 828. www.niyama.peraquum.com