Like a glass box, Park Hyatt Seoul lights up the district of Gangnam in this city that never sleeps like something from the future – bright, beautiful, and avant-garde, it stands for everything that is Seoul aspires to be (it helps to also be standing in between the very ancient relics of Bongkeunsa Temple and the newly refurbished CoEx Mall, both temples of very different followings indeed).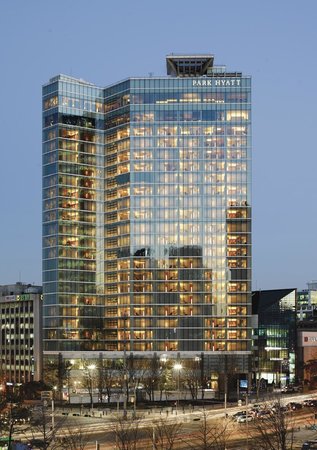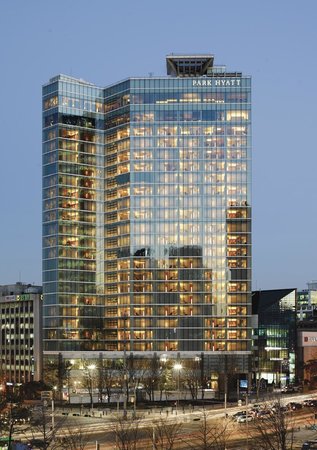 Starkly different from its celebrated contemporary in Tokyo, Park Hyatt Seoul is a design endeavour by Super Potato, which is helmed by Takashi Sugimoto, who believes in working with raw architectural materials.
Super Potato takes from the popular five-element theory so prevalent in South Korean philosophy, and has fused Japanese and Chinese natural stone with Myanmar oak, dark maple wood, and flowing water in the 24th floor sky lobby, making it a welcoming setting that immediately sinks in deep into the guests' stream of consciousness.
The rooms are elaborately designed to enhance the zen mood so championed by the hotel. Floor-to-ceiling glass panels overlook the fast-pace of Seoul's vibrant Gangnam district, but inside, guests can find peace of mind in the clean sparse lines, beige wooden walls, artistic interior decor like the overarching paper lamps that adorn the room, and especially, in the spa bathroom where granite stone meets a deep soaking tub made of finest porcelain. Quiet and private, the immediate feeling of returning home feels uncannily similar to how one would find upon a return to rustic elements, in their simplest form.