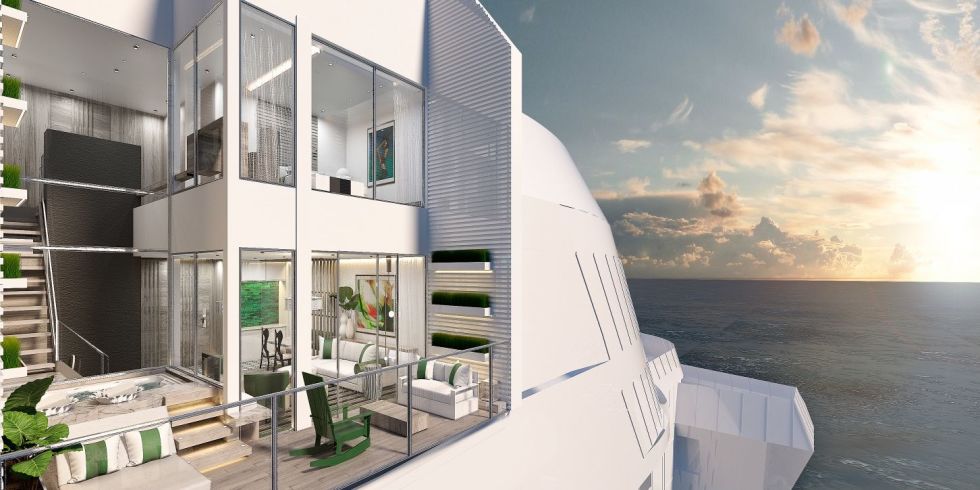 In December 2018, the newest vessel by Celebrity Cruises will set sail. That may be over a year away, but bookings for the Caribbean-cruising maiden voyage are filling up fast.
If you usually count yourself among the 'we don't do cruises' contingent, you might want to read on, since this is a boat like no other. Drafting in the help of hallowed interior designers, architects who have already rewritten the rules of ocean liners and performance artists who plan to take cruise-ship entertainment to new levels, Edge will set a new benchmark for super-liners. Here's why…
It will have a magic carpet
Yes, you read that right. Aladdin isn't the only one with a flying platform at his beck and call – only this one is actually a cantilevered floating deck that can move seamlessly between each of the 13 floors and is open to the elements, resulting in a spectacular water's-edge setting for sundowners.
The captain won't be the only one with the best views
The Infinite Verandas will take care of that: with the press of a button, your deck will extend further into the sea, leaving nothing between you and the water. Some of the suites will have walls of windows and expansive terraces (there's nothing cramped on board this boat); and split-level Edge Villas will offer 950 square feet of indoor and outdoor space.
There's an actual Garden of Eden on board
The boat's crowning centrepiece is Eden, a recreational space designed by Patricia Urquiola – responsible for impressively kitted out hotels in Europe, including Il Sereno on Lake Como and the Mandarin Oriental in Barcelona – and Scott Butler, the first architect to add an ice-skating ring to a cruise liner.
Urquiola was attracted to the project because 'we will begin to see the ocean in another light, throughout the day. In the morning, there'll be yoga on deck; there'll be workshops in cooking and floristry; and it will be more sinful after nightfall, integrating the spontaneity of the actors and this cocoon we have created.'
Although it is currently in a shipyard in France (with estimated building spend rocketing towards $1 billion), a recent unveiling of Eden took place in Brooklyn Botanic Garden, giving industry guests an idea of what to expect (the first green space at sea, for one thing – who said saltwater and plants don't mix?).
Kelly Hoppen designed the bedrooms
The internationally acclaimed interior designer – whose skills have attracted clients including Victoria Beckham and Elton John – has brought her magic touch to the ship's staterooms and suites, adding a calm, contemporary feel, as well as an airy sense of space.
It has swimming pools shaped like cocktail glasses
Did someone ask for Beyoncé, circa the 'Naughty Girl'-video era? These giant structures are just begging to be frolicked (and let's face it, posed) in.
The entertainment is curated by the people behind The Box
Jane McDonald, move over: this is a new age of on-board entertainment and it has nothing to do with sequins and big ballads. At the Brooklyn launch, woodland imps led guests past a beauty on a giant swing, a mischievous-looking man reversing around on rollerskates and 12-foot-tall vamps on stilts to a dinner that culminated in two singers entering the room via the ceiling and a shiny silver ring – just a hint of what's to come.
For more information on the new Celebrity Edge, visit celebritycruises.co.uk.
This article originally appeared on Harper's BAZAAR UK.