There's something about Los Angeles—it's hard to explain but this city has my heart. I've come across many people who have less than pleasant things to say about the City of Angels but I fail to see it from their point of view. If you haven't been, there's a certain 'chill' about this west coast metropolis that's infectious. Unlike the frantic buzz you'd feel in a place like New York City, LA makes you slow down, relax, and just go with the flow. When you become accustomed to LA living, everything else seems to pale in comparison. I go back there every opportunity I get, and will continue to do so until another city captures my heart the way Los Angeles has.
I am obsessed with the palm trees that you see lining entire streets in LA. These skydusters grow anywhere between 70 to 100 feet and are a Southern Californian staple. There's some inexplicably dreamy about them against the blue of the sky, a blue that only seems to exist in this region of the US for some odd reason. I've read it's why they built Hollywood here—because even in black-and-white films, the light hits different in Southern California.
I don't think I've ever been to as many museums and art exhibitions or shows as I have in LA. Whether its by your lonesome on a Wednesday afternoon or on a cute little date, you get to see works from some of the greats—Basquiat, Murakami, Lichtenstein, Koons, Warhol, Van Gogh, Rembrandt—in person. The museums in LA—The Broad, Museum of Contemporary Art (MOCA), Los Angeles County Museum of Art (LACMA), and the Hammer Museum, just to name a few, grant free entry. Some exhibitions may require payment, but it's not too pricey.
Concerts in LA are pretty darn incredible! You'll find the most random shows and concerts happening any day of the week; all you have to do is look them up. I've seen Kanye West and Drake, Tobe Nwigwe, Musiq Soulchild and Anthony Hamilton, Terrace Martin, Wynton Marsalis, and on my most recent trip back, I watched Kendrick Lamar on home turf at the Crypto.com Arena.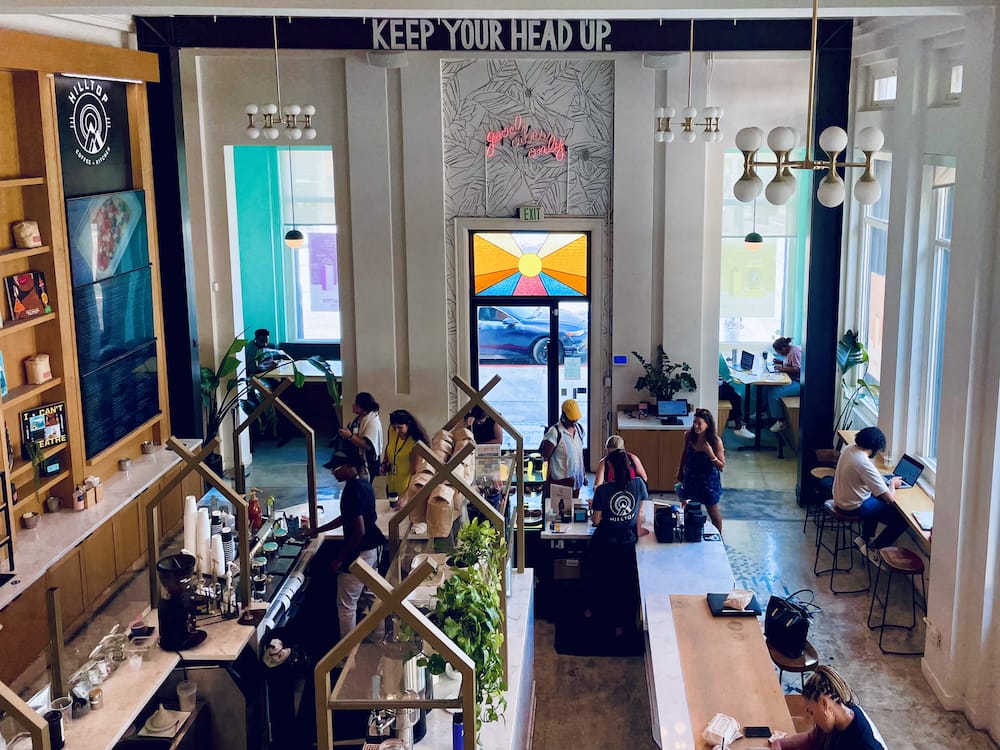 If you work remotely from time to time as I do, there are plenty of cafes to do it from. My favourite one that I frequent at least three times a week (it's close to where I live) is Hilltop Coffee + Kitchen in Inglewood. Something about the spot that gets your creativity and productivity flowing, plus the food and coffee are very good. Personal recommendation: order the Bangin' Breakfast Sandwich and an oat milk matcha latte with pistachio syrup. You're welcome!
Brace yourself for the odd celebrity sighting in Los Angeles. To date, I've spotted Jason Momoa, Toby McGuire, Adam Rodriguez, and Pierce Brosnan, to name a few—all just doing ordinary everyday things. I also spotted Jennifer Lopez and Ben Affleck at a Lakers basketball game, right after news of their engagement broke at the end of last year.