#1. Vivamayr, Altaussee, Austria
This clinic, on the shores of Lake Altaussee, is in one of the most beautiful places in Austria. Patients seek treatment for everything from depression and infertility to Parkinson's and cancer, as well as to lose weight or de-stress. Everyone's prescribed routine is different, whether it encompasses magical sessions with Gretchen, a psychologist who does water shiatsu, time with a private trainer or aerial yoga. Therapists will be on hand to tenderly nurse you through any migraines on the second day (the detox is not for the faint-hearted, but once you finish the third day, you feel wonderful).
VivaMayr Altausse (+43 3622 71450), from about £160, approximately RM885 a single room a night, including meals but excluding medical treatments.
#2. Lanserhof Tegernsee, Bavaria, Germany
Lanserhof – a trio of hardcore medical spas based in Germany – follows the FX Mayr method, a treatment pioneered in the 1930s by the formidable Dr. Mayr, who believed that the secret to a long and happy life was down to healthy intestines. The original Mayr Clinic is appropriately Spartan, but the Lanserhof is clean-lined and state-of-the-art, cleverly taking the science and transporting it with a few more bells and whistles to an environment that's pure aesthetic delight. With pale oak floors and gleaming white walls, all 70 rooms in the €70 million Tegernsee spa have balconies, flatscreen TVs and big sofas to lie on while wishing for death in the throes of detox. They also have all sorts of advanced diagnostics, as well as proper doctors, who you see every day, and world-class spa treatments, though the main reason people come here is weight loss – this, they stress, is a side effect of the journey to better health, rather than an end itself.
Seven nights full-board at Lanserhof Tegernsee (+49 8022 18 800), from £2,824, approximately RM15,600 a person
#3. Chewton Glen, Hamshire, England
The facilities at Chewton Glen are extraordinarily luxurious: indoor and outdoor swimming pools, Jacuzzis, tennis courts, a golf course and a state-of-the-art gymnasium, massages and body therapies, incorporating Ila organic products. Afterwards, if you can drag yourself away from the delights of the spa, there is delicious, unfussy food at the restaurant and remarkably comfortable bedrooms. try to book one of the treehouse suites: a romantic setting with timeless views of the New Forest. The hotel also offers a digital-detox programme for any repenting technology addicts.
Chewton Glen (+44 1425 282212), from £280, approximately RM1,547 a room a night.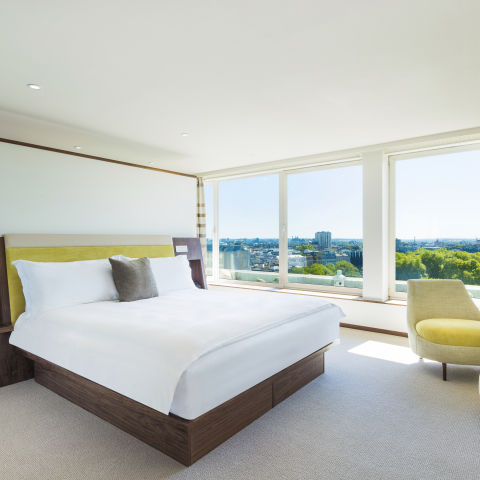 #4. Metropolitan by Como, London
In London, book yourself in with the super trainer Lyndon Littlefair, a leading corrective-exercise specialist based at the Como Shambhala Urban Escape at the Metropolitan, set just off Hyde Park. In addition to working with you to target specific areas and improve your performance, he offers a holistic approach to lifestyle coaching. Appointments are available on Mondays, Wednesdays and Fridays.
For more information, visit comohotels.com
#5. Brenners Hotel & Spa, Baden-Baden, Germany
On arrival at this 140-year-old Brenners Hotel & Spa, evocative of Wes Anderson's Grand Budapest Hotel, guests have a one-on-one consultation with a doctor, during which you are encouraged to discuss, in detail, your needs, concerns, history and goals. The session comprises a full-body MOT courtesy of the InBody Data Management System, a £30,000 piece of technology that tells you everything from your nutrient labels to the balance of muscle between your left and right arms. From there, the spa team will devise a tailored menu for your stay. Various specialists are on call at the medical centre, Haus Julius, which houses the physio spa and the impressive team of doctors. There is also an entire floor dedicated to cosmetic dentistry. The surroundings will too play their part in your rejuvenation – it feels like a small ski town, whose snow-covered walkways provide a permanent, gently muffled sense of utter tranquility.
For more information, visit brenners.com
#6. Grand Resort Bad Ragaz, Switzerland
One of Europe's leading medi-spas, this retreat on the eastern edge of Switzerland – an hour's drive from Zurich airport – has been welcoming guests in search of healing from its thermal waters for centuries. Following an extensive consultation (which includes a medical analysis of your eating and exercise habits, as well as lab tests for certain organ functions), an entirely bespoke programme for your stay will be created, right down to which exercises you'll be doing. A highlight is the cuisine equilibrée, which makes up for what it lacks in calories with flavour. To keep busy (not to mention fit), there is golf, cycling and Nordic walking on offer – and if you want a more serious makeover, there are specialist dermatologists and plastic surgeons on-site.
For more information, visit resortragaz.ch