It's time to get moving! Work out at your own pace and time with Apple Fitness +.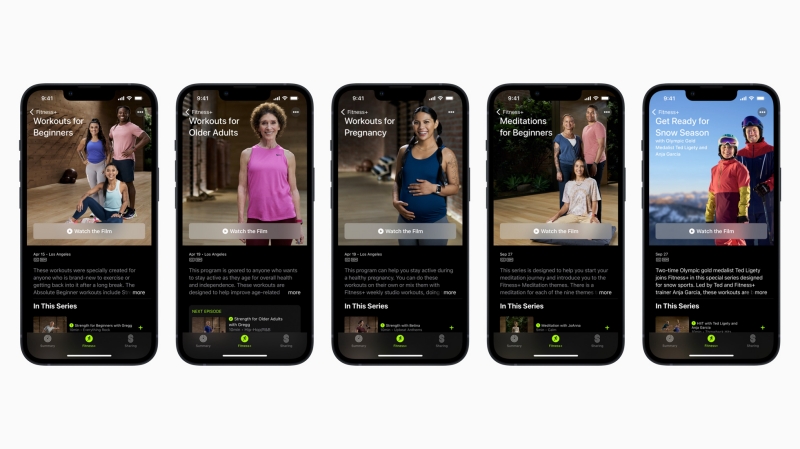 With the recent launch of the Apple Watch Series 7, Apple introduces the new  Apple Fitness + App making working out part of your lifestyle. If you're looking to start a healthier lifestyle and incorporate workouts in your life, I would recommend starting with purchasing an Apple Watch. It truly feels like you have your own personal fitness instructor and motivator at a glance. Designed for everyone, their programs are catered for beginners, older adults, and pregnant ladies. Apple Fitness Plus is compatible with an Apple Watch Series 3 or later with watchOS 7.2, and is available when paired with iPhone 6s or later with iOS 14.3.
"Fitness+ was built to be welcoming to all, with workouts and meditations for everyone no matter where they are in their fitness journey, all led by a diverse team of charismatic, motivating, and approachable trainers," said Jay Blahnik, Apple's vice president of Fitness Technologies. "We hear every day from users whose lives have been changed by Fitness+. These inspirational stories have pushed us to bring the service to as many users as we can, which is why we are so excited to bring the health benefits of Fitness+ to 15 new countries, so more people around the world can have a place where they feel motivated to get healthier and more active each day."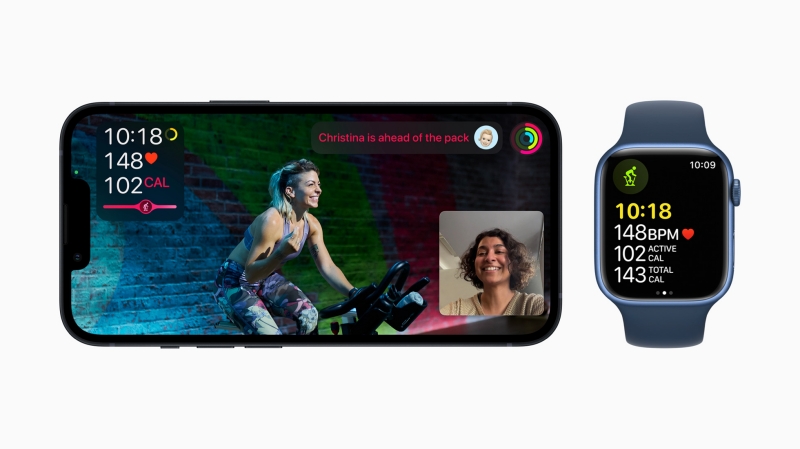 Exciting features from Apple Fitness +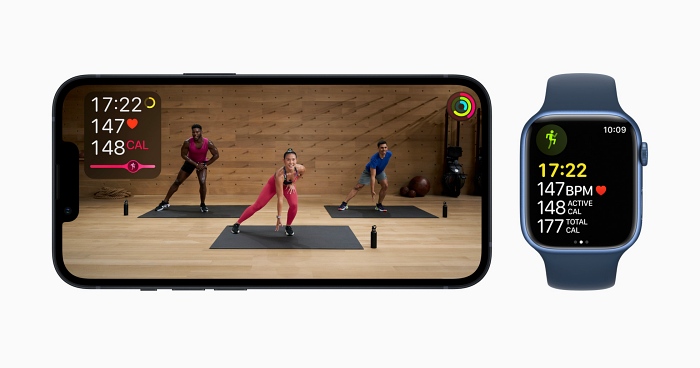 Studio-Style Workout
You can workout seamlessly from Apple Watch directly to your iPhone, iPad, and Apple TV. So you can exercise wherever and whenever it is convenient for you, at home, in the park, at the office or even while on holiday. There are a total of 11 different types of workouts available. High-Intensity Interval Training (HIIT), Strength, Yoga, Dance, Core, Cycling, Pilates, Treadmill (for running and walking), Rowing, and Mindful Cooldown. For those who enjoy a little competition, HIIT, Treadmill, Cycling, and Rowing workouts have an optional Burn Bar that shows, in real-time, how a user's effort stacks up against anyone who has previously completed the same workout.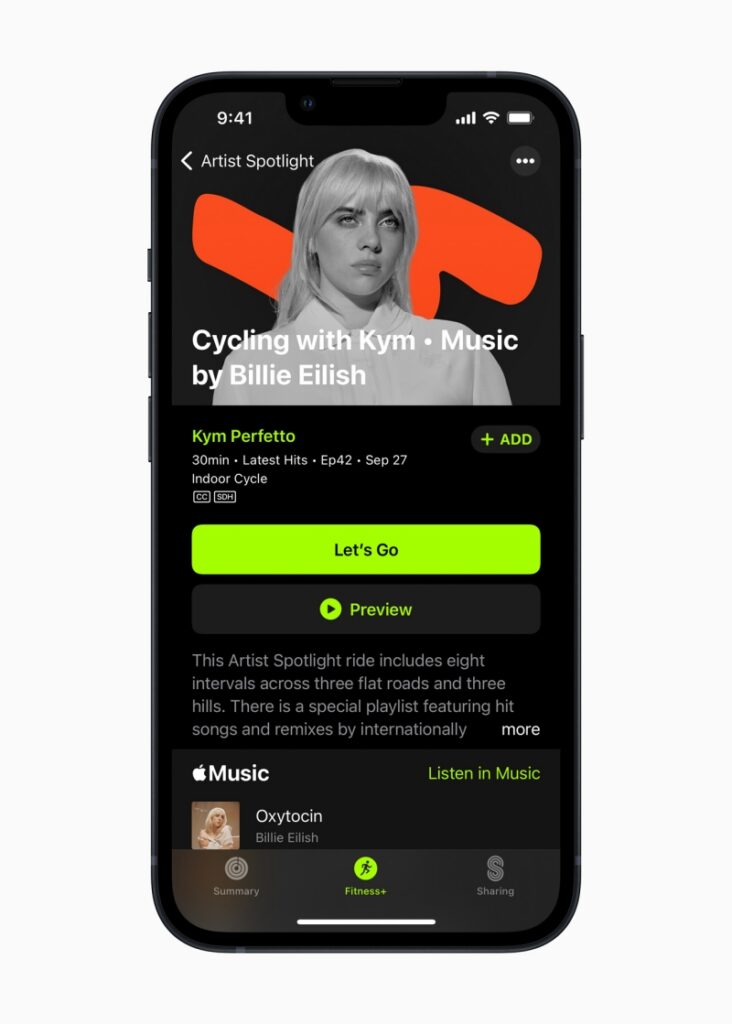 Powered by Music
Workouts are fuelled by music from your favourite artists. Each playlist is designed to keep you motivated from start to finish, as you sweat it out to your favourite music.  For Apple Music subscribers, their favourite music from Fitness+ workouts can also be easily saved and listened to later.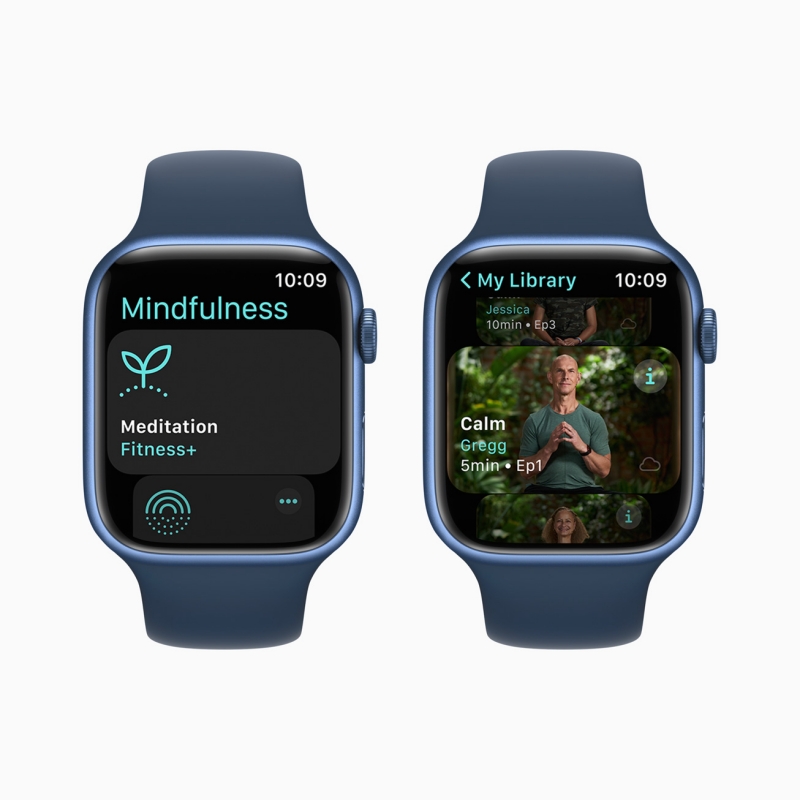 Meditation
Fitness+ offers meditations to help you develop a regular meditation routine and improve your overall sense of well-being. Choose from nine meditation themes — Purpose, Kindness, Gratitude, Awareness, Creativity, Wisdom, Calm, Focus, and Resilience. Each practice is 5, 10, or 20 minutes long. The same meditations are uploaded each week in audio form in the Mindfulness app on Apple Watch, so you can experience Meditation at your convenience.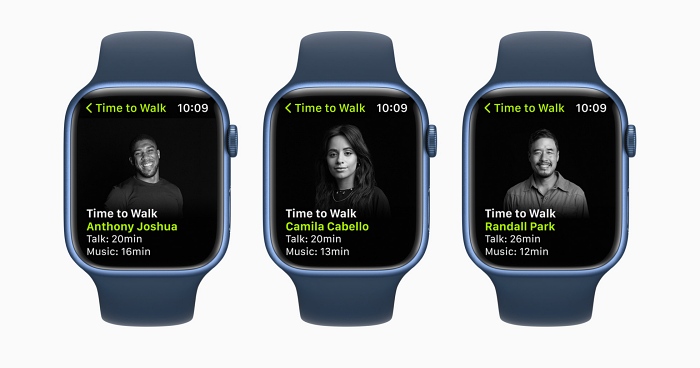 Time to Walk
With Fitness+, you can also get moving with Time to Walk — an inspiring audio experience on Apple Watch designed to encourage people to get active by walking more often and reap the benefits from one of the healthiest activities. Each original Time to Walk episode, ranging from 25 to 40 minutes, invites you to immerse yourself in a walk alongside influential and interesting people as they share thoughtful and meaningful stories, photos, and music.
The series is now in its second season and has featured guests including Dolly Parton, Anthony Joshua, Jane Fonda, Camila Cabello, Kurt Fearnley, Naomi Campbell, Bebe Rexha, Shawn Mendes, Dr. Sanjay Gupta, and more. For Apple Watch customers who use a wheelchair, Time to Walk becomes Time to Walk or Push, and automatically starts an Outdoor Wheelchair Walk Pace workout.
Pricing and Availability
Fitness+ is available as a subscription service for RM 19.90 per month or RM 119.90 per year in Malaysia. Fitness+ is included in the Apple One Premier plan, which starting November 4 will be rolling out in all countries Fitness+ is available. The Apple One Premier plan gives customers access to Apple Music, Apple TV+, Apple Arcade, Fitness+, and iCloud+ with 2TB of storage for RM 69.90 per month in Malaysia and can be shared among six family members.
Three months of Apple Fitness+ are included for customers who purchase Apple Watch Series 3 or later, and one month of Fitness+ is included for existing Apple Watch users.1 Fitness+ can be shared among up to six family members for the same price, making it easy for other Apple Watch users in the same household to enjoy the service. For More information visit apple.com/apple-fitness-plus