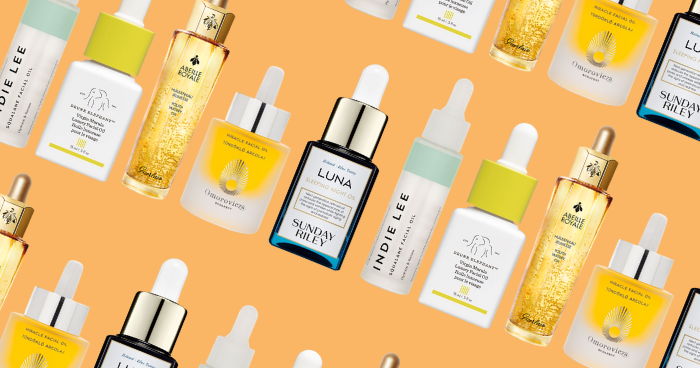 As someone with an oilier, acne-prone complexion, the word oil in skincare has scared me for years. With the misconception that adding an oil to my routine would make my skin oilier—I've stayed away for years and have never thought to add it into my routine. Of course, not every facial oil will work for your specific skin type, but once you find one that works—its truly magical. And thanks to tremendous developments in formulation technology, there are a plethora of facial oils that will help to support your skin goals to reveal healthier, luminous and a more vibrant complexion. Here, we round up our prime picks of facial oils for all types of complexions and skin textures.
Guerlain Abeille Royale Youth Watery Oil
View this post on Instagram
Harnessing Guerlain's signature Black Bee honey magic, this anti-ageing lightweight oil combines the power of a serum and the freshness of a toner to visibly smooth, plump, and revitalize the skin. We love using this oil in our night-time routine as it reveals a wonderful luminous glow to the skin in the morning.
Drunk Elephant
Virgin Marula Luxury Facial Oil
View this post on Instagram
The ingredient that started it all, this Marula face oil will instantly revitalise and give a radiating glow to your face with just one application. Claiming it's like rehab for the skin, it helps to moisturise, rejuvenate and nourish your skin, reducing the appearance of fine lines, wrinkles, redness and blotchiness and restoring your skin's elasticity and luminosity.
Sunday Riley Luna Sleeping Night Oil
View this post on Instagram
Luna works throughout the night to deliver more visibly youthful, luminous, even-toned skin in the morning. Trans-retinoic acid ester (retinol) complex reduces the appearance of pores and wrinkles, while visibly improving the signs of premature aging, including fine lines, uneven texture, age spots, dryness, and dullness.
Chanel Huile De Jasmin 
View this post on Instagram
This revitalising jasmine oil from Chanel reinterprets a timeless skincare product from its heritage, created by Gabrielle Chanel in 1927. This oil immediately makes the skin more luminous and with continuous application will soften wrinkles and fine lines, as well as leave the skin moisturised, plumped and radiant.  The lightness of the oil makes this suitable for any skin type – even those with oily and acne prone skin can use it without worrying about looking too shiny. Enhanced with a slightly satiny finish, the complexion lights up with a natural and radiant glow.
Omorovicza Miracle Facial Oil
View this post on Instagram
This elixir by Omorovicza hydrates as if its a rich moisturiser. Instantly replenishing the skin, it is best suited for drier complexions and works to promote radiance and resurfaces fine lines and wrinkles.  Although formulated with the natural alternative to retinol—bakuchiol—its gentle formulation still allows for morning and night use and its lightweight texture plays perfectly as an addition to your serum or moisturiser.
The Votary Blemish Rescue Oil
View this post on Instagram
This oil spot treatment works wonders and a little goes a long way—all you'll need is a drop of oil on your fingertip and apply it in a gentle circular motion on your breakout to calm it down. The Votary Blemish Rescue oil has a natural concentrate of 2% salicylic acid and anti-inflammatory tamanu oil that stops blemishes from getting sore and angry, helping skin recover quickly! The blend of natural, soothing plant oils is boosted by purifying Rosemary essential oil to speed up recovery and restore balance to compromised skin. 
Indie Lee Squalane Facial Oil
View this post on Instagram
Indie Lee's 100% pure olive-derived Squalane Oil is ideal for all skin types and intensely moisturises the skin, leaving the complexion soft, nourished and best of all, never greasy. Completely non-irritating, it'll prevent water loss, soften skin, and seal in anything you've applied beneath it.