The Lunar festivities are back, and nothing like the good ol' Malaysian culture of house-hopping to kick start the ang pao-giving (or receiving) season! Whether you're on that 5-hour drive back to your hometown, or catching up with your childhood BFFs, there's always a good time to sneak in a cheeky selfie to show-off your blinding highlight.
Undoubtedly, the weather might not be our best of friends at times of a perfect photo op–looking like a hot, sweaty mess is probably not the look you were going for. Here are 5 ways to have you looking like when you first stepped out the house, all day!
1. All About That Base
No amount of setting spray spritz or layers of foundation will keep a good makeup day to last if not for a proper pre-makeup routine. Prepping your skin with the right skincare will do wonders to your makeup's longevity and overall look–something no makeup product can do. Exfoliate to rid off dead skin cells preventing other skincare from absorbing well into your skin, tone to re-balance your skin's pH level, moisturise to seal it all in, and get on that no-less-than-SPF30 sunscreen–even on no-makeup days!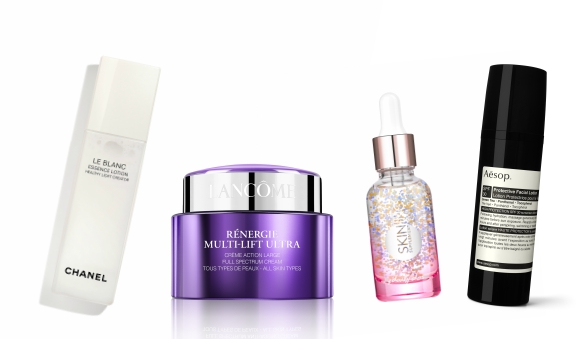 Left-Right: Chanel Le Blanc Essence Lotion, Lancome Renergie Multi-Lift Ultra Creme, The Skin Inc. My Daily Dose of Uplift, Aesop Protective Facial Lotion with SPF30