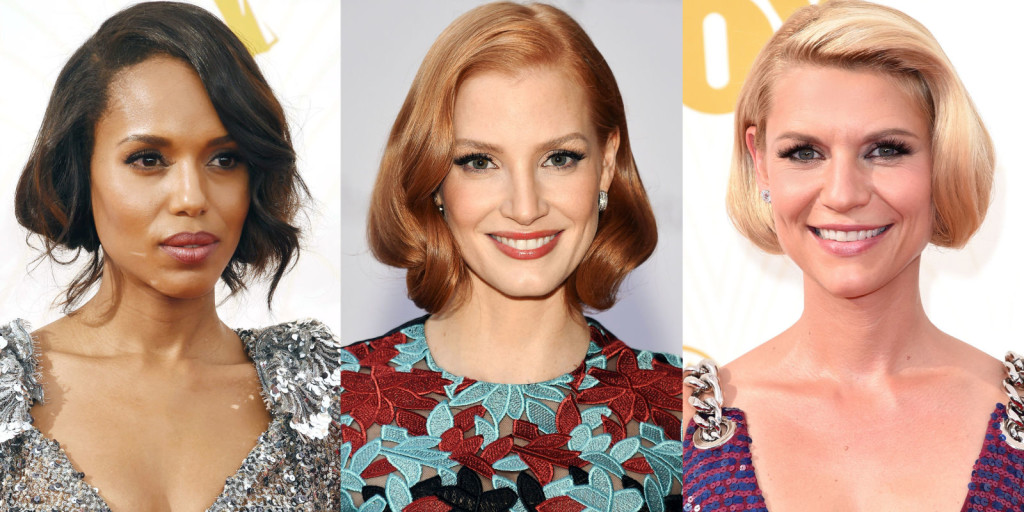 Kerry Washington, Jessica Chastain and Claire Danes
Celebrities, it seems, are having a hard time with hair commitment lately: Kylie Jenner has been singlehandedly keeping a wig shop in the Valley in business; Taraji P. Henson and Ciara have bangs one day, no bangs the next; Gwen Stefani and Ariana Grande ditched their trademarks. Now, faux, silver screen-era bobs are all the rage for modern leading ladies like Kerry Washington and Claire Danes, who wore theirs to the Emmys, and Jessica Chastain, who went retro for opening night at the Metropolitan Opera.
The key to the look is length that hits the sweet spot—not too long and heavy that it won't hold up, not too short that you can't create volume at the bottom. After you blow out your hair and made a deep side, you have two options. "If you have super thick hair, you can French braid the nape of it in a small circle or a couple of rows so that you have something to pin the top sections into. If you have fine hair, like Claire Danes, you can just backcomb the hair at the nape into a pad, lay the top over and pin into the backcomb," says celebrity hairstylist Matt Fugate. Then finish with shine-enhancing hairspray—matte, rough texture looks too messy on a style this ladylike—and voila! An instant, reversible cut that unfastens into cool waves for the after party.
Images: Getty
Via: HarpersBazaar.com