Global make-up artist Raoul Alejandre talks us through his vision.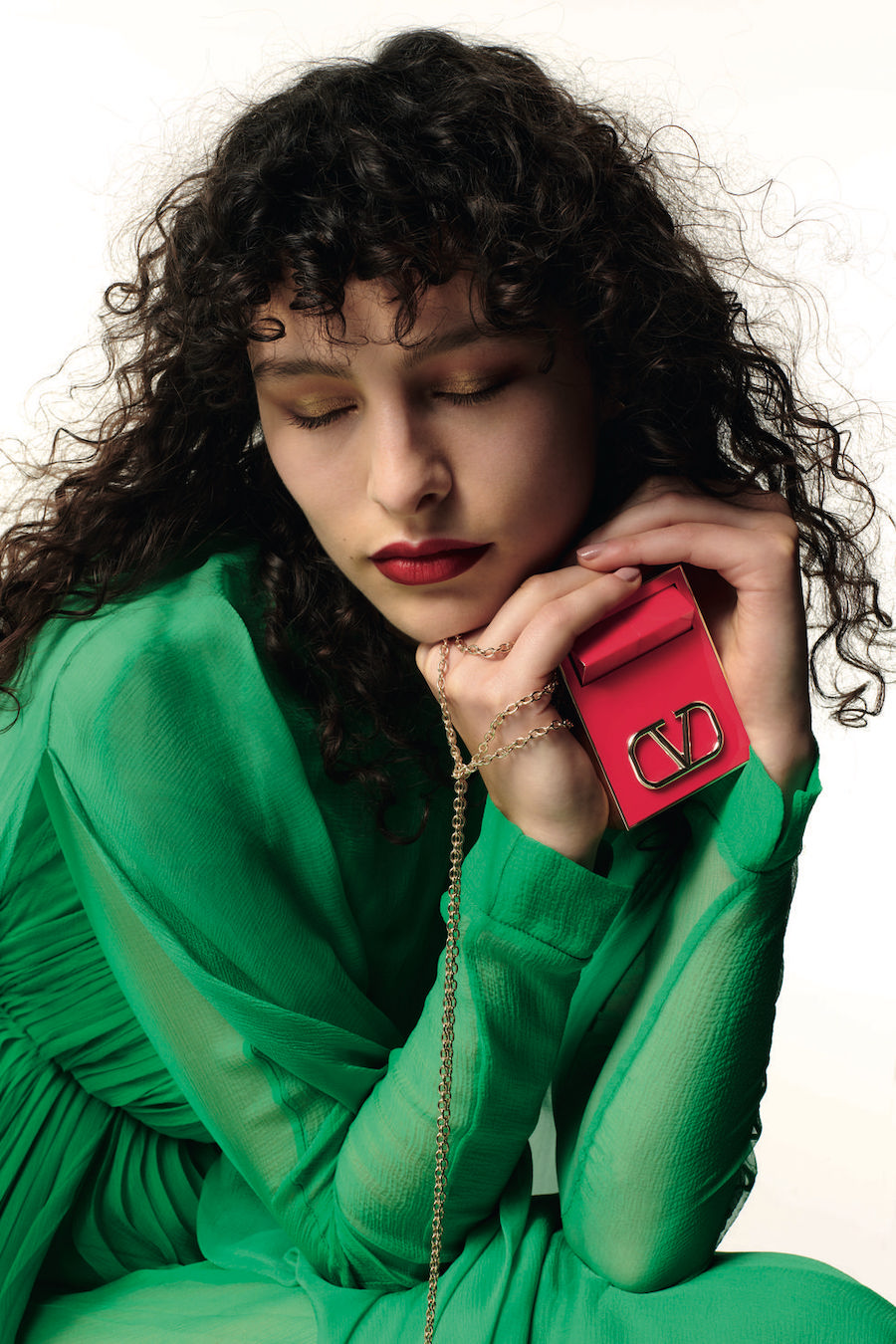 Valentino Beauty may just be the launch to make you fall back in love with make-up post-lockdown.
The new line is focused on self-expression, as the beautiful campaign – featuring 16 models, shot by creative director Pierpaolo Piccioli – aptly demonstrates. However, that's not a hint to expect bold, brash colours and intimidating intensity – instead, a very on-brand vision of grown-up maximalism is on the cards.
The predictably covetable (and, in certain cases, refillable) red and gold packaging houses an array of joy-inducing products, from the semi-matte Very Valentino foundation (the result of feedback from 5,000 women across every continent) and 50 different Rosso Valentino lipstick colours (in matte or satin finishes).
Here, global make-up artist for Valentino Beauty, Raoul Alejandre, delivers an exclusive insight into the best ways to use each product as we embrace a new make-up mood.
A new make-up mood
"[Post-lockdown], people are definitely experimenting. I think we've had a lot of downtime, so we have really had time to experiment, to practice and to play with different shapes. It's been more than a year, and as I see them again, I can suddenly see the make-up evolution of my friends, which has been beautiful. Even people who I was quarantining with have introduced me to different techniques and they have really made them their own. I think people aren't afraid to create new shapes and embrace different textures now, so there is even more creativity."
View this post on Instagram
About the eyes
"I definitely feel like people are going to be wearing masks for a bit longer, so it's going to be all about the eyes this summer. If I feel like I don't really know where I'm going with a look, I always start with an eye."
"I love the ink pen because it's one of those products that I use when I'm in a rush – when I've had too many coffees and I'm kind of shaky, trying to draw that perfect line. I can just map out my eye without being scared that I've either made my wing too full or that it's crooked. It's one of those products that I can wipe off with my finger and reapply if I need to. Then, I go over with the double-ended eyeliner: it creates that beautifully sharp, gradient wing."
"I love the idea of reinventing classic looks. For example, instead of doing a winged eyeliner, people are doing the double wings or something really geometric. I just I love the way that people are expressing themselves through their eyes, because they say so much, especially right now."
"The best way to start when it comes to doing something creative on the eyes is with a wing. It's my favourite thing. I personally don't like anything that curves too much; I think if it's a straight wing, and you pull it out a little further than you're accustomed to, you can really give yourself that opportunity to create dimension. I like to place some colour in the crease, just to add something extra when you close your eyes. For a little added touch, you could do a little bit of shadow in the inner corner and the inner hollow."
View this post on Instagram
"I also really love going for a gradient. I do a lighter shimmer in the inner corners and then just build it up while working outwards. If you're not a pro at using eyeshadows, your fingers are your best friends. They are your original make-up brushes: don't be afraid to use them. If you want to create that perfect gradient effect, pick up whatever colour you think is in-between the lightest and the deepest, place it in the centre of your eye and swipe lightly from the left to the right. Then, add the light shade in the inner corners, and your darkest shade on the outer corners."
The highlight
"For Valentino Beauty we've created a skincare-infused highlighter which is beautiful for the summer. It's long wearing, just like our foundation, and it also gives you that beautiful glow from within."
"If you have more of an oily complexion, I definitely recommend applying the highlighter and then setting it with a powder, because eventually your natural oils are going to come through the make-up."
View this post on Instagram
"[When applying highlighter] I always like to start on the brow bone. I use a domed, round blush brush – almost like the ones that people use to contour – and take the flat side right beneath my brow bone, before swiping outwards into my hairline. Then I bring it back down towards the apple of the cheek; that creates a beautiful gradient effect. I often see people start on the apple of the cheek, or they start in the hairline, but you can really see the harshness."
Modern coverage
"I am going through an adult acne journey at the moment and for so long I was like, 'Oh my goodness, my skin, it has to be flawless'. But it's about you being human and things like acne, scars, fine lines and large pores are things that bring a lot of us together."
"I don't like to do too much coverage when it comes to the complexion. I like to see the real skin underneath. I like to see the freckles, the scars. I feel we focus so much of our energy on covering up these things, but we should be focusing on make-up trends that help you feel a little bit more comfortable with your natural skin, rather than just having to cover it up."
"If you have a lot of redness on the temples and on the cheeks, instead of heavy coverage, try a soft layer of foundation – a very thin one – and then just go over it with a little bit of blush. It's about focusing on evening out colour, rather than totally masking it."
View this post on Instagram
Embrace glitter
"You don't want to look like a disco ball, but when I was starting to experiment with make-up, my happiest moments were with glitter. It just gave me the opportunity to try something completely different and not simply do a look that I had seen on someone else."
"If there's a way that I can really inspire people to experiment with iridescent products, it'll be with our lip glitters. You can make them look like a very opaque glitter – or, if you really work the glitters into the lip if they give you this beautiful metallic finish. I love applying one on top of our beautiful Valentino lipstick, just in the centre of the lip, or on the top of the cupid's bow as a little extra touch. When you're moving, you will see that beautiful dimension. Maybe you'll even be inspired to incorporate a little bit of glitter on your eyes to complete the look."
– – – – –
This article originally appeared on harpersbazaar.com/UK