Danielle Bernstein of WeWoreWhat is an OG influencer. Although she's been at the game for close to a decade, she started as a sophomore in college, so she's safely in the young millennial zone. With a cool two million Insta followers, her own collection of jumpsuits, and design collabs with the likes of Joe's Jeans and Onia Swimwear, she's what a modern fashion powerhouse looks like.
So where does a bastion of digital influence reside? In a SoHo condo, of course. BAZAAR.com took a tour of her recently furnished two bedroom (one is dedicated to a closet with a shoe wall, of course) to see how the influencer half lives.
"I wanted my apartment to have a modern, minimalistic feel with vintage, mid-century, and Danish-inspired pieces mixed in," Bernstein tells BAZAAR.com. With a restrained palette of creams, browns and light pinks, and textural flourishes like shearling chairs, the space feels like an Insta-friendly oasis in the city.
As Bernstein has built a dedicated following based on her eye, it just makes sense that she went the design route solo—mostly. "All of the furniture I selected myself, and my friend Maggie from Claude Home helped with some objects and accent pieces," she explains. Come along on an exclusive tour of WeWoreWhat's New York abode.
What inspired you when decorating your home?
My inspiration has come from many different places, whether it was my travels in Copenhagen, or a chair from a clothing store in Paris.
What's your favorite piece?
My current favorite piece are my new Pierre Frey Halabala chairs that I got reupholstered in a shearling fabric.
In terms of utility, what was a must?
A large, comfortable sofa was a must with enough seating around it for entertaining. I also needed a lot of storage throughout the apartment.
Did you have hero items you knew you wanted to source?
Yes, my Milo Baughman coffee table was a piece I had always wanted, as well as my first designer purchase —the Hans Wegner chair in my bedroom.
Do you like a mix of vintage and new? Why or why not?
Yes, only my biggest pieces are new i.e. the couch, dining table and bed. Everything else is vintage, which makes it more special.
Is there a dream piece you haven't collected yet?
Too many! I need a bigger apartment first.
Do you start with a color palette or figure it out as you go?
I definitely gravitate towards neutrals, whites and tans, but definitely design as I go.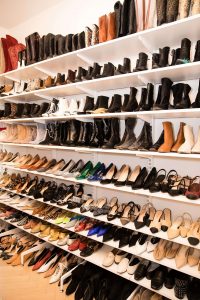 If you had to describe your apt in two words what would they be?
Pinterest IRL.
How long did it take you to create the space?
About a year.
What drew you to the area of the city you live in? 
I live in West Soho. I love how quiet my neighborhood is, but close to Soho and all of the action. I've always had a rule about living below 14th St.
What's your approach to creating a bedroom design?
I wanted my bedroom to be super clean and simple, and most importantly cozy. Less is more for this room.
What's your purchasing strategy? What are your go-tos?
All online on etsy.com, 1stdibs, Chairish and Pamono.
Do any of your pieces have sentimental value?
There are stories behind why I have almost every piece and where the inspiration came from, but none of them are particularly sentimental.
What are your top interior inspo instas or sites?
My Instagram accounts: @meandmybentley @Claude Home
@mdfg.nyc, @rubyatelier_ @myinteriordetails @interiorglobe @elledecor and many more.