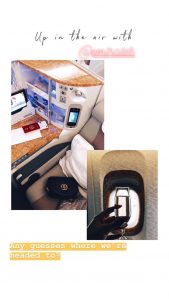 I have taken at least 25 requisite mid-air Instagram snaps, of the winglet soaring above fluffy clouds against bright blue skies, before I am reminded of the Rumi quote, "Only from the heart can you touch the sky." It has been a good 30 minutes of me "Bridget Jones diary-ing", from videos of "What's in my bag: in-flight beauty essentials", to a series of "Look what I have in my personal minibar". I consciously remind myself that it's time to switch off, stow my phone away, and put my feet up.
I've already drained the flute of Veuve Clicquot served upon boarding, and my next drink-in-waiting is Sipsmith's London Dry Gin, which comes with a stamp of approval from Joost Heymeijer, senior vice president of Inflight Catering at Emirates. This is a life-changing moment for me, considering the fact that I only ever order the absurdly complex Monkey 47. However, two sips in, and I'm officially a convert. Well-balanced, gently floral, and refreshing, this could easily be my go-to drink from now on. I make a note to share this discovery with my WhatsApp group of gin-thusiasts.
The carefully curated spirit list from Emirates not only showcases a combination of handcrafted brands, but also popular classics like the vintage Dom Perignon 2006, because sometimes, old habits just die hard. Paired with a culinary experience of sustainably sourced ingredients, the in-flight meal service on Emirates is anything but run-of-the-mill luxury in the air.