BAZAAR's signature campaign collaborates with 15 Malaysian designers this year, and continues to empower women with awareness, love, and care.
WANDERLUST + CO.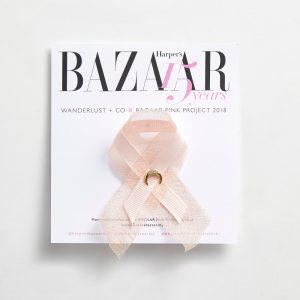 QUOTE TO LIVE BY
"Courage doesn't always roar. Sometimes courage is the little voice at the end of the day that says I'll try again tomorrow." ― Mary Anne Radmacher
BOLD AND BEAUTIFUL
Our ribbon features Wanderlust + Co's signature Luna crescent pendant holding two pieces of blush pink ribbon together. The multiple ribbons signify solidarity and the crescent is a reminder to set new intentions with every new day.
IMPERFECTLY PERFECT
Female empowerment starts with the idea that we are all good enough. As women, we tend to be so hard on ourselves and are sometimes judged by an impossible standard. Empowerment is taking charge, celebrating and supporting each other and ourselves, rather than being overly critical of our own failings, or those of anyone else. A strong woman gives trust to the universe, going with the flow in the face of adversity, rather than fighting against it.