Delpozo Spring/Summer '16
Josep Font is an unassuming sort of guy—reserved, soft spoken. It seems he puts his bold expression into his work—couture-like creations that give a nod to European elegance and lend an added bit of whimsy to New York Fashion Week. A string quartet played as models glided by two rows of seats underneath white string lights. The 42 looks displayed prints and fringe, sheer panels, the volume Delpozo is now synonymous with, ruffles, raffia flowers and pailettes on linen, poplin and chiffon. It may sound like a lot, and it certainly isn't a conversation on minimalism—but the collection is cohesive and elegant, a statement for a woman who loves luxury and emphatically wears it—and one that knows how to make an entrance. BAZAAR spoke with Font moments before the show, see who and what he had in mind.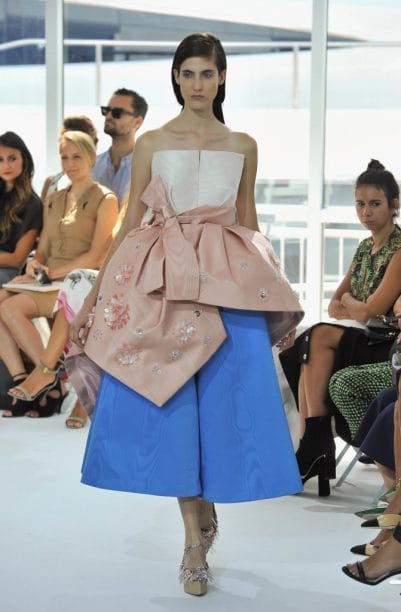 Delpozo Spring/Summer '16
Delpozo Spring/Summer '16
Harper's BAZAAR: You always have such interesting references, what inspired you this season?
Josep Font: My inspiration for this year was two things: one of them is the book of poetry, Gypsy Ballads, written by Federico García Lorca. His work has a bit of influence in Spanish culture. And the other one is Emilie Floge, she's the young lover and muse of Gustav Klimt. Both speak to the passionate woman.
HB: Your influences are always very literary and artistic, what do you enjoy doing in your off time?
JF: I go to museums, I like going to the ballet. My favorite thing to do is go to the countryside, because I have a house in the countryside.
HB: Tell me about the colors. They're very vibrant.
JF: There's not one color for this season. I preferred to mix the colors instead of having one standout shade because women prefer all different colors.
HB: Now that you're a few seasons into Delpozo, are you discovering who the woman is who loves the brand?
JF: It's not physical, it's not an age, no nationality. I think it's a certain personality an attitude. She's a global woman who knows what she wants.
Images: Getty
Via: HarpersBazaar.com