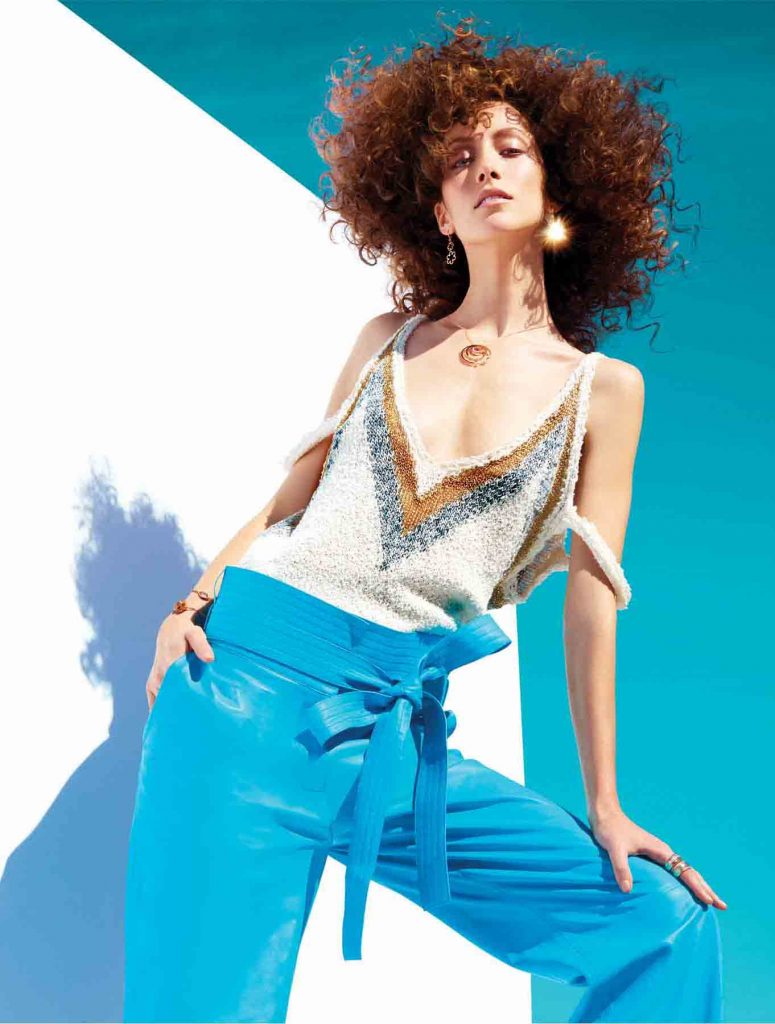 Jonathan Anderson cuts an interesting figure walking through the new headquarters for Loewe in the 6th district of Paris's Left Bank. The contrasts are right there – a 30-year-old, boyishly good-looking Brit, now at the helm of a 168-year-old Spanish luxury and fashion house, and one whose minimalist aesthetic has made him the last runway wünderkind. Up close and personal, Anderson's charming habit of twirling his sandy blonde locks makes him seem even younger but he comes across confident and relaxed – perhaps a tad tired having just shown his Spring/Summer '15 collection at UNESCO's Isamu Noguchi garden, of breezy obi-belted trousers and leather shift dresses. It's an unusually warm autumn in Paris, but the thrown-open French windows allow a cool breeze to draft into the room … like a breath of fresh air.
Does Paris give you something special that London doesn't?
I think I need both brands to be in two different countries. Because I need that period to separate my mind from both. If they were in the same country it would be quite difficult, because it would overlap too much. So it is nice to get on the Eurostar and switch off and then go into another thing.
What have you kept of Loewe's heritage?
Oh, I think we have kept a lot. Ultimately these brands have gone through different hands, different creative directors. I have gone back to a period where the Amazona started, by adding new layers. This brand is about leather fundamentally and needs to be able to find different ways of working with leather. Different techniques, different ways of working with bags. We should be leading not following.
You've already given a whole new proposition in terms of bags and that's something you haven't done before.
Yes, so it's quite exciting … what I like is that there is a naive approach to bags. They're not calculated approaches. There's a bit more freedom in the products. It's not too perfect.
This idea of a more relaxed spirit, we see it employed in your clothes as well as in this collection. Was that a very conscious effort?
For me, it is a complete collection of Spanish culture. I think before it was a little bit bourgeois. It's a little bit heavy in its approach whereas European and Spanish culture are not like that. So for me it was just to reflect more of what I was seeing in Madrid and in Spain in general, and my own viewpoint of it. We don't need to show a bull fighter in a flamenco dress to prove that it's Spain. I feel like Spain is not only about that.
What do you believe is the way forward for luxury?
I feel like it needs to be something that people feel is unique and is being made not by machine, but by people … that generations of information has gone into a product. I think that's what people want. I don't think they want fast food.
And have you translated this into the ready-to-wear as well?
It'll always just be about the nitty gritties that took years to make or took a hundred hours. I like the way that we're going because it feels a bit free – it's not trying to be anything. One season it could be this, and next season it'd be something else. And over the next five years we will build up a vocabulary. It's only been a year so …
So what would you say are your style signatures?
I think I have never really compromised. I like an aggressive point of view, something that pushes fashion. I'm known for my knits. And the knitwear is something I want to grow within Loewe. Because I think that knit and leather are fundamentally quite good together in terms of texture.
What's the specific viewpoint you want to develop with Loewe as opposed to your own brand, J.W. Anderson?
I think because Loewe is a historical brand, I would like it to become a cultural brand. Yes, it's quite fashion, but it can be about lifestyle, it can be about men, it can be about advertising or about stores and it can be about home. I wanted to have conviction in what I was doing.
And for your own brand?
It's a very young brand. I want to continue growing it and to create something in the end that someone else can take over from me. That is the goal.
You have six collections now. Do you do pre-collections as well?
I do pre-collections for my own brand. So we've got two men's and two women's collections for Loewe and two each for J.W. Anderson as well, and then two pre-collections. So ten collections a year.
That's less than six weeks to produce a new collection!
Yes. So it is a continual rolling stone. But it's so exciting.
Tell us about your favourite outfit from the Loewe show.
I really like the opening look because it fundamentally sums up what this house is all about and where we are right now. It is a classic material, which is Oro and it's completely deconstructed. I think that's exactly where we are right now. This company does not have a culture of clothing, whereas for bags they're the best in the world. So for me it's the dichotomy between the two.
Where do the shoes fit in? And the jewellery? Actually quite a stand-out in my opinion.
I liked the jewellery because it brought light upwards; it made the face more architectural. And the shoes felt a little bit "off" compared to the clothing. Because the clothing is quite organic, it needed something to give it a bit more robustness. And the cubic heel has this kind of a "wrongness" about it that threw off the looks, otherwise it would be too pretty. It's the start of a journey and when I look at that ripped feel, I love that you see the front and the back of the leather. And you get a different type of insight into this house even if you know it or don't know it. And I think that it is important that it reflects in that way.
You have employed social media quite actively since you've been at Loewe. Is this something you see as really important?
I just think I like it as a tool. I like to be able to talk to people, I like people to be excited when I'm excited. It's a good way for me to communicate to people you don't see every day. And I like to look back on it and see where you've been, and work out how you are progressing, or if things are staying in line.
Creative direction and interview: Kenneth Goh. Images: Yu Tsai