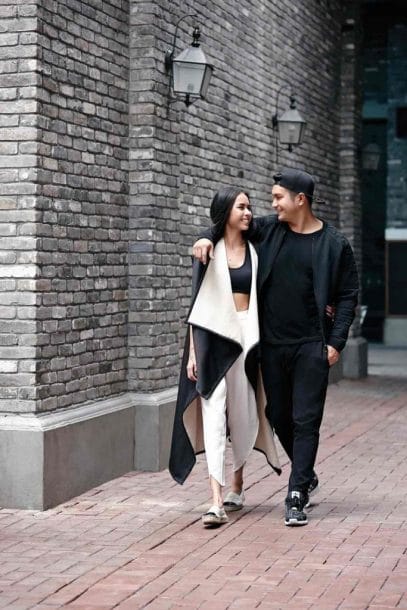 Kim Raymond and Keith Foo do couple cool
With over a quarter of a million followers on Instagram combined, Kim Raymond and Keith Foo are undoubtedly one of the hottest couples in KL, and a very stylish one at that. Regular faces on the social circuit, especially at the city's fashion events, Kim and Keith are immediately recognised for their distinct style – a singular vision that perhaps s t e m s from the fact that the couple are like, as they say, two peas in a pod. "Keith's style is very sporty and I like the fact that it's similar to mine. Can you imagine if we had clashing styles?" says 29-year-old Kim, who also plays personal stylist to Keith, 31. An actor and model since his teenage years, Keith has amassed a following in both Malaysia and Indonesia, where he was previously based. "I spent a year and a half in Hong Kong and
then an opportunity arose in Jakarta so I moved and ended up spending 10 years there," he says. "It was a great experience but I'm definitely glad to be back home." His signature look, an off-duty style of plain T-shirt, sweatpants, and a cap worn backwards, makes him recognisable even from the back.
During this BAZAAR shoot, several fans stopped to ask Keith for photographs, something Kim is still getting used to. "I just kind of slink away and let them do their thing," she laughs.
Congratulations on getting married later this year. How did you first meet?
Keith: Kim and I met 12 years ago but we lost touch when I left for Indonesia. I spent about 10 years there but came back two years ago. Our paths crossed at a fashion event she had organised and the rest, as they say, is history.
Your current style?
Kim: Casual chic. Typically a loose-fitting top, boyfriend jeans, and espadrilles. My current favourites are from Chanel. I have eight pairs and counting.
Keith: Sporty casual. A V-neck t-shirt, sweatpants, and sneakers make up my daily uniform.
Has your style changed since you met?
Kim: Definitely – I went through a girly phase to an allblack phase, and now I mainly dress in monotone colours. Depending on my mood, I do wear a bit of colour every now and then. Thankfully, Keith likes the way I dress.
Keith: Yes, my style has changed tremendously after meeting Kim because having a woman's point of view makes a difference. I've realised I prefer simple, comfortable clothes compared to the fancier outfits I used to wear.
What do you like about her style?
Keith: Everything. I like her simplicity and how she looks classy in everything she wears.
Go-to designers?
Kim: Karl Lagerfeld, Rick Owens, Olivier Rousteing, and Riccardo Tisci.
Keith: Givenchy, Alexander Wang, Maison Martin Margiela, Rick Owens, and Joe Chia.
What about fashion excites you?
Kim: That I can experiment with different pieces in myriad ways and see how it all turns out.
Keith: I love seeing how creative designers can be.
Dream wardrobe swap?
Kim: Miroslava Duma. She's my icon, along with Ashley Olsen who was my earliest style influencer.
How did you know Kim was 'the one'?
Keith: Words can't describe it; I just know it and feel it. I love her generosity, kindness, and pure heart.
Designers for your wedding trousseau?
Kim: Alia Bastamam. I haven't decided on the rest.
Keith: Andy Sulaiman.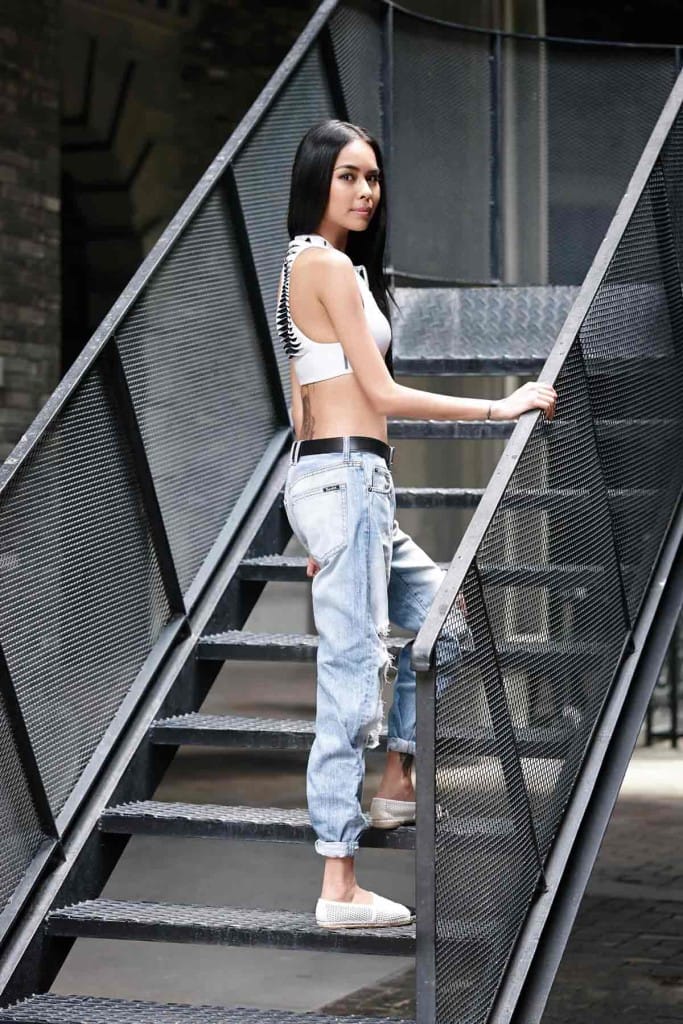 Kim working a Dion Lee crop top, ripped boyfriend jeans, and her favourite Chanel espadrilles
Monochrome rules, okay?
Keith working black on black
Images: Soon Lau/Showup Pictures