PETER PILOTTO SPRING/SUMMER '16
Peter Pilotto Spring/Summer '16
Peter Pilotto and Christopher De Vos tasked themselves with combining the vibe of two perfect fashion vacation spots: African safari and Greek island hopping. On paper or in the untrained imagination, this could be, well, weird. But in their hands, it was a pretty, feminine romp. And if the clothes weren't necessarily ready for the Serengeti, they were spot on for traipsing around Santorini. They took the utility pockets and clean shapes of flack jackets and skirts and melded them with the breeziness of smocked cotton and lace. Not to mention the crisp Mediterranean colors of blue, white and a dash of lemon.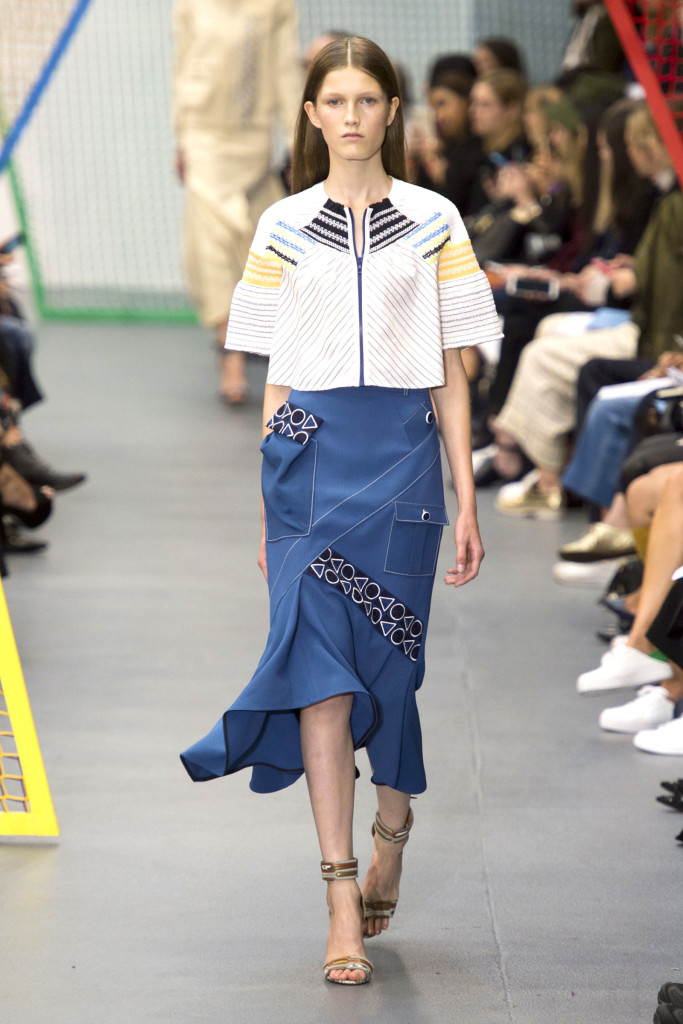 Peter Pilotto Spring/Summer '16
For the most part they kept the silhouette the same—slim and figure-skimming dresses and separates. There were sporty undertones to temper the lace and frills, seen in the jackets that veered towards bomber territory or the odd bikini or swimsuit peeping out beneath the sheer lace. Pattern replaced print, as bands of ruched and smocked lace with ruffles and smocking breaking it up.
Skimpy little dresses felt right for summer and will appeal to Peter Pilotto's following of young starlets and red carpet hoppers.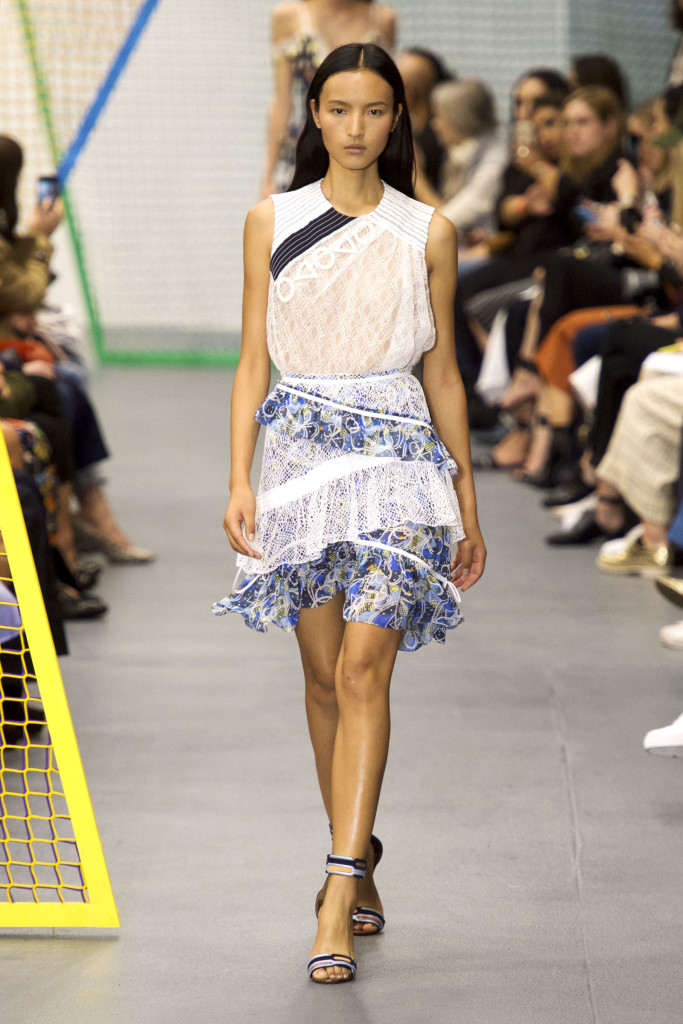 Peter Pilotto Spring/Summer '16
CHRISTOPHER KANE SPRING/SUMMER '16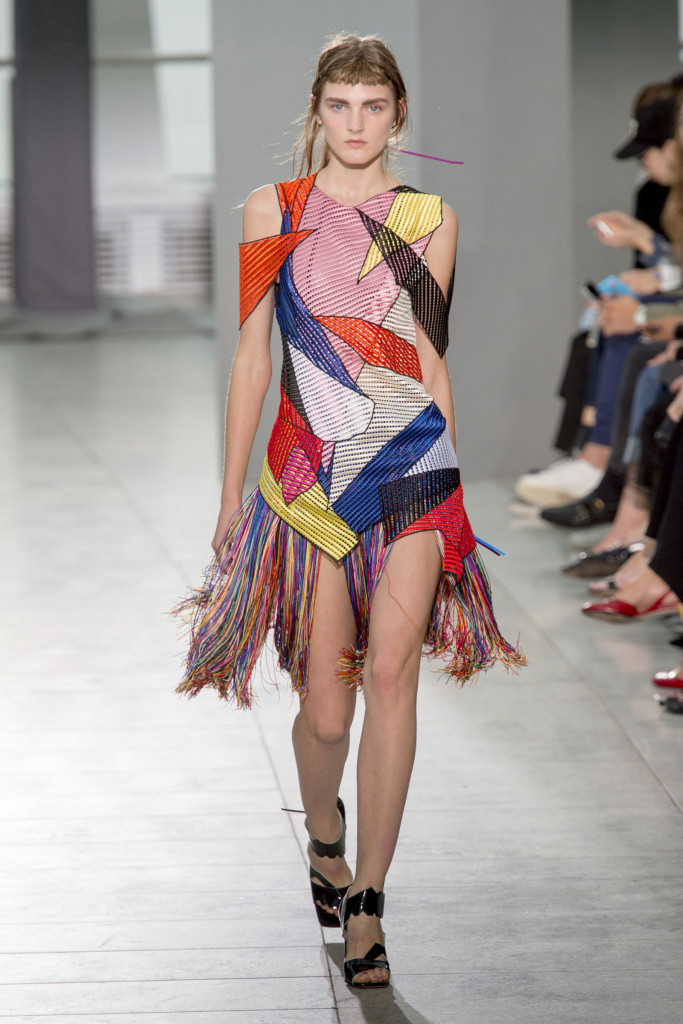 Christopher Kane Spring/Summer '16
Christopher Kane took the philosophy of living in color to the extreme, showing a wonderfully bright, cheerful (but perhaps a little dark, too, with all those paint drips?) collection. There was an arts-n-craft meets artist's studio vibe to the lineup, from the splotches of paint and multi-colored prisms in amoeba shapes to the haphazard child-like yarn stitches on an oatmeal sweater tugged sexily off a shoulder, paired with elbow python pants… the kind of thing an artiste might wear for affect.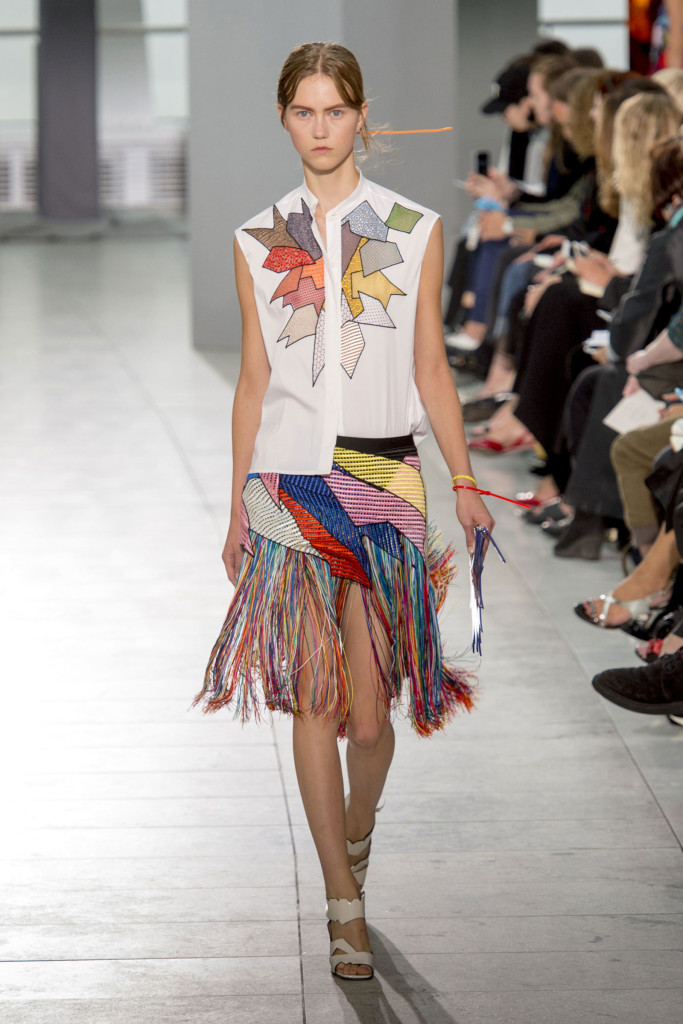 Christopher Kane Spring/Summer '16
But onto the fun stuff—rainbow colored fringe swished delightfully from the hem of an equally colorful patchworked net skirt, it's pattern echoing that in its paired white shirt. These zigzag hues cut bold shapes across cream and white silhouettes, as if Kane was thinking of the outfit as less a garment and more a canvas. These are party dresses to be noticed in of the highest order. And what fun it will be to see these out and about come spring.
BURBERRY PRORSUM SPRING/SUMMER '16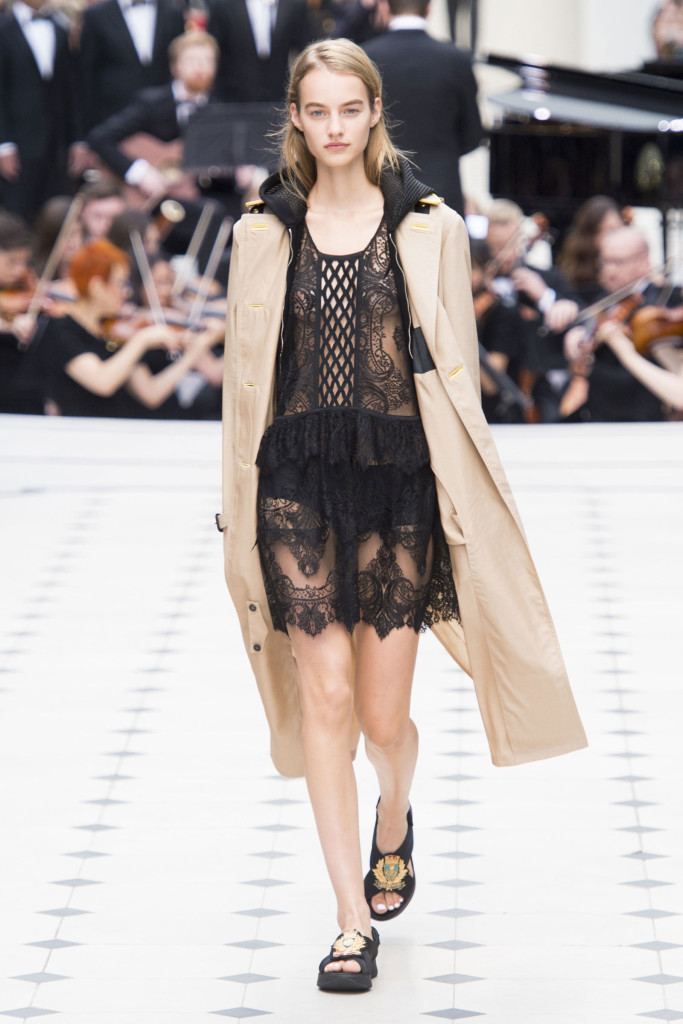 Burberry Prorsum Spring/Summer '16
Live streaming? Ho hum. Instagram? Blah blah. Insta-review? 2008. Last night, all of Burberry Prorsum's Spring 2016 collection went live on Snapchat. How's that for a first? But such is the way with Christopher Bailey and his team. Fearless. What's the worst that can happen—the clothes go viral before the show? It's not like his pals Kate Moss and Sienna Miller won't show up for the spectacle of the live action.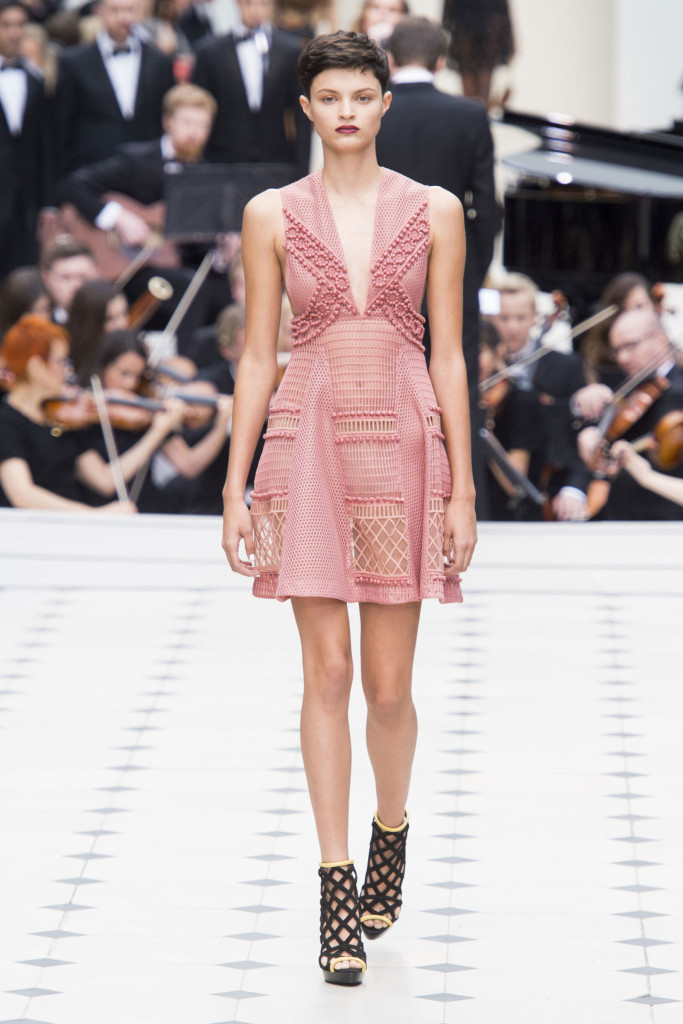 Burberry Prorsum Spring/Summer '16
But here's the thing about Burberry. It's not just the savvy digital marketing that reels 'em in. It's the fact that it's all backed up by great clothes. The kind that you can aspire to mixed in with the kind that you can achieve. Spring's story was about tons of peekaboo lace crafted into young, swingy dresses in sweet colors ranging from pink and mint to softer neutrals. There were a ton of great coats, naturally. Versions of the trench popped up in brief minis or classic double-breasted iterations, mixed in with pea coats and admiral's coats with gold hardware and embroidery.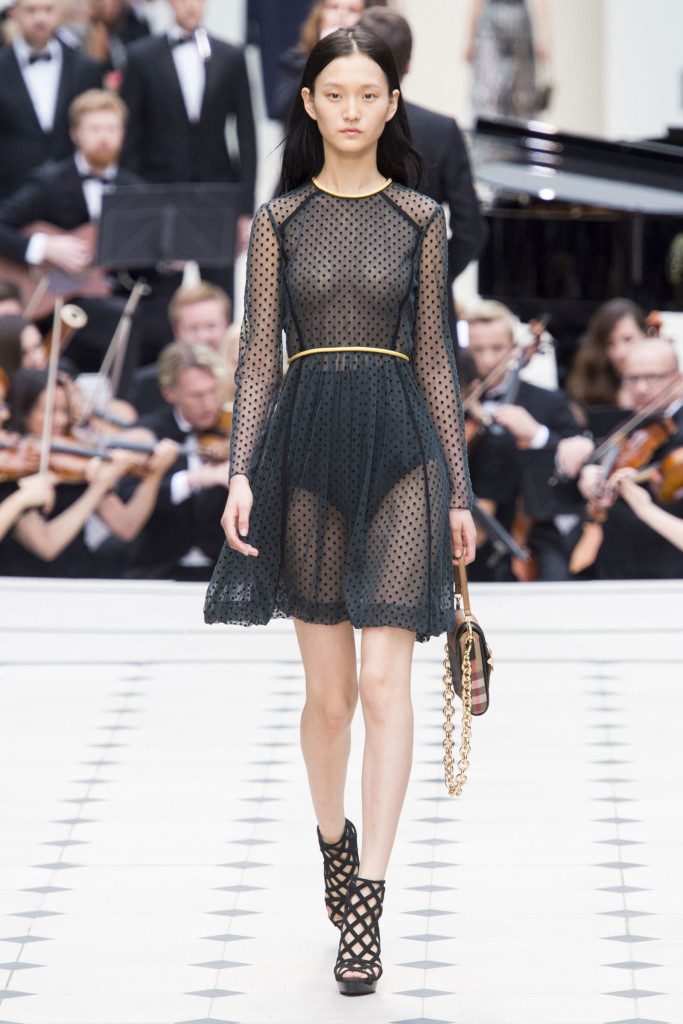 Burberry Prorsum Spring/Summer '16
These weightier outerwear pieces—who cares about season? The Burberry customer is global—balanced the frothier fare. Lace came out in sheer dresses, long and short, in black, berry and gold. Its airiness matched by the caged booties or criss-cross jeweled slides. In a season of contrasts, one of the most noticeable and obvious was how Bailey pitted lace against various ideas—the military coat, the sporty shoe, etc. Or, as seen in an especially sexy effective morning after look, a reworked sweatshirt thrown over a lacy dress.
MARY KATRANTZOU SPRING/SUMMER '16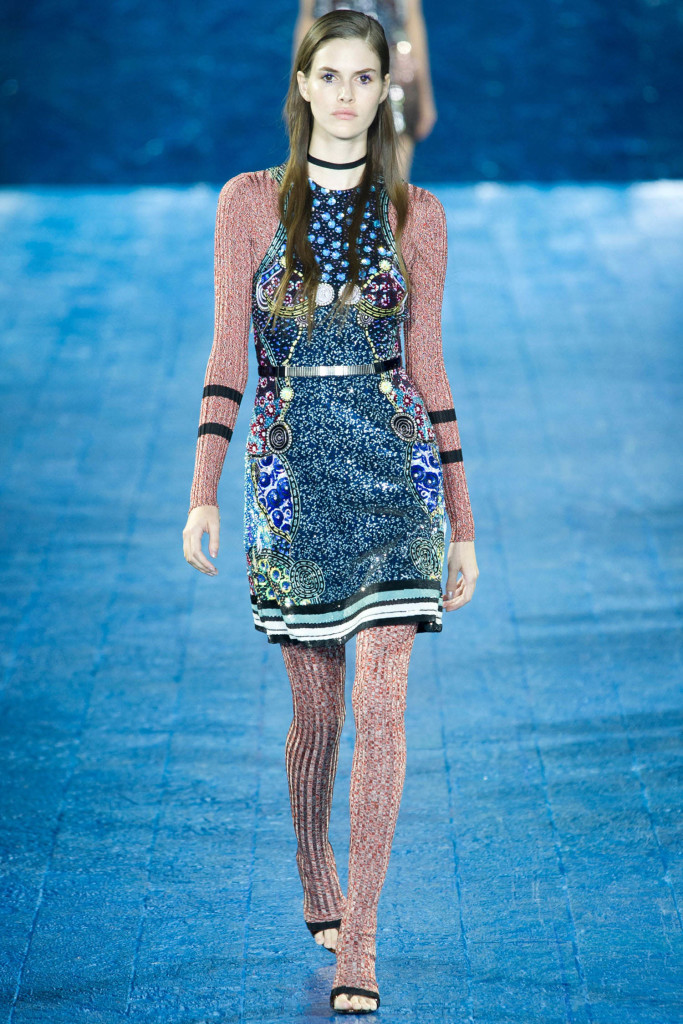 Mary Katrantzou Spring/Summer '16
From the tops of their sparkling dresses to the bottoms of their sparkling tights, Mary Katrantzou's models shined like the stars they were inspired by. For Spring, she took a more bohemian, romantic direction. The mix-mistress of technical printing wizardry pulled from Balkan folklore, not really explaining which stories and tales influenced the bedazzled patterns on her runway. But this was beside the point. Mini dresses with floaty layers were covered in intricate patterns of crystal embroidery. At once light and laden.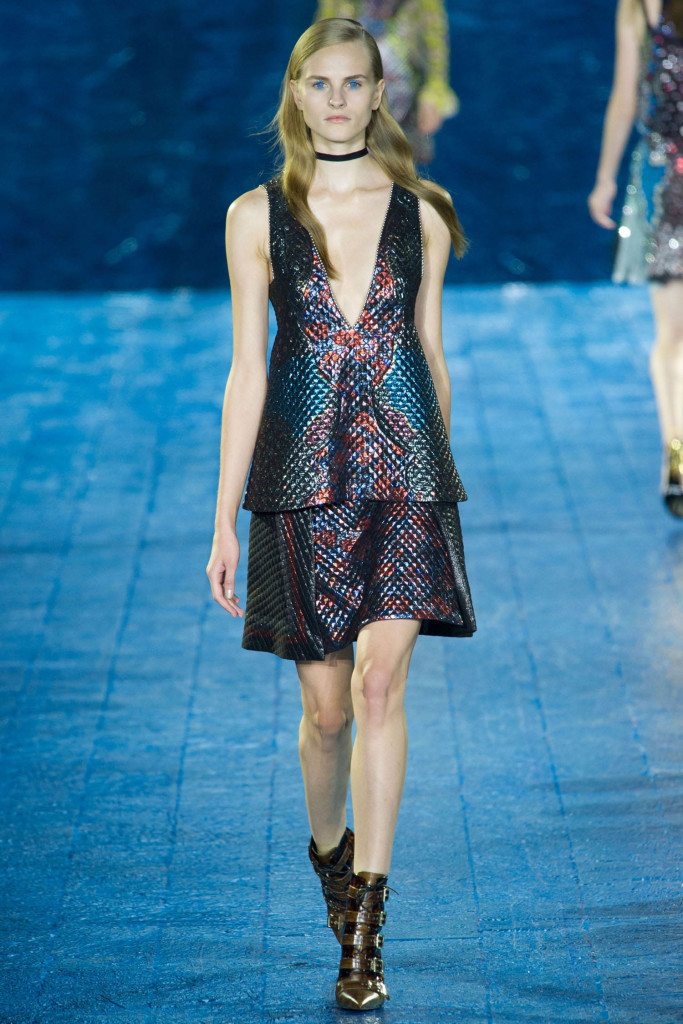 Mary Katrantzou Spring/Summer '16
Belled shapes were done in iridescent fabrics with a faint pattern, catching the light as the models moved past. The cuts were modern and minimal, balancing out all the vibrancy of shine. Tight florals were patchworked together and then beaded into swingy tops and skirts. In a single look there could be as many as seven different patterns. And that's not counting the ones in the strappy python booties.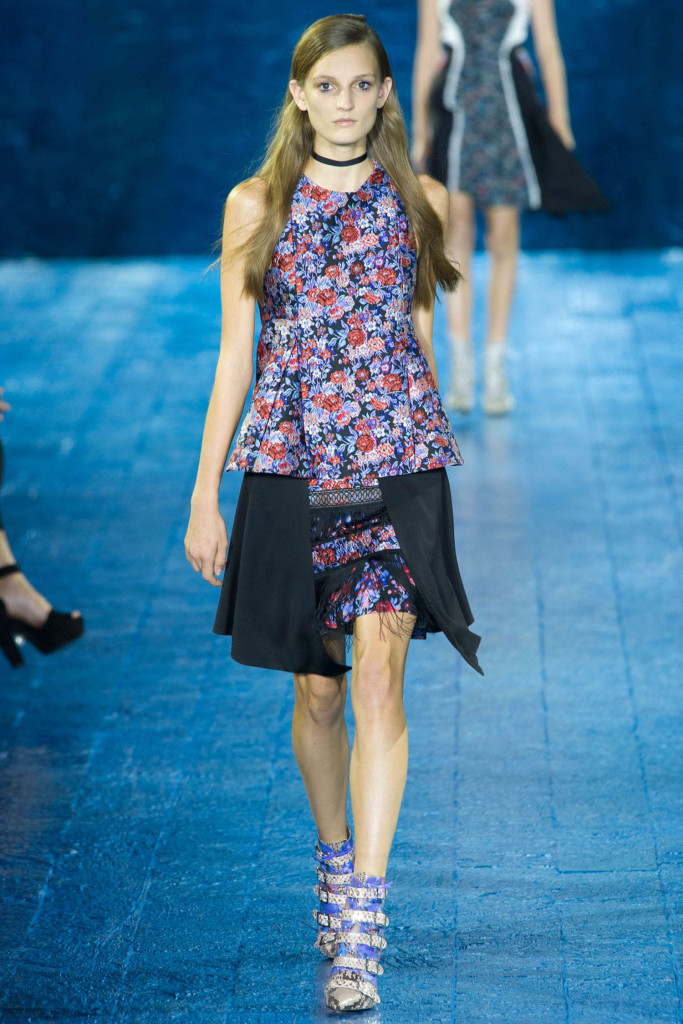 Mary Katrantzou Spring/Summer '16
If she pushed herself, it was in a handful of loosely woven knit sweaters that hinted at a broader perspective for the future. Because, after all, a wider assortment of clothes for day, night and everything in between from Mary Katrantzou is good news for a lot of people.
By Nandini D'Souza Wolfe. Images: Imaxtree
Via: HarpersBazaar.com