It was an enchanting night of music, dance and movement for the Longchamp evening soiree hosted by the Cassegrain family to celebrate the family business' 70 years of excellence. The Palais Garnier came alive in the House's emblematic colour, complete with a sublime green carpet laid down for guests and green neon lights animating the mysterious Opera House.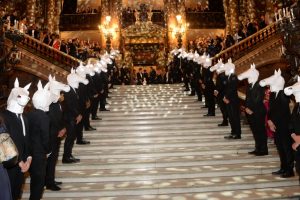 Pageboys in horse masks, a reference to Longchamp's notable logo, warmly welcomed a diverse array of guests. The faces that arrived at Palais Garnier to commemorate the brand did not merely include celebrities but the Cassegrain family also welcomed its long-time global collaborators as well as Longchamp artisans from their workshops in Loire Valley.
Motion was the theme of the night, reflecting on the steady progress made by the House in the past 70 years. Creative Director of Longchamp, Sophie Delafontaine stated that "[motion] is the hallmark of our family: moving forward, innovating, and always seeking to improve." It then makes perfect sense as to why the House drew on the talents of former Artistic Director of the Opera Garnier and current Dean of the School of Dance at the Californian Institute of the Arts, Dimitri Chamblas to lead a dance troupe to perform a unique ballet for the magical evening. "It is a permanent challenge for a family business in the hyper-competitive world of fashion that never stops. Movement is a state of mind: the Opera Garnier and the world of dance perfectly illustrate this philosophy," adds Sophie Delafontaine. The dancers were stationed at every corner of the Opera House, twirling to a mix by music extraordinaire Ariel Wizman. The night concluded with the turntables of DJs Feder and The Avener in the well known "rotonde des abonnes." Guests continued the evening festivities dancing to music and it was a Longchamp night in every sense of the word.