Anne Lee, Beauty Writer and Make-Up Rookie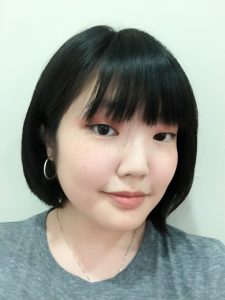 Confessions of a beauty writer: I've certainly tested and written about foundations countless of times but the reality is, I don't actually wear foundation. At all. I love my freckles and the last thing I want to do is cover it up. But YSL Beauté's All Hours Foundation Stick leaves a nice, light veil that gives me the delicate balance.
Also, if you're not wearing foundation, there's no risk of looking like a disjointed head, where your face is shades lighter or darker than your neck, am I right? That said, this foundation stick comes in 20 diverse shades, so there's really no excuse to not find your perfect skin hue.
Makeup newbie or expert, the old adage remains true even in this digital age—always test out the foundation in stores. I shopped on behalf of Audra, and came back with a way-too-dark shade for her–total accident, I swear–but she made it work anyway. In the words of YSL Beauté's beauty advisor, Nico Loo, "Test it on the back of your hands, or better yet, come in fresh-faced so you'll be able to feel the texture and match the correct shade to your skin." My advice? Always colour match in person.
I usually can't wait to relieve my skin from all the make-up at the end of the day, but this time, I completely forgot that I had it on because of its light formulation. Side note: it also kept my face matte the entire day. Hand to heart, if it wasn't for my more visible eye make-up, I would've just cleansed my face like I usually do on sans-make-up-days, and called it a night.
This cream-to-powder foundation also doubles as a concealer and highlighter stick. I've been staying up late recently so it's a great product to hide those dark circles. It comes in a sleek little bullet, so I can easily touch-up your make-up anytime, anywhere.
Audra Roslani, Assistant editor and beauty enthusiast
So when Anne picked a shade for me in store, she got me a shade that was three colours darker than my natural shade—on purpose, I think. Oh, game on Anne! Choosing a colour that matches your skin tone is such an amateur move but to be fair she's got amazing skin, so of course she'd want to highlight that. You go, Glen Coco. Let the makeup addict take on the real challenge.
Let's go for the jugular–sculpted cheeks and a slimmer nose are basic go-tos when it comes to contouring: it's a no-brainer. If you've got a smaller cheek surface, go conservative with that cheek slice unless looking like you went tanning with a jaw strap on becomes the next Youtube trend (but seriously, even then… don't).
Minor segue: the YSL Beauté All Hours Foundation Stick makes contouring so much easier. The edges are great for when I need a sharper, thinner line like on the nose, and the tip of the stick covers larger areas like the cheeks and temples. Brushes? Who needs 'em?
Kylie may have removed her lip fillers, but I'm still all about that full pout. A little bit of contour under the bottom lip works wonders for the illusion of a thicker lip.
Clavicles are the new sexy, and I swear, collarbone contouring is my new favourite step to appear slimmer. How to, you ask? Push shoulders forward and fill in the hollows of your collarbone with touches of the foundation stick, et voila. Go ahead. Treat yourself to that last piece of croquembouche, because that new diet you're on? It's working, honey.
YSL Beauté's All Hours Foundation Stick is available at YSL Beaute stores nationwide.