Discover the Longchamp x D'heygere collaboration with Longchamp Creative Director Sophie Delafontaine and Stéphanie D'heygere.
How did you meet and what made you want to work together?
Sophie: I first met Stéphanie four years ago in the context of the ANDAM competition. She had won the Accessories Award, and I was completely bowled over by her work and the whole universe she created. Her designs have a real identity, but also an extremely ingenious dimension that speaks to Longchamp. After our successful debut collaboration on a poncho in 2019, we wanted to take the next step by exploring a greater range of possibilities.
Stéphanie: I have very good memories of our first collaboration! It has been a pleasure for me to develop an entire capsule collection, which includes the poncho, as well as a series of other pieces, including leather goods, for example.
Stéphanie, your focus is on accessories. Can you explain how you transform everyday objects or moments into fashion accessories?
Stéphanie: My design process is more about thinking than drawing. I like the idea of studying an object in order to give it a new function. Everyday objects have always fascinated me… There is a certain beauty in the ordinariness of the objects which inspire me and which I try to approach from an unexpected angle. I love to create a sense of surprise through humour or through transforming the uses of an object. My aim is not just to make something beautiful – the accessory has to be both original and functional.
Sophie: Precisely! Some of your past designs have made a real impression me – I'm thinking of the ring that transforms into a cigarette holder, or the gloves that become a scarf. Today, this capsule collection reveals your talent for exploring the diverse functions of an object.
And what words would you use to define Longchamp?
Stéphanie: Longchamp is a label that has followed me around ever since I was a child. I love its energy, and I particularly love the concept of its iconic Le Pliage®. I think it's wonderful that one bag is carried by so many different people, and that everyone uses it in their own way. Le Pliage® is not only an essential, but it also has a real personality, and it was a pleasure for me to put my own stamp on it!
The whole history of Le Pliage® is about ingenuity. How did you work together to invent new uses and to bring a versatile dimension to every product?
Stéphanie: Every product has its own backstory, but the overarching direction of the collaboration was that every piece should be practical and gender-neutral. The original Le Pliage® is an absolutely amazing bag. The twist we have given it is to allow it to be carried as a backpack or a shoulder bag. There's also a belt bag that transforms into a backpack – the perfect accessory which took me all through summer!
Sophie: It's true that every object has more than one function, such as the umbrella that you can sling across your body. The idea was to invent new ways of wearing clothing and accessories in order to simplify daily life. Longchamp products have always been everyday companions, and this collection makes them even more ingenious.
Longhcamp X D'Heygere Collection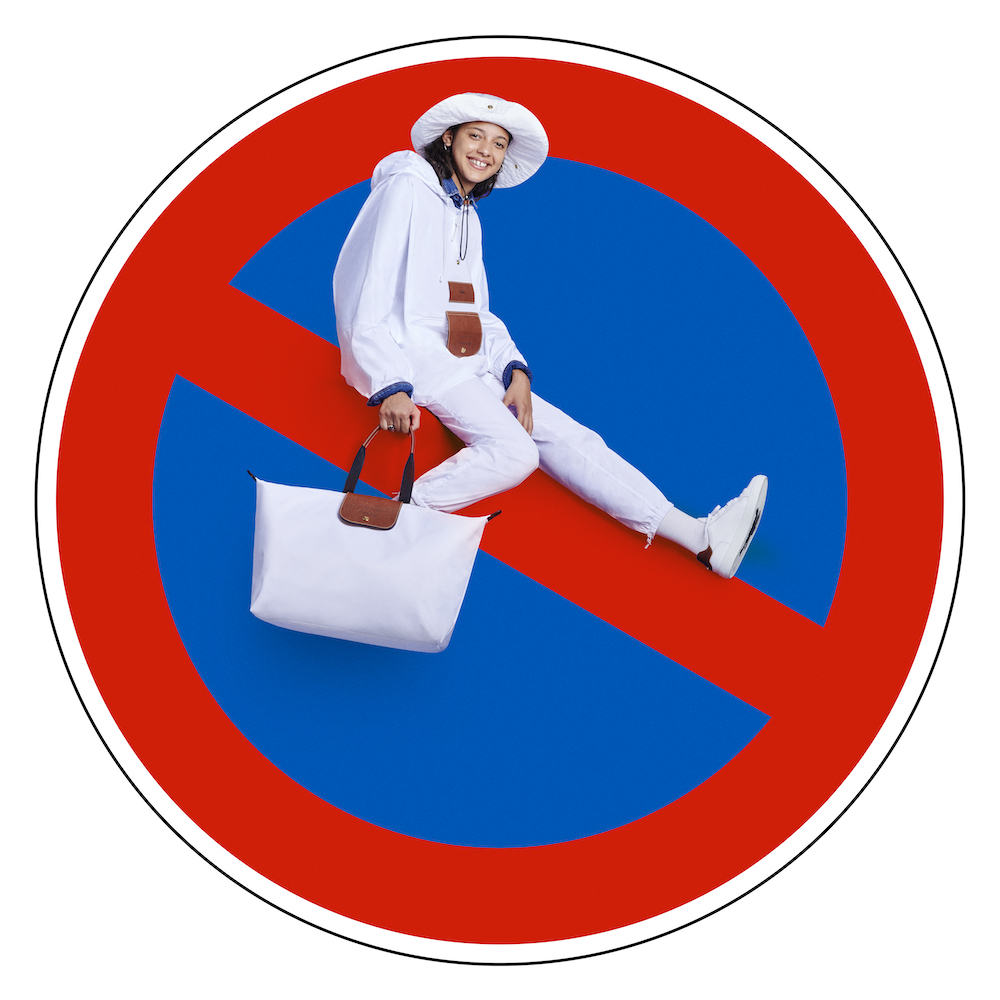 Stéphanie, the LONGCHAMP x D'HEYGERE collection is intended for both men and women. Inclusivity is an ever-present in your work, so what makes an accessory gender-neutral, transgenerational and/or universal?
Stéphanie: That's something I especially enjoyed about this experience. What makes this capsule inclusive and universal is that it can be worn by anybody and everybody! I regard the gender-free aspect of the collection as a particular success: the cuts and the details are neither feminine nor masculine, and the sizes go from S to XL.
Sophie, the collection uses the same recycled nylon from which Le Pliage® bags are now made. Can you tell us a bit more about Longchamp's environmental commitment?
Sophie: Since the beginning, Longchamp's environmental commitment has been reflected in the durability of its products, thanks to the materials we select and the expertise of our teams. Over the past two years, we have innovated by transitioning the entire Le Pliage® line to recycled canvas. Beyond the products themselves, our environmental commitment involves many other aspects of the business, such as packaging and logistics. This is a real priority for us, which of course extends to our collaboration with Stéphanie. Apart from the leather, which is always sourced from LWG-certified tanneries, all the materials used for this capsule are recycled.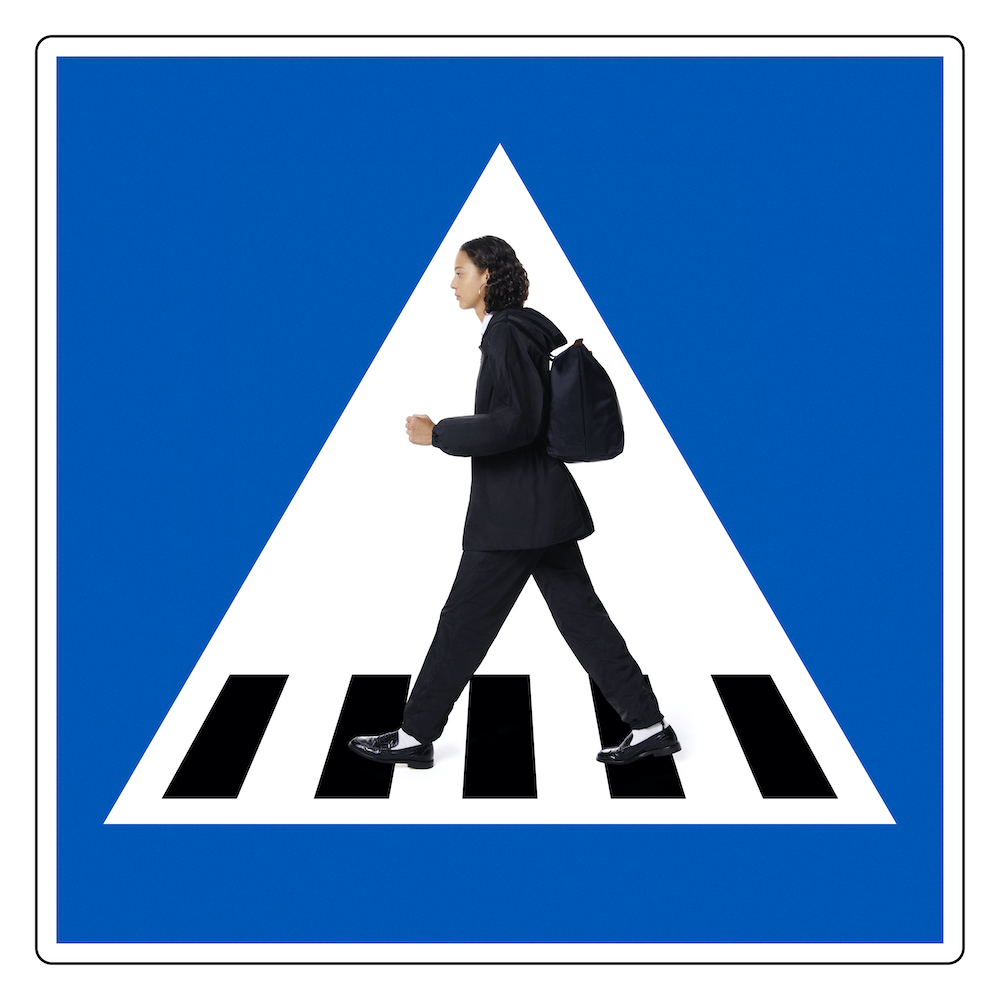 All the products in the collection are an invitation to get up and go. What inspired you to design a collection around mobility?
Sophie: The starting point for this capsule was the poncho from 2019. Our aim was to go further by developing an entire collection around movement. Stéphanie took our chic, cool basics and gave them a twist, both through her use of color and leopard print, and through the multi-functional aspect of her designs, which bring freedom and practicality to everyday, urban lifestyles.
Stéphanie: Longchamp clients are always on the go, and this inspired me to design a collection that would facilitate their dynamic lifestyles. I love the leopard print: it's not only timeless, but it also brings a real zing, which is totally in line with the spirit of the collection.
Futuristic Attitude
How do you think we will move around in the future?
Stéphanie: Even now, in many cities, electric bikes and scooters are revolutionising the way we move around. The collection responds to this new trend with practical, lightweight and water-repellent accessories, which work equally well in less urban environments.
Sophie: Our clients are defined by their fast-paced, urban lifestyles, and this collection offers them clothing and accessories designed for mobility and therefore for travel. The idea is to accompany our clients in all circumstances through useful, durable products. The large travel bag, for example, can be carried in four different ways: in the hand, across the body, on the shoulder, or on the back. It therefore adapts to every situation and to the pace of our clients' lives.
Longchamp X D'Heygere collection comprising a wide array of practical ready-to-wear and accessories.
Finally, how would you sum up this collaboration?
Stéphanie: I'm delighted that Sophie invited me along on this new adventure! I really enjoyed working with the Longchamp teams. We quickly established a relationship of trust, which allowed us to create a wonderful, original capsule that brings both our visions together.
Sophie: Our collaboration was considerably facilitated by Stéphanie's preparatory work. She claims not to draw very much [she laughs], but in actual fact, she made lots of little adjustments to ensure everything was perfect… Her approach was very positive and motivating, and enabled us to go forward in perfect harmony once again!
– – – – –
All interview, video and images courtesy.
Discover the collection HERE.