MISSONI SPRING/SUMMER '16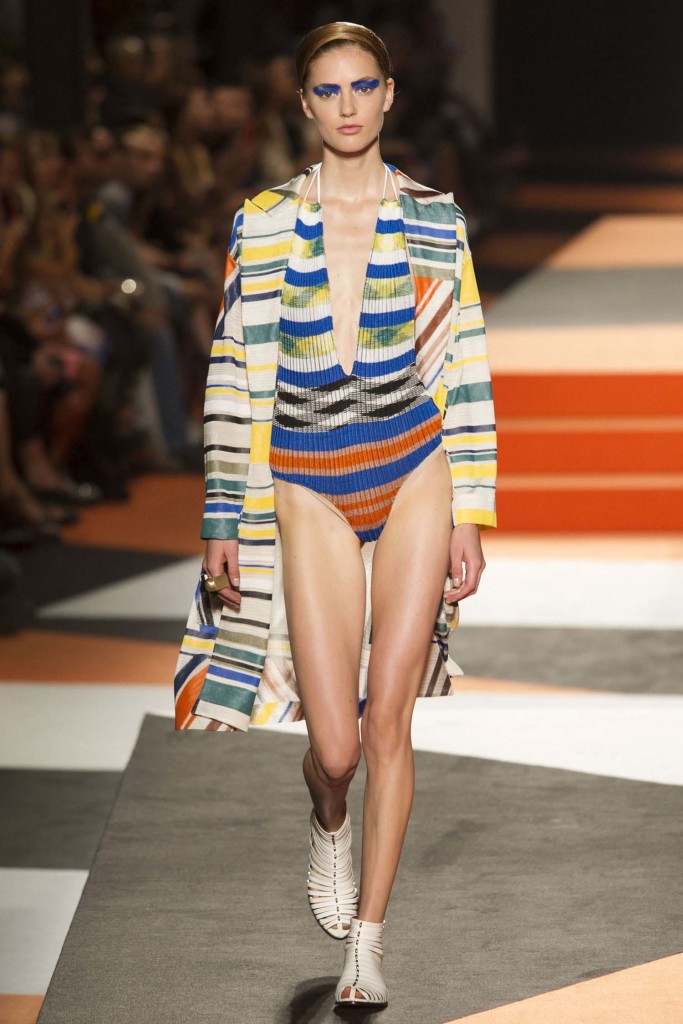 Missoni Spring/Summer '16
Angela Missoni had everyone seeing stripes—or more of them, at least—at her Spring Missoni collection. As Milan has taken to this pattern in particular, this bodes well for a house that kind of built its reputation on variations of the line: zig zag, optical, thisaway, thataway, up-down… The runway here was sporty, with striped knits in every color (though heavy on a Yves Klein-ish blue) popping up in collared shirts, caftans and lodes of maillots and bikinis. Even the shoes looked striped in their caged sandal construct.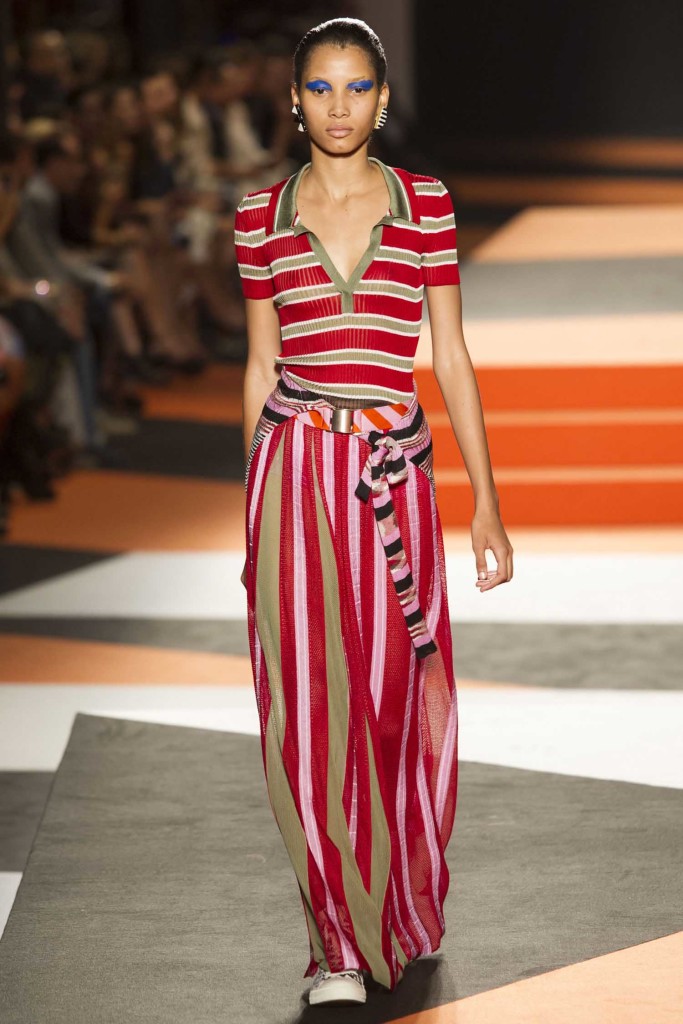 Missoni Spring/Summer '16
Otherwise girls walked in high-top sneakers (another nod to America) and everything from body con long columns to vertically-striped and pleated dresses—also seen a lot this week. Missoni could have boxed herself into a very small, tight corner by sticking to a striped idea within her already knit world. But there was a deep bench of looks here for clients who have different needs, are of different ages and figures. Leave the maillots for the hardbodies and the caftans for the shy types, Missoni's message was. There's even polos and loose pants for the sporty girl who idolizes that outdoorsy Hepburn vibe. Albeit a colorful striped one.
SALVATORE FERRAGAMO SPRING/SUMMER '16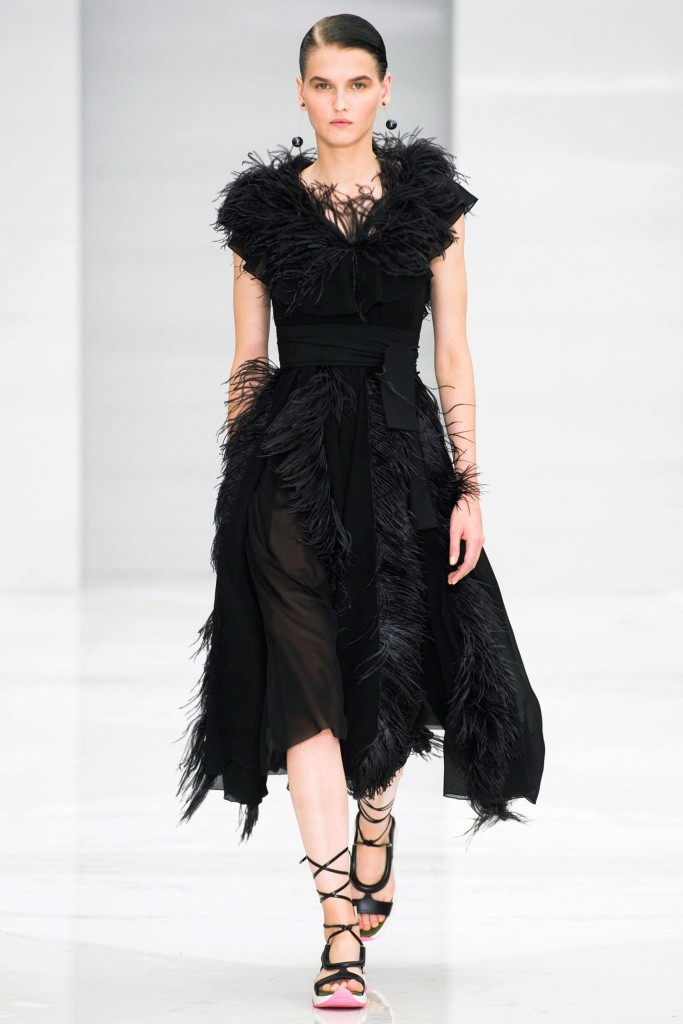 Ferragamo Spring/Summer '16
When Massimiliano Giornetti does peasant for Salvatore Ferragamo you can expect it won't be the usual hippie-sprite fare. No, those references will be smartly veiled and folded into the House's uber refined aesthetic. So his feathered dresses and skirts for example are done in soothing olives and black, in trim ladylike silhouettes and paired with sandals that tie up the ankle and sport an athletic-inflected sole. Intarsia striped knit dresses with tiny frills came out, a subtle nod to Seventies chic. Meanwhile ruffles and tiers in varying sizes cropped up on monotone chiffon dresses, cotton strapless maxis and in the exaggerated bodices of strappy tops worn with either black leather pants or crisp white knee-length shorts.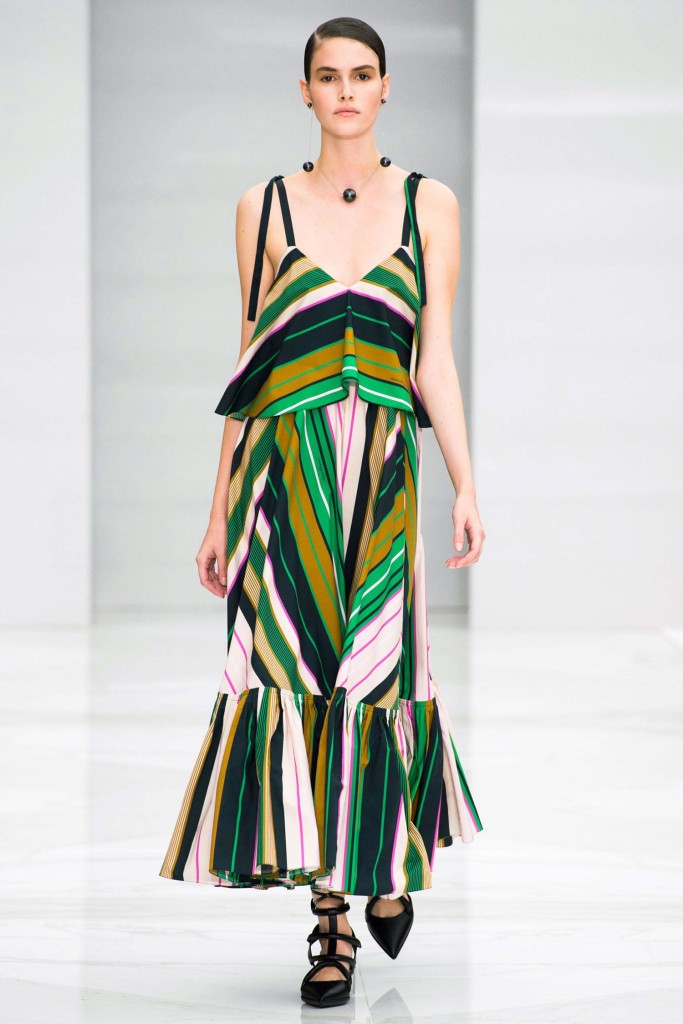 Ferragamo Spring/Summer '16
 Black was a dominating color here—mixed in with olives, mustards and reds—softened by the bohemian nature of how voluminous pleated capes tied or cropped pants with slit details also tied mid-calf or the way accordion pleated dresses moved freely. There were a ton of capes, mostly knit and worn layered over tonal ribbed knit dresses and skirts. Everything was long and longer, hitting at the ankle to show off the ankle-strap shoes and gladiator sandals. Striped dresses hit a perfect summer note but stayed firmly within the realm of the elegant in relaxed A-line shapes and lovely colors
DOLCE & GABBANA SPRING/SUMMER '16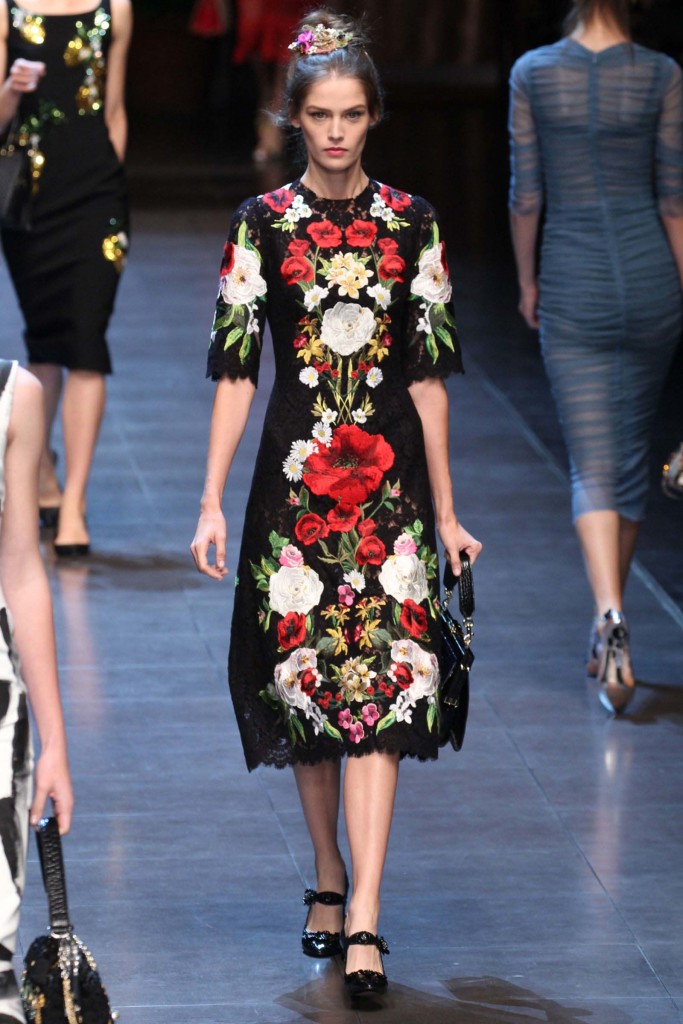 Dolce & Gabbana Spring/Summer '16

Body con dresses came out in black lace and ruched chiffon, but were accented with vibrant red-based florals or cheeky metallic embroidered fruit. The widow has gone glamorously sexy for Spring. The sexier fare balanced nicely with both relaxed pajamas in big, bright florals or tile prints, and youthful day dresses with humorous prints tapping into various scenes from around the country. Like girls on the beach by an Italian ice cart, renderings of famous landmarks and the like. But Italy is not just about bombshells, virgins and matriarchs. It's always been a destination for well-heeled tourists seeking art, culture and food.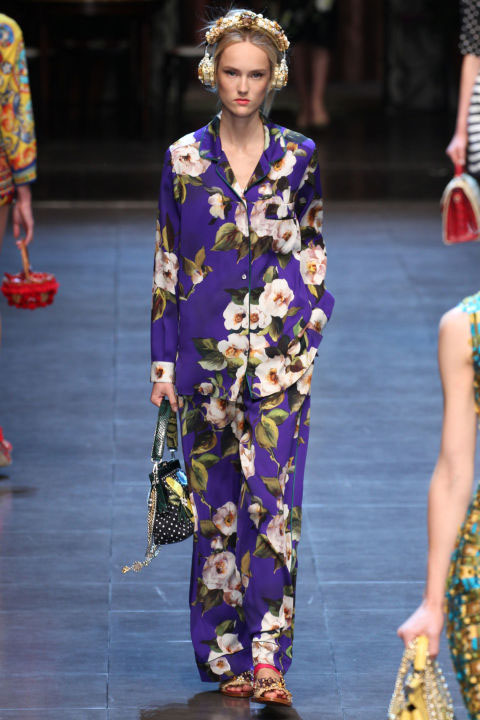 Dolce & Gabbana Spring/Summer '16
Which explains the group of striped Mandarin-collared dresses and tunics (which were paired with delightful colorful pompom sandals) worn by models carrying shopping bags—because right now that culture-loving day tripper is also Dolce's biggest client. Fit and flare shapes came out in bra-and-skirt or charming day dresses, all done in colorful scarf prints and accessorized with adorable headbands (were those red baubles a nod to tomatoes?), embellished shoes and a massive offering of bags. And it culminated in a parade of girls in sheaths done in bright postcard prints for what seemed like every city and coastal resort town in Italy. Viva Italia!
ROBERTO CAVALLI SPRING/SUMMER '16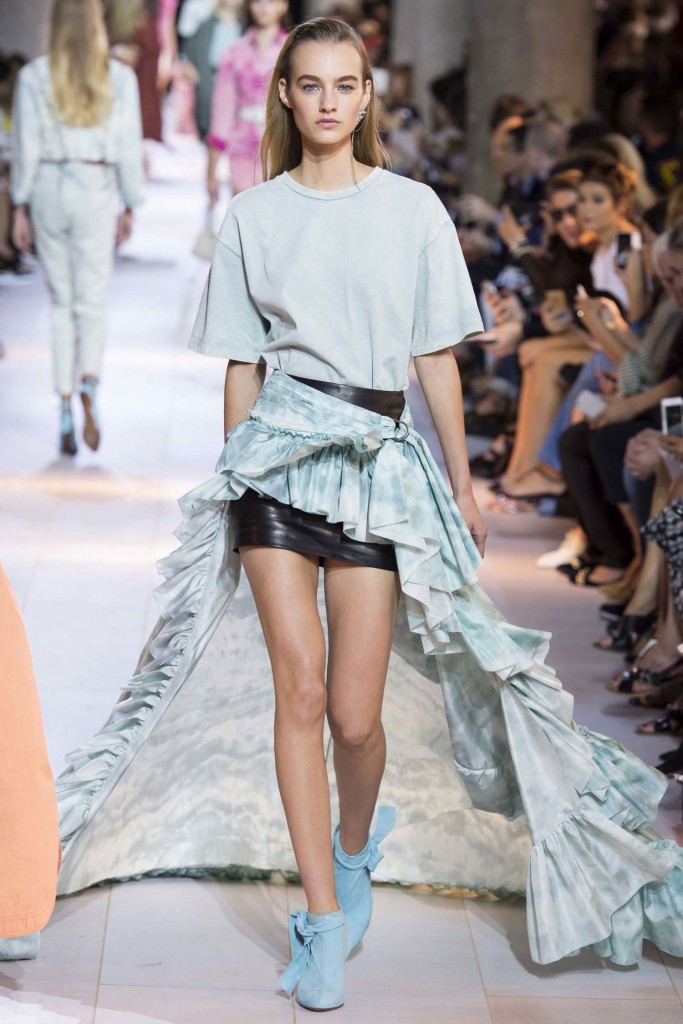 Roberto Cavalli Spring/Summer '16
Fans of Peter Dundas' unabashed way with sex appeal were looking forward to his debut collection as Roberto Cavalli's Creative Director. After all, it was a meeting of two name brands that epitomize Italian glamour and sensuality. And Dundas didn't disappoint, showing up with drama, '80s dazzle and more than enough sauciness.Wrapped in a guise of laidback street wear, Dundas worked stonewashed pastel denim in recognizably '80s silhouettes—ruched minis, slouchy sweatshirts and oversized jackets. And don't miss the ankle booties. He went for high contrast, whether it was in a sweeping ruffled cut-away ballskirt paired with a t-shirt or the minidress tied along one side that followed. Denim was mixed with lamés, jeans with dressy bandeaus featuring demonstrative big bows. If some of the silhouettes felt more like Dundas than Cavalli, the designer did throw in some of the gowns and party dresses that devotes of the label can sigh over.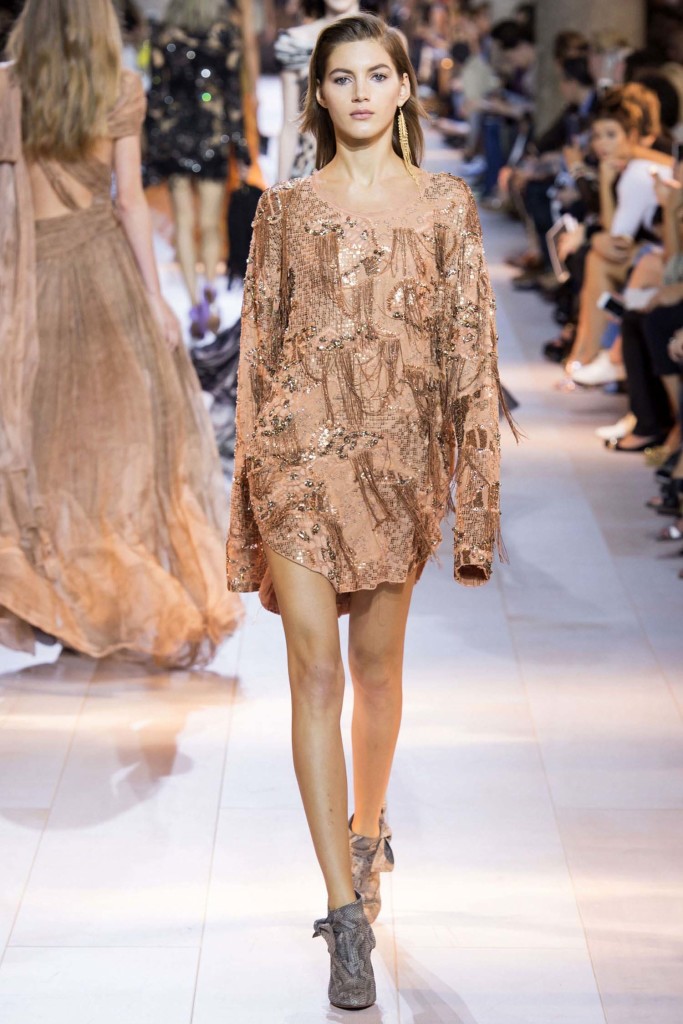 Roberto Cavalli Spring/Summer '16
The kind of gowns that sweep, flutter and generally create a stir when they float by flashing bits of skin. But was interesting here were the moments when Dundas' and Cavalli's ethos moved in tandem—like a bedazzled extra-large blush sweatshirt dress—that promised at an interesting and potentially lucrative partnership.
BOTTEGA VENETA SPRING/SUMMER '16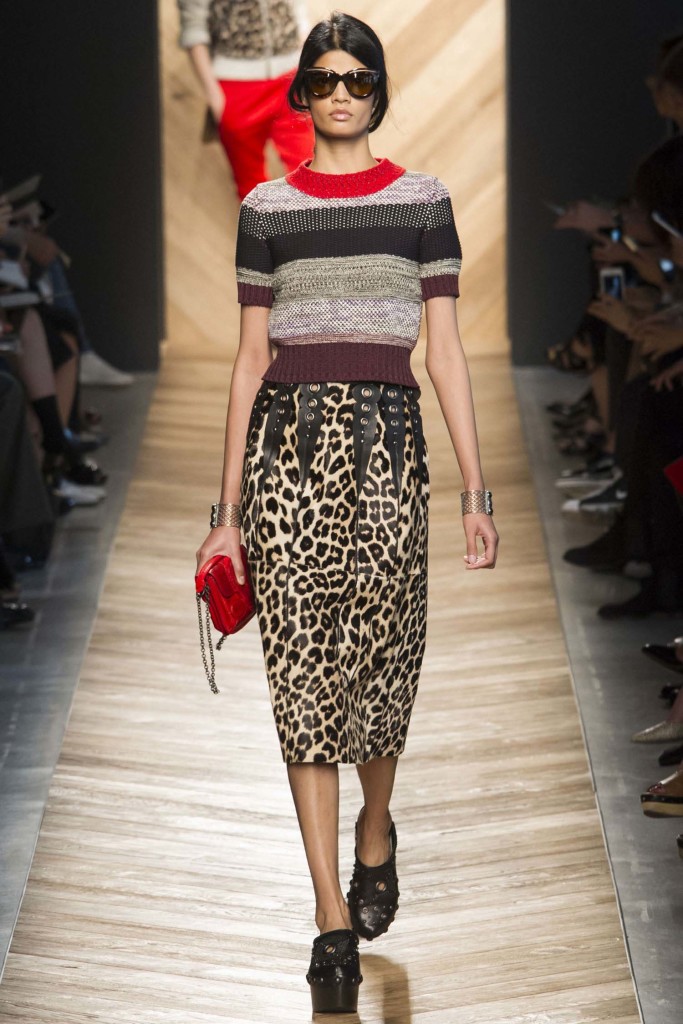 Bottega Veneta Spring/Summer '16 
Sporty, casual, and with a heavy nod to the yachting life, seemed to be Tomas Maier's brief for Spring best illustrated in the way he mixed his messages like a striped knit college girl sweater with a touch of the nerd topping a grommeted pencil skirt in panel leopard print pony. Sweatpants, sweatshirts and bombers were luxed up in rich materials like suede and silk or lined in the softest materials. Even Bottega's signature woven bags felt like supped-up gym bags. Sailing was another big sub-theme, one that is having a big moment in Europe. At Bottega, Maier mined it's sportier side, using sail materials for full skirts or cinch-waist dresses with pintucks and deconstructed seams. Luxe sportif shone through in looks that mixed soft materials with animal print. While elsewhere Maier got more arty with that combination, splicing a pixelated animal camo, netting, crochet and bungee cords.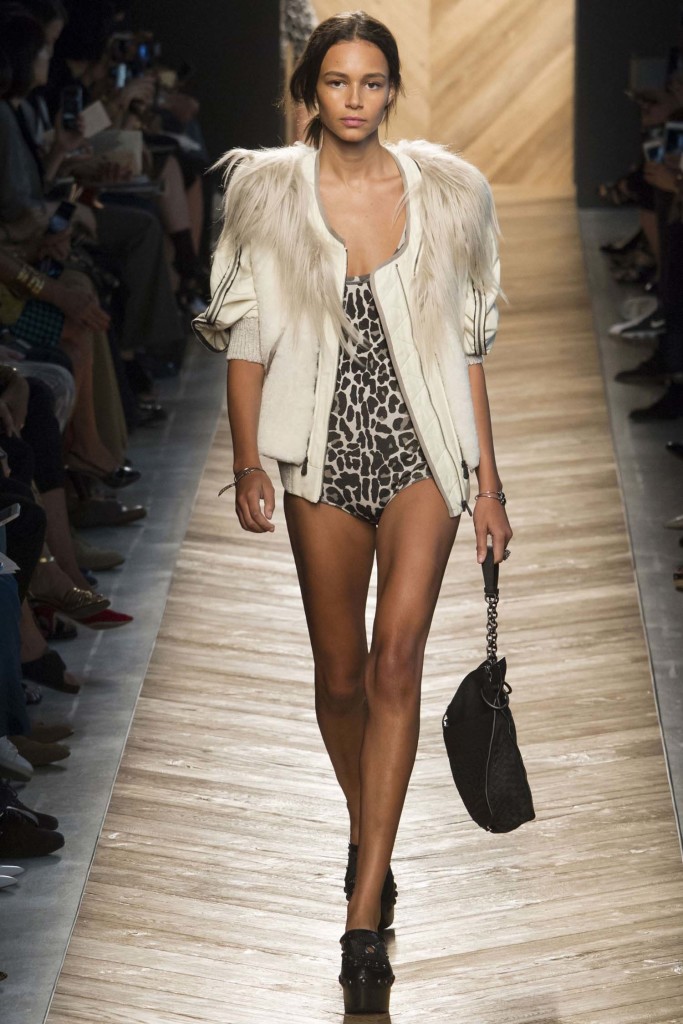 Bottega Veneta Spring/Summer '16
The bags and shoes fell in step with the mix-match motif, including the high calf hair clogs with gromet details. Bungee cording replaced any kind of shiny, girlish sequin or bead on evening looks. It was used to highlight waists, hold up dresses and draw attention to the curve of the bodice. One especially natty idea included a ballgown wiht a sail skirt and a knitted bodice.
VERSACE SPRING/SUMMER '16
Versace Spring/Summer '16

Versace may be synonymous with flash, sex and swagger, but when Donatella decides to do reserved it can be just as much of a statement. For Spring, Versace tapped a military beat. One that was tailored, cool and young. She blurred the lines between camo and animal in purple-and-green or brighter neon yellow, green or red that popped as body-con dresses, tailored jackets and louche suits. One especially cool exit was a loose knit t-shirt dress with matching zippered bag and sporty slides. Men's-inspired shirts made an appearance either cropped over wrapped skirts or worn oversized with a Medusa-logo belt. In contrast to last Fall, this was the most logo-rific it got. Things got downright louche and cool with a set of finely tailored suits—in tan and loden—that were worn over bandeaus.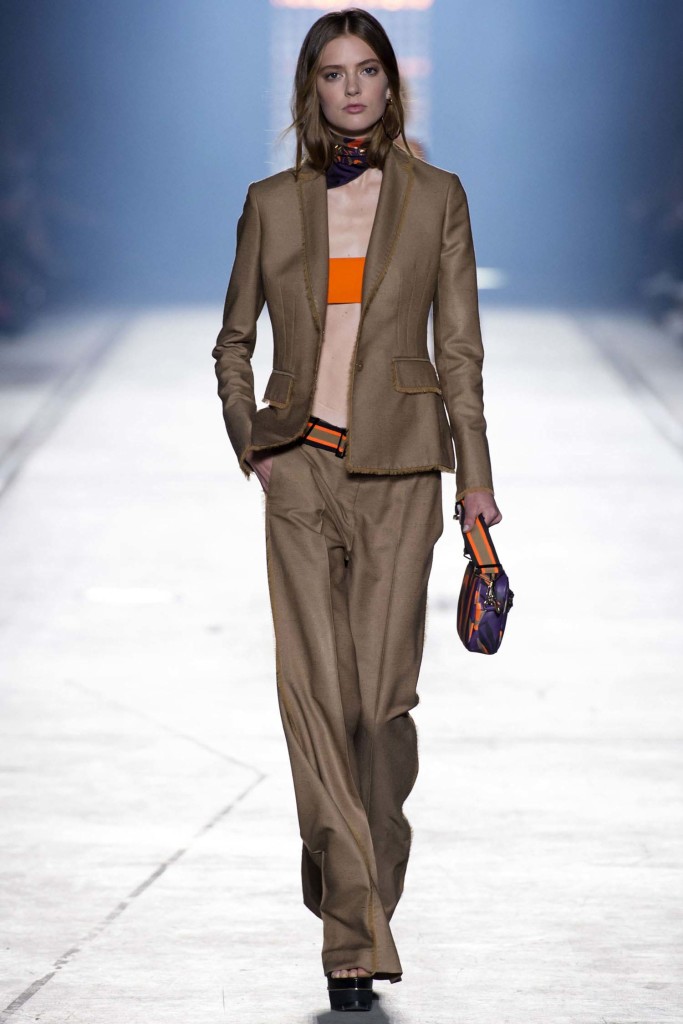 Versace Spring/Summer '16
There was a real insouciance to the way sex appeal was handled with a smidgeon of tomboyishness here. These girls are more women than anything else. They have experience, but isn't tawdry. The only moments of va-va-voom came via sequined minis that repeated those animal prints. But even here, because they were anchored in olive or paired with a boxy flack jacket, kept them from veering too far into too-far land.
 TOD'S SPRING/SUMMER '16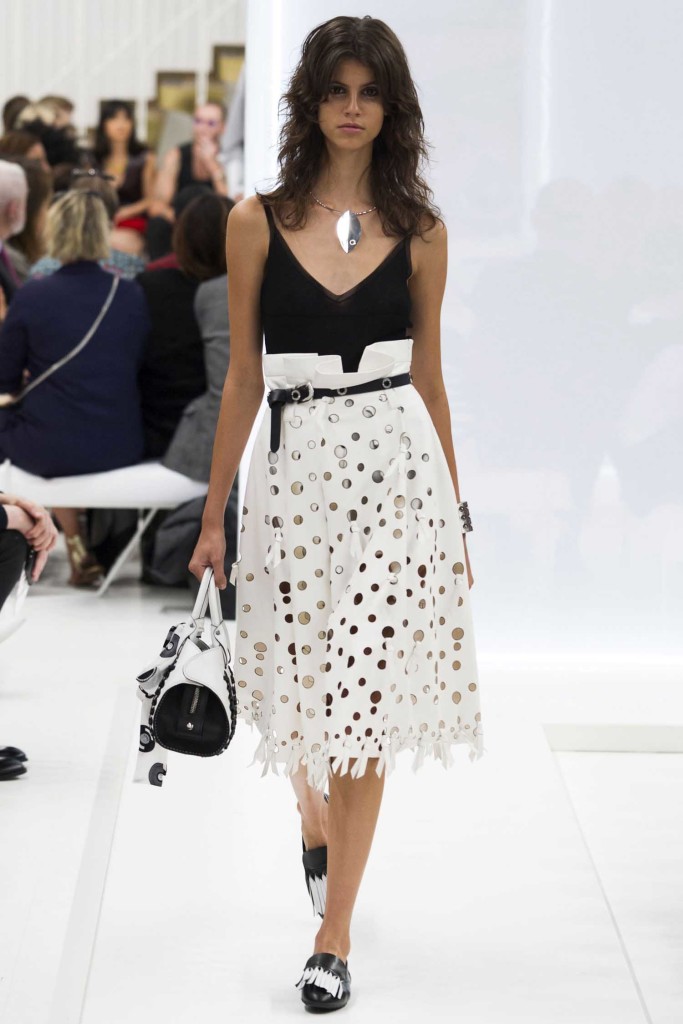 Tod's Spring/Summer '16
 The rock chick is a perennial muse, one that will always be a siren's-call for designers. But for Tod's Alessandra Fachinetti, there was certainly room for interpretation in how this muse's normally sexy, messed-up look can be done. Here, there has to be a sense of refinement to the rawness or you risk alienating that core driver-wearing client. So bring out those loafers and drivers in new and fun iterations: with long tassels, in lacquered shine, in grommet-covered detail. Give the Tod's girl something she understands, but something new, too. And as for the clothes, gives those rarified standards a gentle push and some edge, too.
Pinstriped suits, buttoned-down shirts, tailored pants and crisp shorts all saw new life on the Tod's runway with ruffled peplums, deconstructed tailoring, built-in corsets, paper bag waists and wide, wide legs.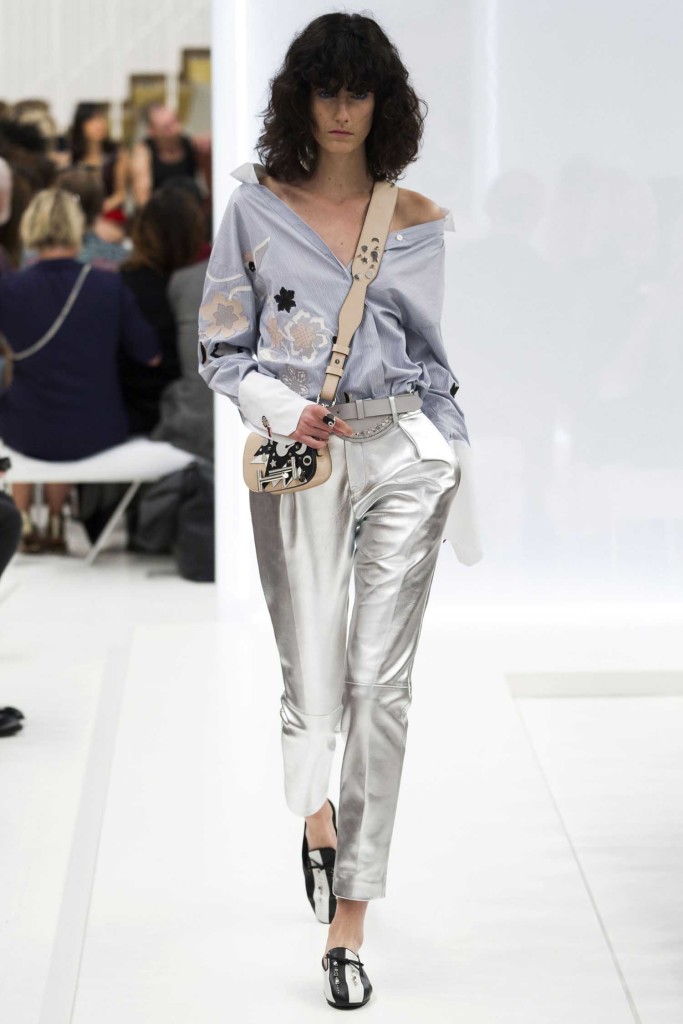 Tod's Spring/Summer '16
Leather was appliquéd and patchworked in graphic motifs or rendered in modern metallics that spoke to an undercurrent of '80s, down to a recurring vinyl record print. Bags—little and big, clutch and cross body—echoed the appliquéd and grommet-detailed embellishment of the clothing. To create buzz, the brand put together a prefab "Tod's Band", fronted by its runway models Camilla and Guilia Venturini and Mae Lapres, among others. These girls may not actually play any music, but their looks—like a perforated gray leather cami and maxi skirt or off-shoulder white top and black perf skirt—could offer an interesting off-stage wardrobe for the real deals.
MOSCHINO SPRING/SUMMER '16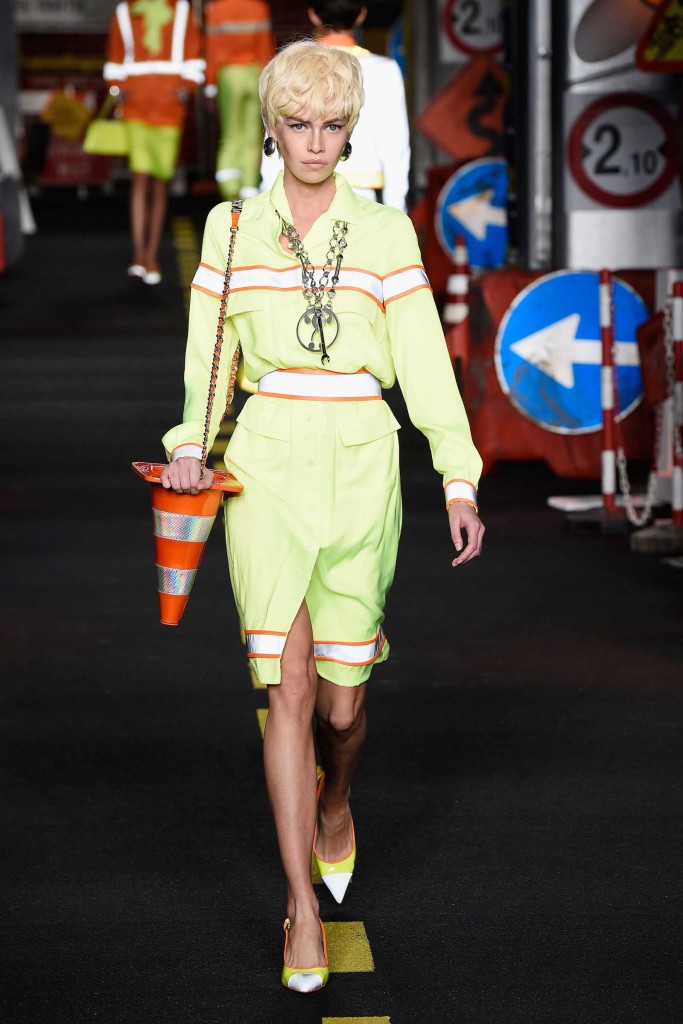 Moschino Spring/Summer '16
Danger! Fashion ahead. Moschino never holds back on the fun and whimsy, and Spring's sartorial diversion was a construction site-meets-philosophical rant about branding. It was literal, yes, but when has Moschino ever tiptoed around messaging? Its opening story was nothing but emergency colors done up in lady suits. No trick of the trade was left untouched. How about a hardhat painted sliver and used as a shoulder bag? Or safety netting redone as a peppy little party dress while caution tape trimmed a trim black suit. Moschino's m.o. is to place tongue firmly in chic. These aren't clothes you're going to wear just because. They're clothes to be seen and noticed in—conversation-starters.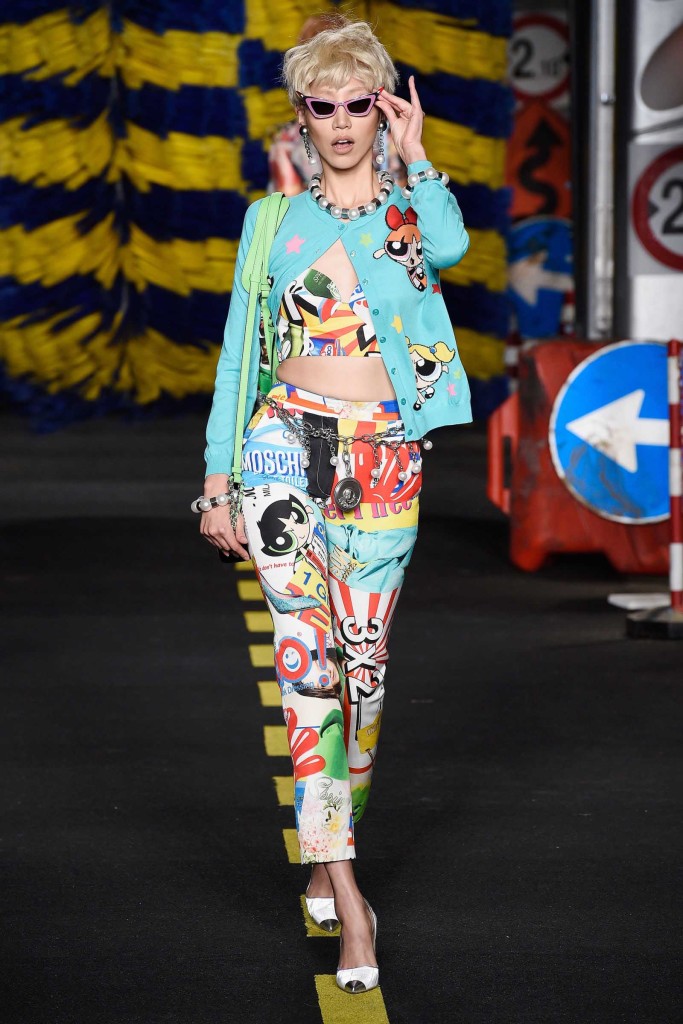 Moschino Spring/Summer '16
While their antics can be over-the-top, the charm and irreverence is refreshing in a world that can sometimes take itself way too seriously. In a sea of well-dressed women all vying for the street photographer's focus, a Powerpuff Girl's cardigan would surely get noticed (but see what we said before about these clothes not being clothes just to wear). The finale was a total frolic, the business of fashion be damned, with bubbles flying everywhere and girls exiting from a carwash—which matched a pair of car wash fringe party dresses. So fresh and so clean.
FENDI SPRING/SUMMER '16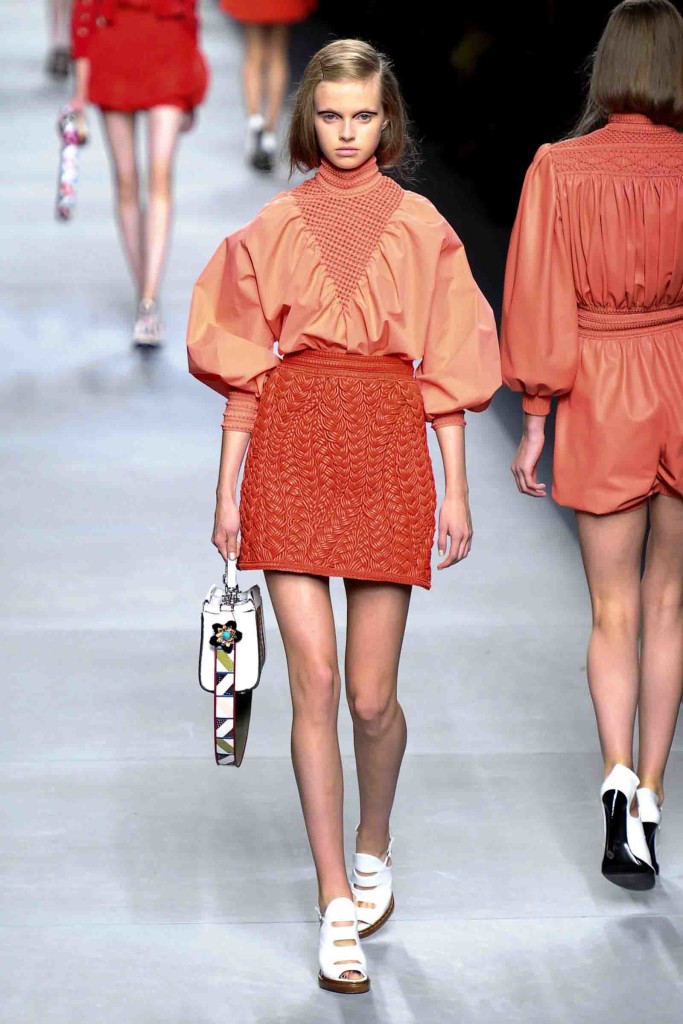 Fendi Spring/Summer '16
Silvia Fendi and Karl Lagerfeld could have shown just the first five red braided mini and romper looks and the Fendi show would have been great, complete, enough. But what followed was a terrific lineup full of spirit, craft, luxury and pretty amazing clothes that are completely wearable (ok, at a certain price). A few main themes ran throughout Spring—giant stitching, fur and leather (a brand signature no matter the season) and techy details in the accessories. Frankenstein-worthy stitches turned elegant as tonal details along extra-large pockets, up python bustiers, along skirts and blazer hems and as extra embellishment on boxy totes. The only print was a blue geo done on a pair of dresses, short and breezily long. But pattern and texture were in full effect on this runway through the way everything was braided or notched, creating interesting surface treatments. So even though the color palette was monotone red, blue, black and neutrals, there was still a lot going on.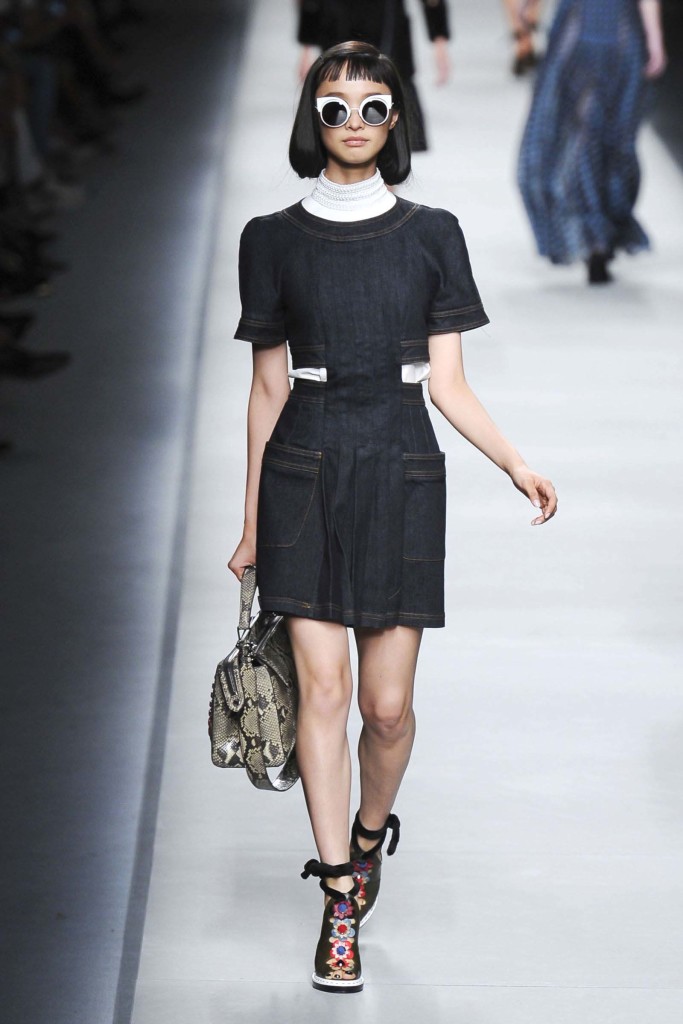 Fendi Spring/Summer '16
Lagerfeld is the kind of man who is never happy with just enough. He is constantly seeking more, something new. And it's why he has had such a long and successful career, why, after so many hundreds of collections he is still relevant. Case in point: the humble denim and white shirt combo. A classic duo that was rethought for Fendi Spring as a smart youthful dress with cut-outs at the waist and a high-neck white shirt with braided details. Add a killer python bag with easy-access iPad inserts and faintly boho sandals, you've got a look that hits a lot of great references past, present and future. At this point, the things Fendi and Lagerfeld can do with leather and fur shouldn't be a surprise, but it was still a delight to see a fur braided and knitted into a loose coat or an olive leather jacket look just as fluid as the jumpsuit it was paired with.
PRADA SPRING/SUMMER '16
Prada Spring/Summer '16
The Prada set was like sitting inside an organ or a futuristic cave, with giant plastic and metal tendrils and stalactites hanging overhead. The collection Miuccia Prada showed, meanwhile, mixed mens wear and ladylike motifs, color and print in a typically intellectual lineup of suits and day looks. Plaids and stripes in mannish colours and substantial tweeds, suedes, leathers (some lacquered) all mixed in together. Underneath, bright and graphic Intarsia sweaters were layered over feminine blouses. And then with the next look Prada would flip the equation, letting the sturdier materials be the base layer and the airier ones be on top.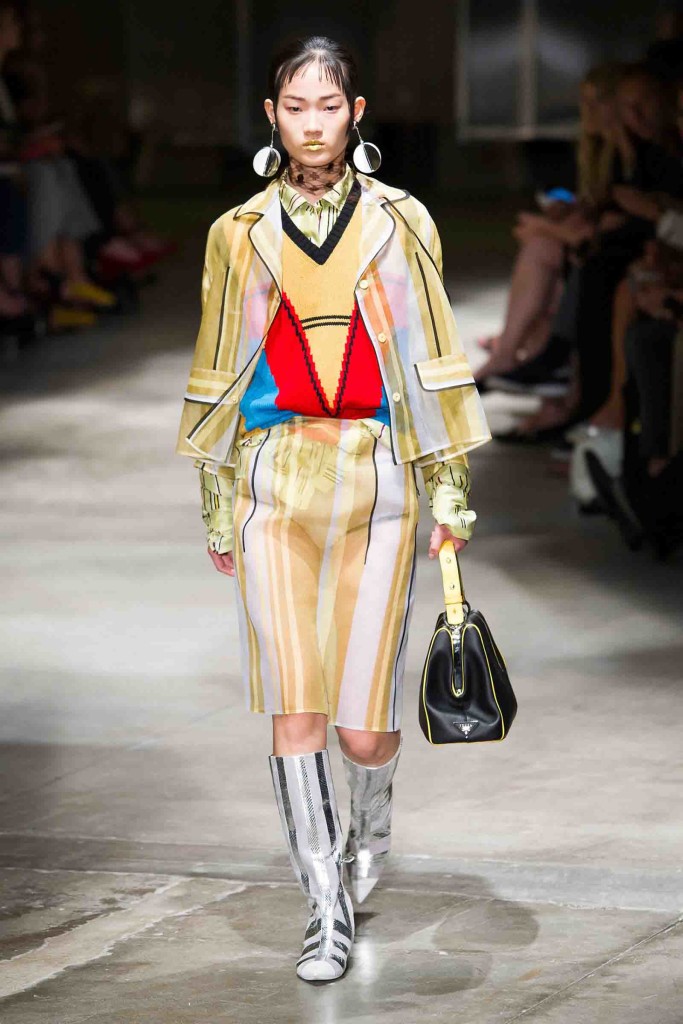 Prada Spring/Summer '16
The drop-waist dresses were equally mix-and-match, worn over intarsia sweaters. She played with print scales and added lace and sequined embellishments to shoulders that picked up on bauble details on the shoes. And these girls were done up. As in hair slicked back into tight buns and lips lacquered a demonstrative gold purposefully meant to compete withe brightness of the clothes. Balls dangled from drop earrings and topped flat point-toed strappy shoes. And nearly every girl exited with a bag (perhaps in direct response to less-than-positive earnings reports earlier this month). Prada's final grouping felt like old-school Prada. Super quirky and over-the-top while toeing the line with ladylike strictures: the tailored car coat, the pencil skirt, the silky blouse and the great shoe. Just here, they were shiny, covered in pailettes and accented with netting for good measure.
GUCCI SPRING/SUMMER '16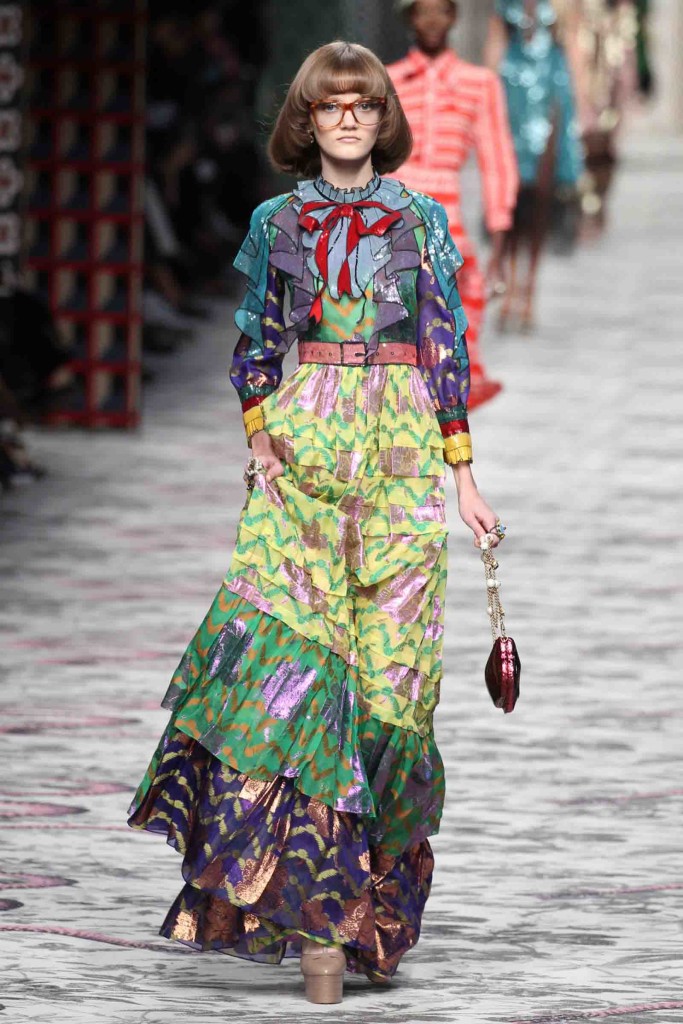 Gucci Spring/Summer '16
With three collections and one year under his belt, Alessandro Michele is clearly feeling confident as creative director. Michele has a ton of ideas and he left them all out on the floor. While it's usually a good idea to edit oneself, in this case, what the hell? His joie de retro was infectious. And when he sent out looks that defied description, it's hard to criticize. Case in point: a metallic printed dress with a sequined trompe l'oeil blouse, belt and bow.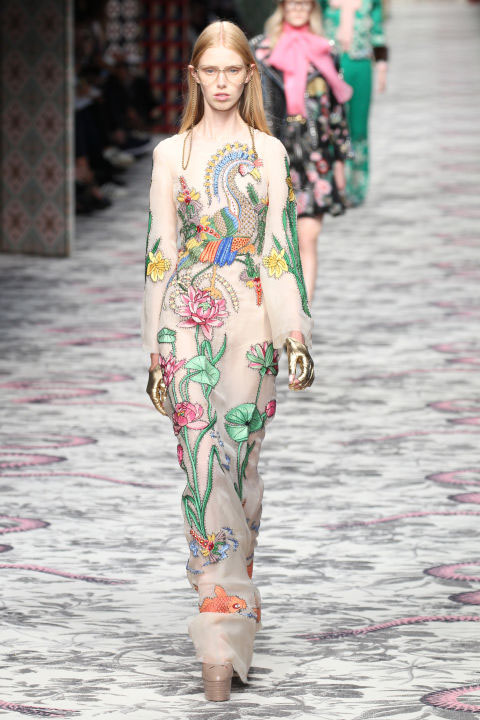 Gucci Spring/Summer '16
This was statement dressing to the highest degree. For day, the options were shirt dresses printed in colorful botanicals, graphic squiggles and a charming map. Or there were lady lunch suits with contrast trim in Gucci green and red colors. Michele showed a deft hand with intricate embroideries on chiffon and gauze gowns that picked up on some of the motifs seen in his prints—koi chasing each other across the hem of a dress, birds flying across a bodice, etc. One thing's clear: In three collections, Michele got everyone talking about Gucci. But the most fun was when he let loose with jacquards, embroidered leathers, ric-rac ribbon details, wallpaper florals and all sorts of vaguely chinoiserie-esque motifs. These were worked into pretty blouses, pencil skirts, flowing dresses with Seventies flare and a ton of suits with panache (including for men). Everything as accessorized with classic Gucci bags and loafers, but all with an added element. The loafers came with fur lining, of course, and the bags with ribbons and charms. Note: There was a terrific piece of Gucci luggage spotted, too.
 Images: Imaxtree; Getty.