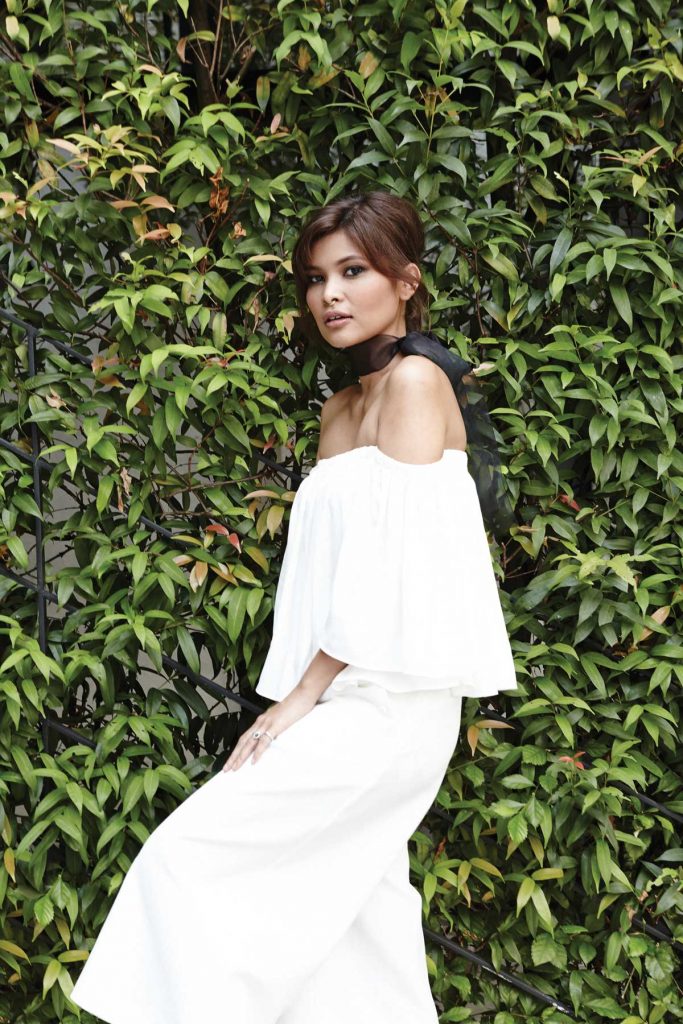 A stylist's touch: head-to-toe white with an organza ribbon, styled as a choker
It's hard to imagine Min Luna as a rebellious tomboy in the early years of her teens, especially for someone who's so impeccably dressed in a white-on-white off-shoulder ensemble for our early morning shoot. But that's exactly the story that was painted by the fashion stylist, whose days are now spent consulting countless local celebrities, magazines and retailers. "When I was studying, I was a lab rat to my coursemates, who saw the potential in this then girl-next-door tomboy. They pratically turned me into their Barbie doll, and after some time, I somehow found myself at a fashion magazine," she explains. "For that, I am forever thankful and grateful to them, for showing me the light."
Needless to say, Min has since lived and breathed fashion – as clichéd as it may sound, and a lot of that has much to do with getting her foot in the door. "I was this colourful kid in my twenties when I was in my editorial position. It was then that I fully experimented with my style; combining unexpected colours, such as electric blue with hints of aquamarine, just to make a chic statement," she quips. "These days however, I'm a lot more laid-back and tend to gravitate towards easy and summery looks, rather than trying too hard. You can be comfortable without compromising your style, you know!"
Truth be told, comfort is definitely the golden word here, and nobody knows it better than Min. And why wouldn't she? After spending many years and countless of hours on the job, you best bet that sometimes, less is definitely more. "Working as a stylist means that I'm constantly on my feet, be it styling for a television commercial, or out loaning and sourcing fashion pieces for my clients," she shares. "Usually I'd be in my culottes with basic tops, or summer dresses which I pair with super trendy sandals – practical, comfortable and easy to move in." Although, she later admits that tailored trousers and pointy heels are her go-to ensembles for meeting clients. Think Amal Clooney in that Stella McCartney cream power combo at her Venetian wedding nuptials. "A subtle way to tell them I mean business," she laughs.
As she rummages through her carefully curated possessions (major wardrobe envy going on right there), Min continues to divulge her current online obsessions. "At the moment, I usually find myself online shopping at international sites such as ssense.com, matchesfashion.com, n-duo-concept.com and ASOS. However, I'm a huge fan of the Club 21 store in Pavilion, and I usually bring my clientele there to shop!" she exclaims.
Soon after, Min emerges in a different outfit — this time, in a navy blue Elie Tahari mesh top paired with none other than one of her staple pieces: striking red culottes, which goes unexpectedly well with white Nelissa Hilman stilettos. One of those 'eureka' moments that only a stylist could ever come up with, if you will. With a quick change of hair (slicked back, of course), Min's sleek Southern Californian cool vibe is reminiscent of some of her perennial style icons. "I used to emulate whatever the Olsen twins would wear, but then I realised I'd just end up looking like a carbon copy," she confesses. "From there, I progressed on to build my own sense of style by mashing elements I'm inspired by, mostly from films. I look up to women with strong personal styles – Audrey Hepburn, Katharine Hepburn, Edie Sedgwick, Jane Birkin … and Serge Gainsbourg.Although he doesn't really belong in that group, I love how his charm influenced his lover's style as well," she adds, nonchalantly piling on some delicate necklaces as she goes along.
Carefully stored in wrapping paper and stashed in a colourful woven box, you can tell she applies the same aesthetic thought to her own personal trinkets as she does to her outfits. "These beautiful gemstone rings are from Morocco," she says, gesturing to a selection of boho-inspired accessories. "I don't really collect that many fashion pieces, but when I do, they're usually unique and interesting gemstone rings from my travels." Funnily enough, Min is neither a bag lady nor a shoe girl at heart, but rather, a little bit of both. "I don't think I can choose! Every day is a new day, new character, mood and event. So really, it depends," she says pensively.
But trust someone who's been in the biz long enough to come up with a thought-provoking anecdote about style: "To me, style is something that is naturally borne from your personal life experiences – your travels, the environment you were from and grew up in, and how you see the world. It will never die if it's in you," she expresses. "Unless of course one day, you decide to wear some unsightly fuchsia leggings … which I'll never stop pretending it never happened."