Madonna, the Queen of pop, turns 60 today. While dominating the 1980s, 1990s and present with infamous pop culture moments, controversial stunts and hit singles, over the past few decades Madonna has also cemented herself as a fashion icon - each look carefully curated to match whatever project, look or event she's currently working on.
From establishing the look of the Eighties to her ongoing collaborative relationship with Jean Paul Gaultier, we take a look back at Madonna's most fashion moments.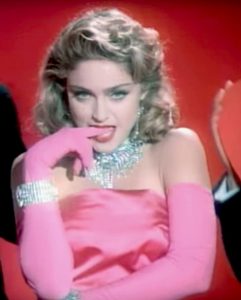 Material Girl
Madonna drew inspiration from one of her idols, Marilyn Monroe, for her Material Girl music video. The hot pink strapless dress and white feather boa later went display at a London exhibition and were subsequently auctioned.