Madonna, the Queen of pop, turns 60 today. While dominating the 1980s, 1990s and present with infamous pop culture moments, controversial stunts and hit singles, over the past few decades Madonna has also cemented herself as a fashion icon - each look carefully curated to match whatever project, look or event she's currently working on.
From establishing the look of the Eighties to her ongoing collaborative relationship with Jean Paul Gaultier, we take a look back at Madonna's most fashion moments.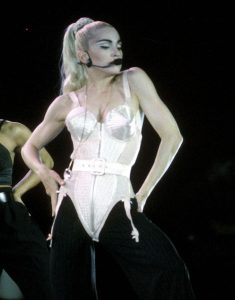 The cone bra
During her Blonde Ambition tour in 1990, Madonna debuted what would become to be known as perhaps her most memorable look of all time: the cone bra leotard. Created by John Paul Gaultier, the belted corset became an 'underwear as outerwear' trendsetter. As proof of its lasting significance, the corset was auctioned at Christie's in 2012 for £48,000.