Tracking all the standouts of the season.
Words by Kerry Pieri, Barry Samaha and Leah Melby Clinton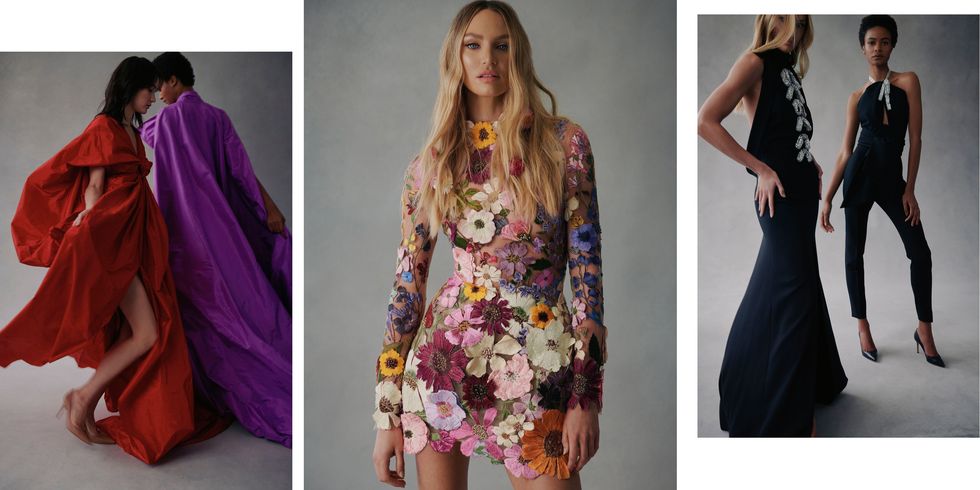 New York Fashion Week may look a bit different this year, but like New York itself, fashion is certainly not ready to sleep. Ahead, see what designers have in store for fall 2021. We may not know what the world will look like then, but we can know that we'll look great in it.
Oscar de la Renta
The fall 2021 collections (so far) have largely reflected the styles that the masses gravitated toward during the pandemic: ribbed knit dresses, drawstring trousers, and all things relaxed and roomy—albeit with an elegant bent, because fashun. Oscar de la Renta's Fernando Garcia and Laura Kim, however, had a different vision in mind. "Not everything can be sweatpants. I'm sorry," Garcia tells BAZAAR.com. "I need people to dream. How boring would it be if all we see is sweatpants from now till the pandemic is over?" Case in point: The duo's collection was filled with motifs that spark joy, urging their customers to, simply put, dress up. A fitted, long-sleeve mini dress, for example, was made with pressed floral appliqués that were created by artist Tricia Paoluccio. A navy halter-neck mermaid gown was embellished with crystal bows. And a sparkling top paired with a sleek suit featured flowing tulle jetting from the back. Still, the designers understood that glittering events are on pause. "A lot of the eveningwear has shifted to entertaining at home, and we have caftans for that," Garcia expresses. Kim adds, "These ladies are itching to be and feel glamorous."—Barry Samaha
Danielle Frankel
Danielle Frankel has an acute way of reinterpreting something age-old in a way that's uniquely her own. She started with the lofty endeavor of bringing something new to the world of bridal, and in just a few seasons has earned a seat at the table with the titans of wedding dressing. Now, she's added silhouettes in earthy and inky neutrals to her range for her first-ever bridal and ready-to-wear hybrid collection, which is sure to expand her global clientele. The collection is a study of flowers—but not in the fluttery, pastel-toned way you'd expect from any other house. This has an edge alongside its femininity; it's inherently handsome yet regal. Rather than stick with her staples, like minimal sheaths with a twist and boyish separates, Frankel seems more focused on the other tools in her multi-faceted chest—from her ability to create epic corsets, to her knack for unique takes on volume and intricate pleating. A collaboration with an artist resulted in a floral print Frankel then pleated for gowns and printed on pumps in collaboration with Manolo Blahnik. After snagging the runner-up position from the CFDA Fashion Fund prior to 2020's lockdowns, Frankel has made one thing abundantly clear: her creativity is one thing that has no plans of taking a pandemic pause. —Carrie Goldberg
In a time when comfy and cozy are the target words for getting dressed, Tom Ford wants his customers to expand their vocabulary. "Fierce, powerful, and badass are words that resonate with me this season," he explained in the show notes for his fall 2021 collection. "I mean, who doesn't want to be badass? Especially after being trapped at home for a year." Ford visualized this blend of ease and extravagance with delicate slip dresses, chic cashmere sweaters, roomy puffer coats, and, in one instance, an oversized hoodie. The eye-catching, effortless style of '60s It girl Edie Sedgwick (one of his perennial muses) also saw itself on a slew of "dangerously short" skirts and pants, along with animal-printed blazers. "I found myself stealing and making things sharper, stripping away to the point that sometimes only a jacket is left." Essentially, the party was on top, as is often the case in this Zoom era.—Barry Samaha
Khaite
There are some brands so extricably linked to New York City that they can't help but honor the Big Apple as she currently struggles. Cate Holstein hosted a drive in screening with views of the Manhattan skyline from Brooklyn last night to celebrate her Fall collection with a film, aptly title, "KHAITE," directed and edited by Sean Baker. "New York feels raw and exposed now, up for grabs in a way I've never seen before. It can be frustrating and even feel hopeless, but it's also exciting, and to live here is to cycle through these emotions, rapidly," says creative director Cate Holstein. "In talking with Sean, we both traced the intensity of this time to what first drew us each to New York—the intrigue, the edge, even the peril. No one moves to New York to play it safe." The collection and the film honor New York in the late '70s and '80s—with leather jackets with faux fur trim, puffers as armor, lacy slip dresses, and even bold tulle. It's a collection that exhibits ease, but still makes a statement—these aren't clothes created for blending in. Sort of like the people drawn to the city itself. —Kerry Pieri
Carolina Herrera
Ushering in the 40th anniversary of the Carolina Herrera brand, designer Wes Gordon decided to present a virtual love letter to the label's fans. And to showcase the sentiment, he centered his collection around hearts, placing the symbol of love as embroideries on fitted dresses, intarsia knits, buttons, belt buckles, and sweetheart necklines. His silhouettes—from a crisp white shirt with pronounced sleeves tucked under a black skirt to a voluminous gown with polka dot prints—also highlighted the enduring styles that have been beloved by Upper Eastiders and beyond.—Barry Samaha
Coach
Fashion is entertainment, and Coach's Stuart Vevers is heralding this message loud and clear. For the fall 2021 season, he presented a collection, titled Coach Forever Season Two, through a video, dubbed Coach TV, with a star-studded cast that reimagined some of the most indelible films, music videos, and television shows in the zeitgeist. Michael B. Jordan, for example, embodied a modern version of Shaft. Jennifer Lopez channeled Blondie frontwoman Debbie Harry. And Megan Thee Stallion oozed the sass of Regina George from Mean Girls. "I have always loved exploring the intersection of fashion and pop culture at Coach," said Vevers. "I am excited to bring my latest vision for the house to life via Coach TV. I wanted both the collection and the presentation to make sense and resonate in these unique times, and I am excited to share both in a way that I hope will entertain and inspire." The clothes, indeed, reflected this sentiment. They included intarsia knits of Mickey Mouse and dinosaurs worn over corduroy trousers or grunge-inspired flannel skirts.—Barry Samaha
Zimmermann
Every type of '70s fantasy came to play for Zimmermann's fall collection, an aesthetic smorgasbord inspired by Nicky Zimmermann's love of an era-defining music program she watched in her native Australia while growing up. Texture and print, two elements the label always focuses on, spoke loudly this time too, from silky blouses and rich wool trousers to dresses that floated with soft petal cutouts and whimsical whips of small circles. Whichever '70s heroine you identify with, whether femme folk goddess or take-charge raider, you'll find a silhouette you gravitate toward.—Leah Melby Clinton
Proenza Schouler
Even from the confines of video presentations, Proenza Schouler managed to create a newsy fall moment by showcasing Second Daughter Ella Emhoff in her "runway" debut. Splashy casting aside, the collection, a deep dive into soft tailoring and easy separates and dresses, is quietly beautiful. Closet musts like mélange knits, chunky cardigans, matching wool coats and trousers, and standout lambskin trenches and tops are set against pieces that just want to have fun like bold yellow dresses, fringe pieces, and tie-dye. Single-breasted suits feature cutaway tops in black, white, and deep raisin technical wool with lush double-faced cashmere coating. In other words, this is an offering based in luxury with an eye toward the future. One where everyone is dressed to the nines—paired with Tuscan shearling slippers, of course—without skipping a beat. —Kerry Pieri
Gabriela Hearst
Gabriela Hearst was inspired by Saint Hildegard of Bingen for her Fall 2021 collection, a woman so well-rounded that Hearst insists "if she were born a man, we would all know her name as we know Leonardo da Vinci's." Born in 1098, St. Hildegard was a composer, poet, mystic, philosopher, and more at a time where women were excluded from intellectual life. In dressing her woman for a more modern world, Hearst was most inspired by St. Hildegard's work as a botanist, and noticed a resemblance in her 12-year-old daughter Mia's drawings of flowers. Those flowers became embroideries, crochet appliqués, and more on a suite of looks in between Hearst's signature tailoring, leatherwork, and killer coats. The newly-minted Creative Director of Chloé's passion for sustainability, innovation, and trailblazing doesn't seem dissimilar from her source of inspiration this season. And her collection, which seemed to redefine power dressing, will dress her devotees to be Rennaisance women in their own rights come next Fall. —Carrie Goldberg
Batsheva
Domesticity does not mean that we have to sacrifice style, and Batsheva Hay is highlighting this sentiment with her fall 2021 collection. The New York designer presented a look book of models and real women in their kitchens, outfitted in her signature prairie-inspired dresses. Journalist Amy Fine Collins, for example, poses over her stove in a seafoam green trapeze dress with a print of pretty pink ribbons. Actress Maude Apatow stirs a pot while wearing a black-and-white frilly frock with mutton sleeves and a bow tied at the waist. And chef Tara Thomas stands in front of her oven, sporting a princess-cut red vinyl dress. Shot by Hay's husband, photographer Alexei Hay, the series of images reflects what many experienced in quarantine—cooking at home with the kitchen tools and appliances that (at least for girls about town) seldom used pre-lockdown. But instead of the custom sweats that have been de rigeur, Hay shows that dressing up, even with nowhere to go, can be the recipe needed for brightening one's mood.—Barry Samaha
Theophilio
After 2020, none of us could ever claim to not know a superhero. From frontline workers to parents who somehow managed to make full-time work fit alongside an unpaid gig as a teacher's aide, they most definitely walked among us. Theophilio's Edvin Thompson sought to explore the idea with a look at what modern heroes might wear, but far from capes and armored plates, this hero's closet is populated with sculpted jackets, knits built to move, and a few beautiful cutout pieces that read as mock guipure lace. The lean silhouettes might reference The Matrix, but this Neo draws energy from a healthy splash of color (and would get bored of that duster fast). —Leah Melby Clinton
Rentrayage
Erin Beatty was all about identifying what sparks joy when designing Rentrayage, looking inward to figure out what she wanted and then bringing it to life. "Comfort, beauty, and something a bit strange and perfectly off. Unexpected functional beauty seems a most pressing sentiment right now," she wrote. Her version of joy, tactilely speaking, is all about happy hybridization—denim jackets mixed with satin bombers, doily collars laid over crewneck sweatshirts—and plenty of color. The collection is made to mix and match, and wear in different ways, with ties that cinch or release and the aforementioned collars popping on and off. Even if it's a very personal look at what one person wants right this instant, there's universal appeal. —Leah Melby Clinton
3.1 Phillip Lim
Phillip Lim is known for reworking essentials, tried-and-true silhouettes and classic styles, with subtle twists every season. For his latest collection, the New York designer showcased slick '70s-inspired suits, mid-length accordion-pleated skirts, ribbed knit dresses, and elegant camel Chesterfield coats and parkas—pairing these stalwarts with turtleneck sweaters that featured eye-catching cutouts. His daywear will remain de rigueur, and his evening pieces—sublime sequins and silk dresses—follow the same sentiment. For Lim, it is the details that truly make the most impact. "I believe in just small gestures to just really evolve a conversation," he tells BAZZAR.com. "My unofficial title of the new collection is The Dance with the Pandemic Devil, because every day is a new move. It's almost like we're learning how to dance with our reality of the situation. I love aspiration, but I'm deeply rooted in reality." —Barry Samaha
Anna Sui
Anna Sui's love of '60s styles, from Carnaby Street mod-girl to Woodstock hippie queen, continuously shines through in her collections. She didn't stray off the beaten path in her latest offering, but she did focus on one person in particular: Penny Lane, the psychedelic model played by Jane Birkin in Wonderwall. The 1968 film is filled with an eclectic cast of characters, and to bring her vision to life, Sui enlisted a merry band of her own. The knee socks were provided by Atsugi; appliquéd suede knee high boots were produced by John Fluevog; hand-painted denim came by way of Anna Castellano; tortoise glasses were supplied by Fellow Earthlings for Mondottica; the peacock and snake graphics on the crushed velvet tops were designed by Monika Forsberg; and t-shirts were patches created by Golden Daze Illustration and Olivia Sui.—Barry Samaha
Jonathan Simkhai
Jonathan Simkhai found himself flipping through a coffee-table book as so many of us are wont to do, but rather than closing it a few mindless minutes later, he ended the session with an inspiration that would direct his fall collection. The image that made the lasting impression, a Tseng Kwong Chi photograph of a Keith Haring work, stuck in his mind for its echoes of connectivity and creativity—two factors always important to artists and in high demand after the isolation we've all grown accustomed to. Inspired, Simkhai focused on elements that required a deft touch, and the results included a custom lace and fringe hand-woven into pieces. Fabrications mixed, too, with knits against vegan leather against washed silk, creating a luxurious mélange that makes you yearn for real-life mixing and mingling all the more. —Leah Melby Clinton
Collina Strada
Fashion can be at its best when there's a heavy dose of fantasy involved, and there's no time like the present to get a real dollop of it. Collina Strada designer Hillary Taymour went for broke when it came to playful, debuting the newest collection with a quirky video and GIFs showcasing a cast of characters morphing from human into exotic animal—and that doesn't even start to touch on the clothes. Prints clashed with exuberance and colors blended loudly (the boldness might come down to the supplies: Taymour continues to work from a sustainable place with deadstock and repurposed pieces). Closer consideration revealed classic pieces, the silhouettes only stepping outside the box due to artful layering. All in all, it's a fun collection at a time when that's sorely needed. —Leah Melby Clinton
Rosetta Getty
The term modern sportswear comes to mind for Rosetta Getty's fall collection. A term that feels like it has staid retail connotations, but truly means cool clothes you can wear all day and feel chic in. Hoodies in luxe fabrications, poplin striped shirtdresses, turtleneck dresses, suiting, and maxi skirt/bralette top combinations fit the bill. Getty is a playful minimalist. She designs things simply, which should never be confused with a lack of true interest and surprise twists. Sign us up for what she's serving. —Kerry Pieri
Bevza
Svitlana Bevza showed her fall collection in a literal tabula rasa. "Removing the unnecessary … the emptiness of the background symbolizes hope for the future and what it might bring for us," she explains. Inspired by Ukrainian royalty, Olga of Kyiv, who ruled in the 10th century, the pieces embodied a strong femininity. The traditional balaclava was the center point. "This particular cut is special because it symbolizes the significance of women as represented by Olga." In keeping with the brand's emphasis on sustainability, the mélange cape was made of recycled plastic bottles, hand-knitted vests were upcycled from the fabrics of Bevza's previous collections, and the "fur" coat was made of technical hemp grown and produced in Ukraine. —Kerry Pieri
Marina Moscone
Marina Moscone celebrated pre-fall and fall with a new short from director Stefano Ortega, and hidden clues were tucked within for how we ought to interpret the collection. Take, for starters, the format. Shot on Super 8, that go-to throwback from the '60s, there was nostalgia seeping out of every frame, a fitting lens for the touches of school uniform tailored throughout (like plaid, pleats, and an artfully arranged rugby shirt). The soundtrack accompanying the mini flick was an energized drumroll, prepping us for, well, who really knows what's to come anymore? Compared to September, when designers seemed intent on showcasing answers to the "new normal," her fall had a get-set-for-anything attitude, with clothes for staying in and options for going out. No matter what's on the docket for next fall, we'll be dressed and ready. —Leah Melby Clinton
Prabal Gurung
Prabal Gurung presented a love letter to New York City with his combined collection for the pre-fall and fall 2021 seasons. He began with a single rose, a "bodega beauty" from the corner store, which he says is "too often overlooked or deemed unimpressive." This floral motif found itself on fitted ruched cocktail dresses, voluminous evening gowns, and the lapels of sleek blazers. Gurung stuck to a color palette of black, white, red, and shocking pink, focusing on eye-catching silhouettes that blend downtown cool and uptown chic. Polka dots, too, featured prominently, but it was bouquets that, as he explains, really served as "a reminder that amidst uncertainty and darkness, we find light in the true expression of our most real and authentic selves." —Barry Samaha
Sandy Liang
It's been about a year of sitting at home in our new-normal uniforms, dreaming of what we'd wear post-lockdown. And Sandy Liang brought both reality and fantasy to her collection for 2021, considering not only what her client wears every day, but what she dreams of wearing in the future. Per the designer's show notes, it's "a marriage between what I really wear, and what I wish I could wear."
Liang's signatures, like her almond-shaped cutouts, comfortable shoes, sporty-but-not-sporty vibes, and statement outerwear continued to be through lines this season, but alongside new additions like frothy skirts, floral appliqué, and whimsical accents. A good designer gets their clientele, and Liang knows hers well. Most importantly, she's equipped to dress them in and out of lockdown; apparently, it's all about being comfy yet dressed, without ever looking too dressed up. —Carrie Goldberg
Staud
Staud celebrated all the joys found at home for its fall 2021 collection. From board games to dainty bouquets to all things comfy and cozy, designer Sarah Staudinger took elements that many of us have experienced in quarantine and placed them in an assortment of sleek separates and elegant frocks. An intarsia sweater, for example, featured a tic-tac-toe pattern. Fitted knit dresses came in exuberant colors, with one standout displaying a heart-shaped cutout on the neckline. And chic puffer coats were covered in Neoclassical florals. Staudinger also showcased her signature leather dresses and coats in a range of pastel hues that, in this crazy time, beckons us to look on the bright side. —Barry Samaha
Tanya Taylor
Interior design has been on our minds lately, and Tanya Taylor shares this sentiment. For her fall 2021 collection, the New York designer was inspired by the work of illustrator Jeremiah Goodman, who painted the living rooms of couturier Elsa Schiaparelli and society swan Betsey Bloomingdale. These fashion doyennes were celebrated for their keen senses of style, which were equal parts whimsical and elegant. Taylor sought to reflect this vibe in flowing frocks, tiered drop-waist dresses, plaid separates, and knits that feature patterns done in Goodman's painterly style. —Barry Samaha
Adeam
Hanako Maeda once again looked to her home country of Japan for inspiration—and Japanese artists in particular for fall '21. Maeda visited the "STARS" exhibition at Mori Art Museum, which showcased the works of six artists who shaped Japanese art from the 1950s to present. They included sculptor and installation artist Yayoi Kusama, photographer and architect Hiroshi Sugimoto, and Takashi Murakami. The latter's "Superflat" references modern anime and manga, as well as the classical Edo period woodblock prints, ukiyo-e. It's that melding of current and old world that spoke most strongly to the designer, who put a strong emphasis on tailoring, classic shapes, and beautiful fabrications for this offering, while also having fun with shape, color, and proportions. —Kerry Pieri
Ulla Johnson
Ulla Johnson is the reigning queen of boheme cool. The Brooklyn-based designer has free spirits on lock, with airy tops, printed gowns, a standout shearling, and crochet for days. That handcraft is integral to the Ulla Johnson vision—which supports female artisans across the world. Those braided crochets are created locally in Brooklyn. Linens are hand-embellished in India, and space-dyed crochet is crafted by artisans in Uruguay. This kind of attention to detail, with an eye on global awareness, is the modern definition of luxury. —Kerry Pieri
Victor Glemaud
Victor Glemaud was well ahead of the knitwear curve before it became a mainstay in 2020—and he's not about to give up the lead. The designer created his fall '21 offering as an Ode to Hope. The mainly merino wool and cotton cashmere collection utilizes innovative knitwear techniques that bring the fabrics to very cool places. He developed a patchwork knit jacquard designed as a single piece with no linking, as well as a knit pinstripe fabricated in cotton cashmere and recycled rayon stripe. This season also brings a hat collection and Glemaud's first shoe collaboration with Nigerian accessories brand Shekudo, designed by Akudo Iheakanwa—which will be available on TheRealReal at launch. Those knit bucket hats are sure to be a hit—these thoroughly wearable but comfort-minded pieces are exactly what the market is in need of. —Kerry Pieri
Maisie Wilen
Maisie Wilen staged a virtual runway where models actually walked on water. No audience members were in attendance, leaving the whole affair with a sense of eerie strangeness. The clothes themselves offer a bit of optimism though. Pastels and bright pinks are found in easy-to-wear skirt suiting and coordinating sets. Florals are overlaid with scannable QR codes, and trippy swirls are trimmed with lace. It's not loungewear; it's not minimal. It feels like a breath of fresh air with a youthful eye toward the future—and a bit of nostalgia for the early '90s. —Kerry Pieri
Jason Wu
Like so many others during the last year, Jason Wu has also returned to his roots, his hometown, and a more bucolic setting. The designer was inspired by his New England upbringing for fall '21. "I was feeling nostalgic for my school days … and the very idyllic Americana backdrop of those years," Wu explains. Wu also fell in love with cooking and food shopping in 2020, putting that new passion into play by building a set that was also a real-life general store based on one from the 1950s—a collaboration with Coca-Cola really drove that idea home. The second showing of his contemporary collection included stripes, blazers, dusters, and knits in navy, gray, and black with hits of bold yellow and red—a nod to true American sportswear. —Kerry Pieri
Heron Preston presented his collection via look book, several weeks before the prescribed calendar dates for New York Fashion Week. His early-bird lineup considered the current climate, landing on OSHA-certified uniforms and giving them a high-fashion spin. "It's about listening to my athlete, so to speak," said Preston. "What does it take to bring fashion into real, applicable, usable workwear?" It's an idea he has touched on in the past, with his 2016 partnership with the New York City Department of Sanitation. This latest collection, titled Between Two Worlds, however, is a less literal, much more elegant take on the garbs worn by maintenance professionals. The bright, bold colors used for safety measures are cast on slick jackets with pronounced hardware and his signature patches, along with trousers that feature clip-buckle belts. He also used camouflage to great effect, refining the pattern and placing it on a fitted top, gauzy gown, and minidress under a cropped puffer. —Barry Samaha
The Row
While the fashion calendar has become about as topsy-turvy as just about everything else now, The Row's decision to drop its fall offering a couple weeks before the New York Fashion Week, aligned with Men's Fashion Week in Europe, makes a good bit of sense. After all, both collections leverage sumptuous fabrications in smart cuts and muted colorways (black, white, camel). The women's collection leverages shoulder pads (removable), oversized knits, skirt suiting, and draped coats and tops that any true fashion lover would want to curl up in. If comfort is going to continue as a mainstay in style well into the future, make it cashmere coats and oversized jeans à la The Row for us. —Kerry Pieri
– – – – –
This article originally appeared on harpersbazaar.com