Salvatore Ferragamo Presents A Response To Life Under Lockdown With A Collection Informed By Functionalism, Inspired By Nature
Oh, these uncertain times. Now that Malaysia enters another government-imposed lockdown, we are reminded again of the very things we took for granted the first time round this happened, back in March 2020 when Malaysians were asked to stay at home as a preventive countermeasure from the spread of the coronavirus. So here we are. Missing the freedom of travel and the outdoors, we take note of what is essential and necessary, and comfortable, as we adapt to the New Normal once again.
But all is not lost, and life—and yes, fashion—must go on. After all, fashion is ever a reflection of its time, its moment, and the Pre-Spring 2021 collection from Salvatore Ferragamo is a prime example of that reflection. Realistic and equally optimistic, it's a collection that is "borne of necessity, crafted with passion, and presented with pride." Essential yet elegant, progressive yet also precious.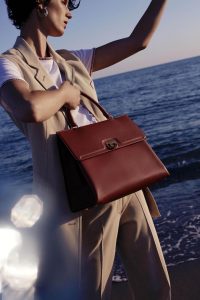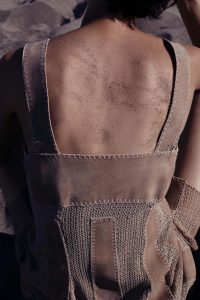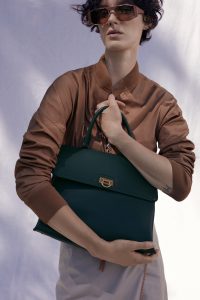 "This collection was made in exceptional times, under exceptional conditions, through which we were all obliged to adapt and innovate," says Paul Andrew, creative director of Salvatore Ferragamo. "Even before lockdown began, I was planning to start with a consideration of mid-century Scandinavian furniture design. Later, that inspiration came into its own: functionalism inspired by nature featuring clean lines, organic materials, minimal construction and a relative lack of ornament were all design aspirations that were very much in sync with the limitations we were working under."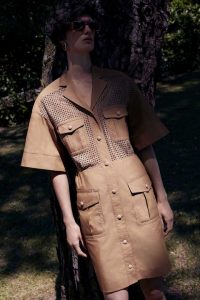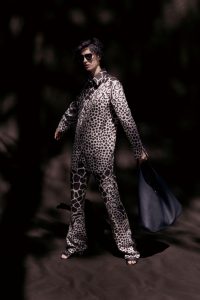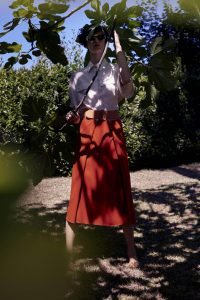 Showcasing expressions of minimal lines and soft silhouettes, this Pre-Spring 2021 collection is all about ease and function, further refined by the Ferragamo touch. Neutral tones abound, punctuated by flares of intense orange for a measure of drama as seen on select outerwear for men, and front-pleated skirts, dresses and an irregularly striped, knit kaftan for women. Full-on glamour comes by way of an expressive giraffe/leopard hybrid print, resulting from Andrew's research into the label's extensive scarf archives. (The matching shirt-and-trouser combo of which is simply divine).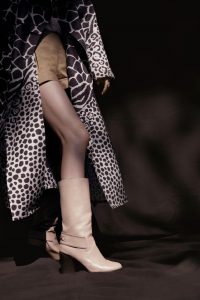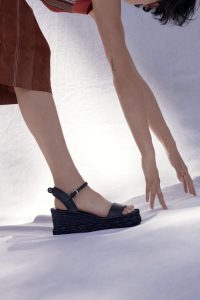 Speaking of animal prints, nature as inspiration has taken Ferragamo into a more heightened environmental mindfulness, resulting in a collection that highlights upcycled leathers, cashmere and fabrics, also recycled nylons and organic cottons.
Shoes remain a Salvatore Ferragamo strength: Gancini slides in nappa leather, a new wedge espadrille with an upholstery inspired sole, a new almond-toed driving shoe with a sleek double Gancini hardware attachment designed to be foldable and resilient … And who can resist the refined biker boot with its chunky high heel?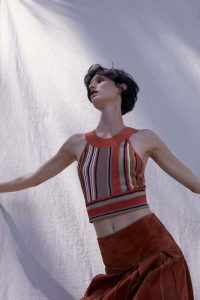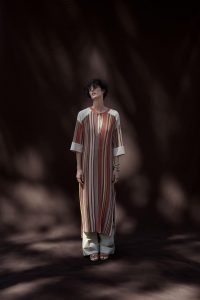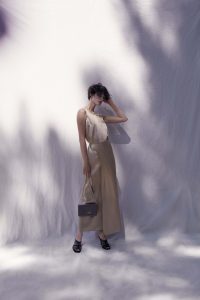 "This collection is planned for it to be totally relevant for that moment so there is no dissonance between the items on sale and the season," Andrews stresses further. "In these extraordinary times, the values of family, inclusivity, longevity, and responsibility—the common good—inform what we do more than ever, as the exceptional work of my colleagues at Salvatore Ferragamo demonstrates."
The collection was previewed during Milan Digital Fashion Week last year, presented in a stylistic video (check it out below) that beautifully illustrates a collective vision of the world of Ferragamo, from its history and craftsmanship to its achievements and innovations. Building blocks that form the foundation of the Pre-Spring 2021 collection. "The result is a collection of which we are proud," Andrews adds.  "We worked to turn the limitations of the period into positives by considering what is most essential."